Has there ever been a better flavor combination than peanut butter and chocolate? I don't think so, and that's why I've paired these two flavors here with peanut butter frosted brownies — classic fudgy brownies topped with a silky-smooth peanut butter frosting!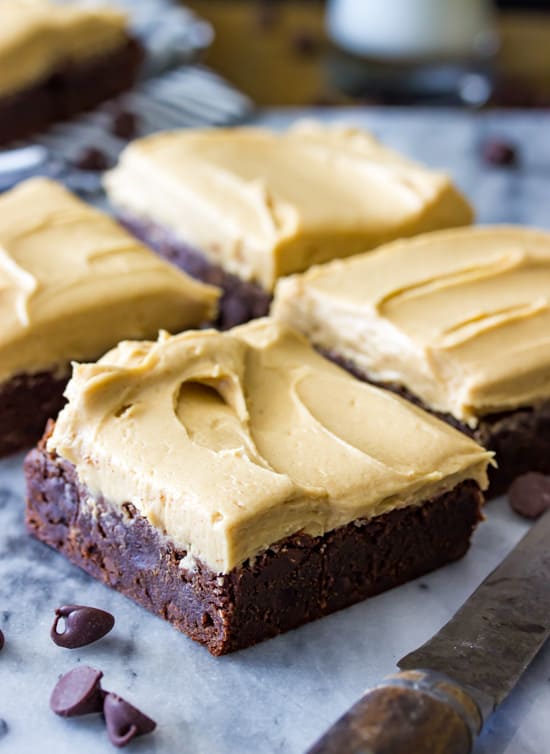 Hi everyone, Sam here again from Sugar Spun Run with another sweet treat to share with you today!
Whether it's in a Reese's peanut butter cup or my favorite buckeye recipe, peanut butter and chocolate are one of my all-time favorite flavor combinations, so I'm especially excited to share my recipe for peanut butter frosted brownies with you today!
These aren't just any brownies, they're rich brownies (made with two types of chocolate!) topped off with a simple silky peanut butter frosting that's so luscious you may never be satisfied with a regular brownie again (don't say I didn't warn you).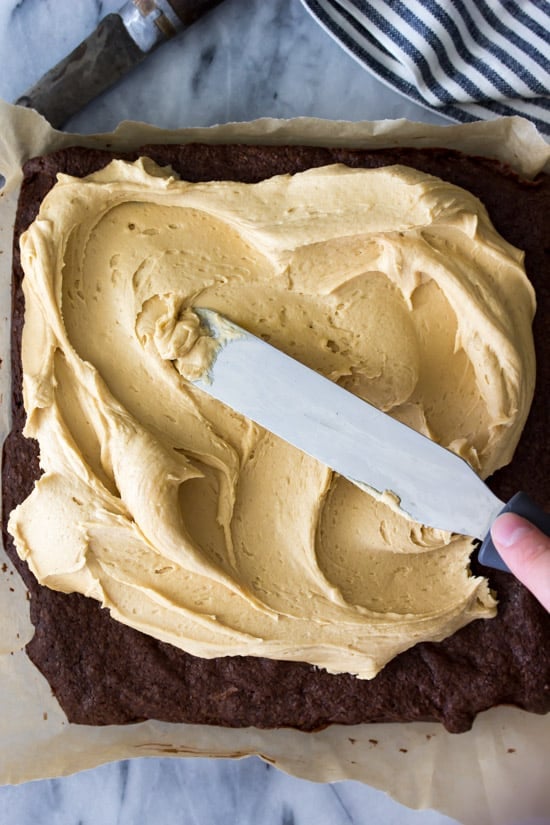 For the brownie base of this recipe, I used a slight variation of my all-time favorite  homemade brownies from scratch, which are not only amazingly fudgy and full of chocolate flavor, but can also be made in just one bowl.  I thought that since we're going to have to dirty another dish to make the frosting I should try to keep things as simple as possible with the brownie base!
Be sure to let the brownies cool completely before attempting to add your peanut butter frosting. If you try to frost them too soon after they finish baking, your icing will just melt all over the brownies —  not exactly ideal!
The peanut butter frosting is just 5 ingredients (OK, 6 if you count the salt). The recipe calls for heavy cream, but in a pinch you can substitute an equal amount of milk, or just omit the liquid all together.  I prefer to include the cream as it makes the frosting extremely light, silky, and smooth, but if you want to stack and transport these peanut butter frosted brownies, it'll be a little easier if you leave out the cream.
Enjoy!