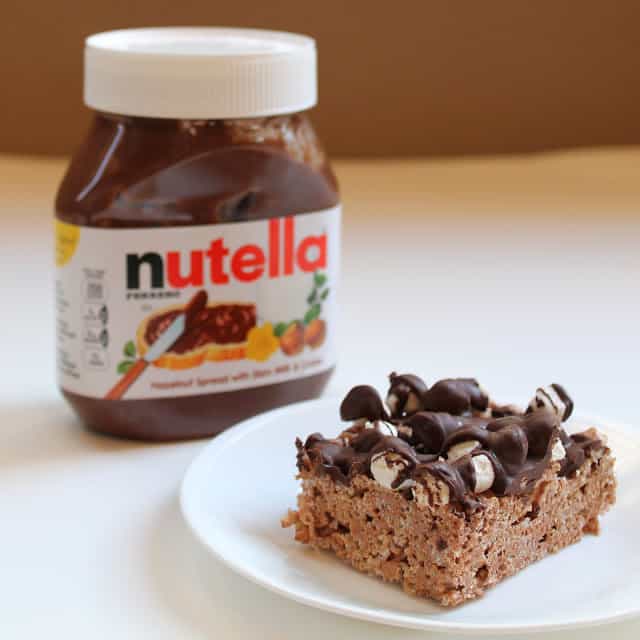 Nutella is one of those products out there that have really sucked me in. I had heard of Nutella, but hadn't tried it until I married my husband. He had lived in Italy for a while as a child, the birthplace of Nutella. His family enjoyed it thoroughly, while my family wasn't as lucky. Once I tried it, I was kicking myself for not having tried it sooner. Holy delicious! I grew up eating peanut butter spoons (yup, just a spoonful of peanut butter), and now my mom gives her grandkids Nutella spoons. Times are changing for the better! On to the Nutella Krispies…see I was craving a little something sweet the other night, but as an adult I do feel a little guilty about eating Nutella spoons too often. The jar of Nutella had been put next to the cereal. I spotted a bag of marshmallows and Nutella Krispies soon emerged from my kitchen. As with all Rice Krispie treats, they are super easy and quick to make. Throw a bit of stuff on top and you've got them all fancified. Since it is December, I'll also mention that these would make a fantastic and easy neighbor gift as well.
Ingredients


6 cups rice krispies
1 bag marshmallows (10 oz)
6 tablespoons butter
1/2 cup Nutella
1 cup mini marshmallows for topping
1/4 cup chocolate chips
1/4 cup nutella
Instructions
1. Measure out rice krispies into a large mixing bowl. Set aside.
2. Melt 4 tablespoons butter in a medium saucepan. Add in the bag of marshmallows and melt. When the marshmallows are almost completely melted, add in the 1/2 cup Nutella and stir until smooth.
3. Pour Nutella/marshmallow mixture over the rice krispies. Mix until well coated.
4. Press into a lightly greased 9×13 pan.
5. Sprinkle 1 cup mini marshmallows over the rice krispies. Melt chocolate chips and 1/4 cup Nutella and drizzle over krispies. Once the chocolate hardens, serve.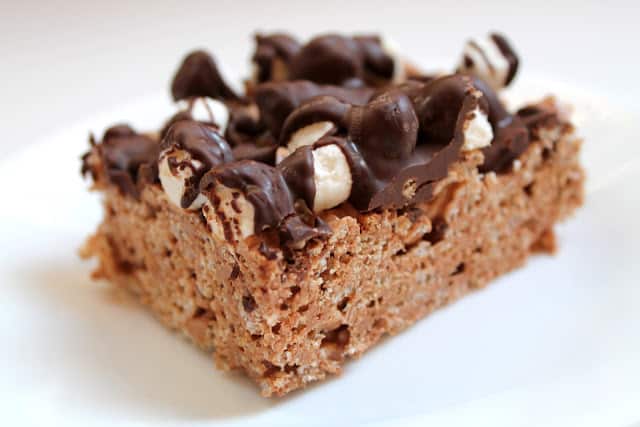 Nutella got its start in Italy during WWII. Chocolate was being rationed so hazelnuts were added to bulk it up and make it stretch a little further. People liked it and the Ferrero company started selling Nutella as we know it years later. Wondering what other delicious ways you could use your nutella? Here's just 10 other ways to enjoy Nutella:
1. With a spoon
2. Peanut butter and Nutella sandwich
3. Nutella shake (add 1 couple spoonfuls of nutella to vanilla ice cream and milk, blend)
4. Use it as a frosting for cupcakes
5. Dip vanilla wafers or other cookies into it
6. Add a spoonful to hot chocolate
7. Spread it on a crepe
8. Use it on waffles or pancakes
9. Dip apples or other fruits into it
10. Marshmallow creme and Nutella sandwich