Easy homemade Lemon Filled Doughnuts made completely from scratch. There's nothing better than a warm fresh donut!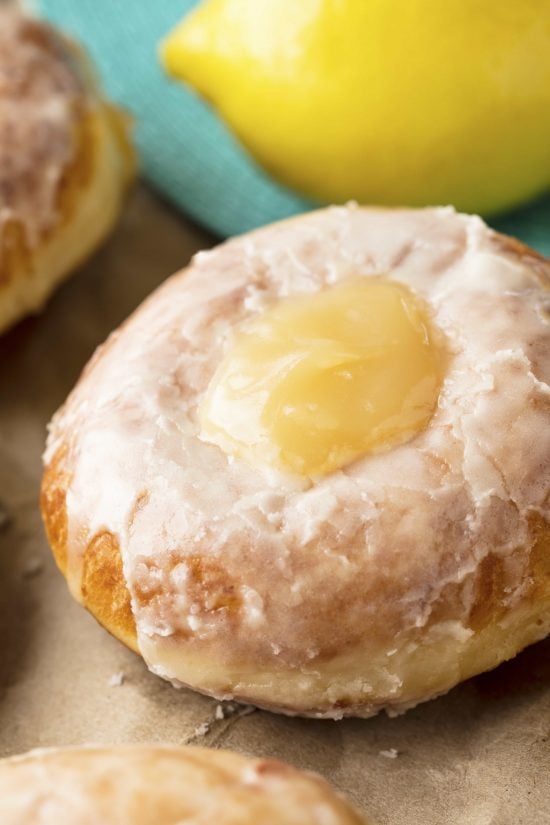 I'm a huge donut lover and I can often be spotted frequenting the local donut shops. Ever since I made the
homemade lemon curd
, I've been dying to make some doughnuts and use it as the filling. Boy was that a spectacular idea! These donuts were amazing. I made them on a Sunday afternoon. The kids were so excited to get some donuts and they anxiously helped through the entire process. We could hardly wait for them to cool! I ate 3 the following morning for breakfast. 3! The last 3 might I add. I just couldn't help myself!
Now, what's up with the spelling? I keep altering between doughnut and donut. Well, they are the same thing. The dictionary approves of doughnut, but donut is used about 1/3 of the time. I can't decide what I like better so I keep alternating between the two for fun. Which spelling do you like better?
Watch the full length cooking demonstration video below where I walk you through every step of this recipe. Sometimes it helps to have a visual to cook along side. I have an entire YouTube Channel with my own cooking show. There are hundreds of recipes over there for you to drool over so be sure to check it out!

MY OTHER RECIPES
Lemon Filled Doughnuts
Lemon Filled Doughnuts
Author:
Rachel Farnsworth
Ingredients
2½ teaspoons instant dry yeast
½ cup warm water (approximately 100 degrees)
¼ cup white sugar
¼ cup evaporated milk
½ teaspoon salt
¼ cup vegetable shortening
2 large eggs
½ teaspoon vanilla extract
2½ to 3 cups all-purpose flour
2 tablespoons butter, melted
1⅓ cups powdered sugar
1 pinch salt
2 teaspoons evaporated milk
½ teaspoon vanilla extract
2 to 4 teaspoons water
1 half-pint lemon curd (recipe below)
Instructions
Combine the yeast, water, sugar, evaporated milk, salt, shortening, eggs, and vanilla in the bowl of a stand mixer. Pour in 2 cups of the flour and knead on a medium-low speed with a dough hook until well combined. Slowly add in the remaining flour until a nice dough ball forms. Dough should be wet, but should not stick to your fingers or the sides of the bowl.
Spray a large mixing bowl with nonstick cooking spray. Transfer the dough to the bowl, cover with a clean dish towel, and let rise 1½ hours.
Roll the dough out onto a lightly floured surface ¼ to ½-inch thick. Use a drinking glass or round cookie cutter to punch out 12 donuts, re-rolling the dough as necessary to get a dozen donuts and use almost all of the dough. Let rise another 30 minutes.
Meanwhile, heat the shortening in a large pot to about 350 degrees. While the shortening is coming to temperature, make the glaze in a medium-size mixing bowl by whisking together melted butter, powdered sugar, pinch salt, 2 tsp evaporated milk, and ½ tsp. vanilla extract. Add in water 1 tsp at a time until it is just thin enough to dip something in easily. It shouldn't be runny, but it shouldn't be thick either.
Fry the donuts a few at a time until golden brown, flipping halfway through. It is helpful to do a test donut to ensure that the donut gets cooked through. Transfer the donuts to a wire rack covered with a layer of paper towels. Let cool for 1 to 2 minutes then dip the top of the donut into the glaze and place it back on the wire rack.
Once all of the donuts have been fried, fill a piping bag with the lemon curd, like you would with frosting. Using a wide-mouth tip, insert the tip into the side of the doughnuts one at a time, squeezing to fill with 1 to 2 tablespoons of lemon curd per donut.
Notes
Dough Recipe Adapted from Cooking Classy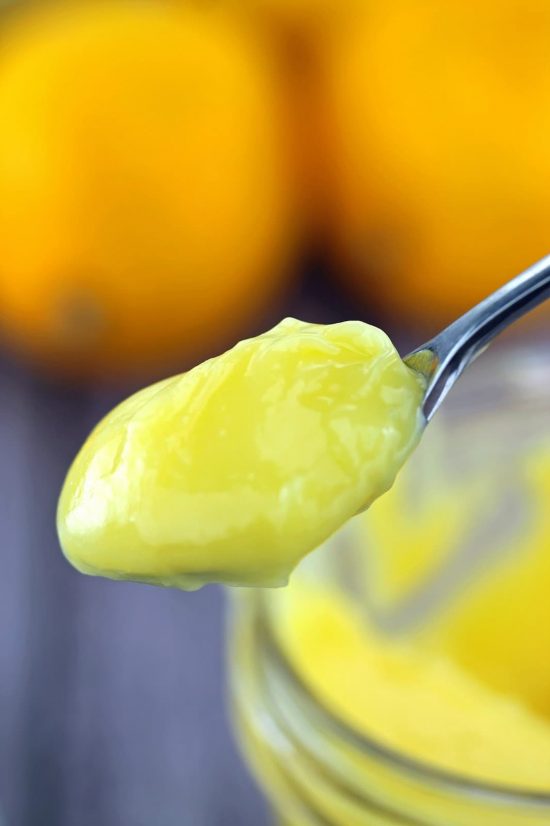 Easy Homemade Lemon Curd
Easy Homemade Lemon Curd
Author:
Rachel Farnsworth
Ingredients
1½ cups white sugar
1 cup freshly squeezed lemon juice
1 tablespoon lemon zest
12 egg yolks
1 cup butter
Instructions
Combine sugar, lemon juice, and lemon zest in a large saucepan over medium heat. Stir constantly until the mixture is hot, but not yet simmering.
In a medium size mixing bowl, whisk the egg yolks until smooth.
Slowly pour some (about ⅓) of the hot sugar mixture into the bowl, whisking constantly.
Transfer all of the egg mixture into the saucepan, whisking to combine, over medium heat.
Slice the butter into tablespoon-size slices and add into the hot mixture. Stir until butter is melted and mixture thickens.
Pour through a mesh sieve into canning jars or a large bowl. Mixture will fill 3 half-pint jars.
Cool to room temperature and store in the fridge.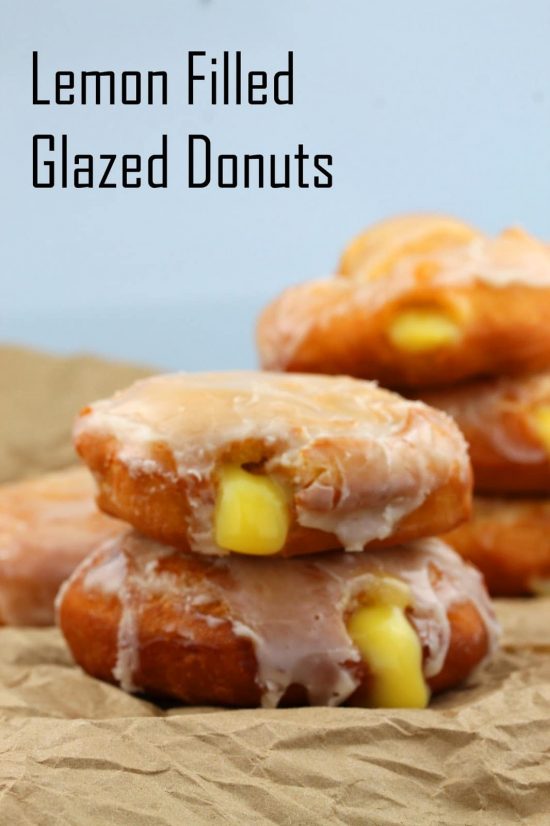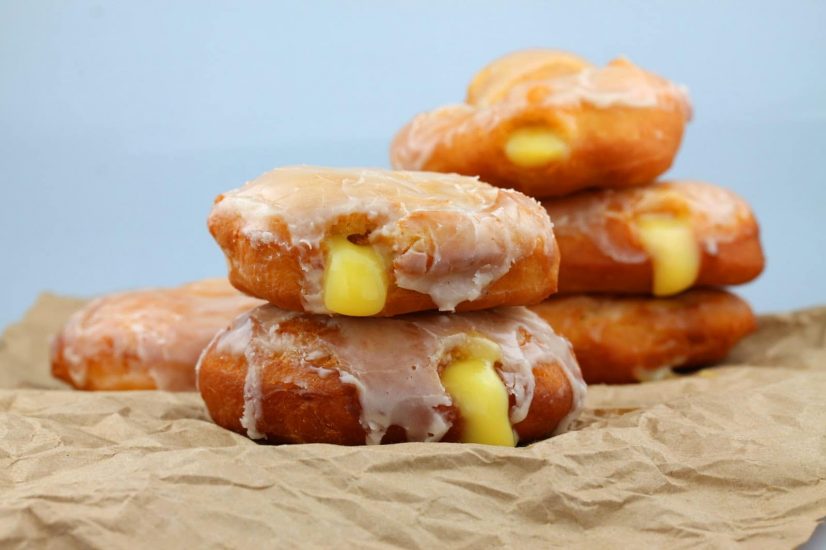 This recipe first appeared on The Stay At Home Chef on February 5, 2014