Do you love jalapeño poppers? Then you'll love this Cheesy Jalapeño Popper Stuffed French Bread. It takes all the flavors you love from jalapeño poppers, and puts into one easy appetizer or side dish that's super tasty!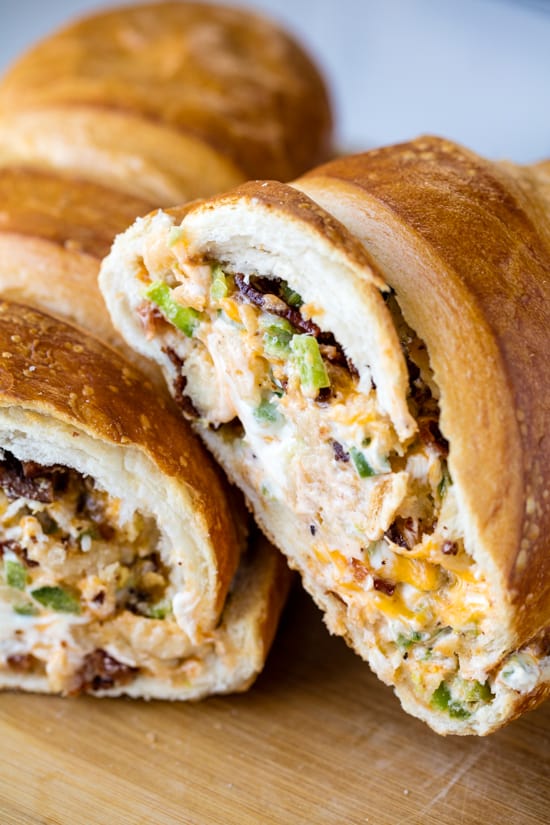 We love spicy and cheese around here. Oh, and bacon. Put those three things together and you have something that's for sure going to be legit deliciousness. This bread does not disappoint! It's easy to make, brings the heat, is full of cheesy goodness, and….bacon. What's not to love? You'll want to be sure to use a good french bread for this recipe. You don't want a thin, crusty baguette. You want the kind that's wide and is full of soft bread on the inside. Of course, you'll rip that all out, but that will give you the best stuffed bread.
Bacon:
This recipe calls for cooked and crumbled bacon. My favorite way to cook up bacon is to bake it. It's super easy, and doesn't require me to babysit it at all. Perfect bacon every time!
Line a baking sheet with aluminum foil. Lay strips of bacon out in a single layer, placing them as close together as possible to fit an entire pound of bacon onto one baking sheet. Place the baking sheet into a cold oven and set the temperature to 400 degrees. Bake for 15 minutes. Check on your bacon to see if it is done. Continue baking until bacon has reached the desired level of crisp, for a total of 20-25 minutes, depending on how thick your bacon is cut. Use tongs to remove the bacon from the baking sheet and transfer to a paper towel-lined plate or tray to drain.
Spice Level in Jalapeño Popper Stuffed French Bread: 
The jalapeños can definitely bring some heat to this recipe. If you are sensitive to spice, you can reduce the heat by removing the seeds, or simply reduce the total amount of jalapeños used.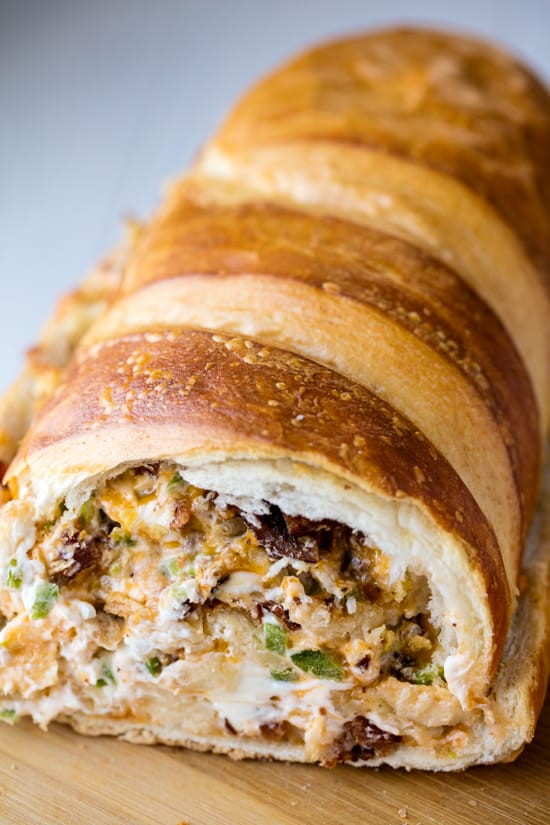 Storage and Reheating Instructions:
This recipe is best served up hot, however, it does store in the fridge without getting too soggy. You can reheat leftovers in a microwave, or wrap them in aluminum foil and heat at 350 degrees for 5 to 10 minutes.
If you like this recipe, you may be interested in these other delicious jalapeño popper inspired recipes:
Watch the video below where I walk you through every step of this recipe. Sometimes it helps to have a visual and I've got you covered. I have an extensive collection of video recipes over on YouTube. There are hundreds to get keep you entertained for hours!