Homemade muffins can be eaten as a sweet breakfast treat or an afternoon snack! Enjoy yours with a pat of butter and you can't go wrong. Use this base to create any flavor of muffin!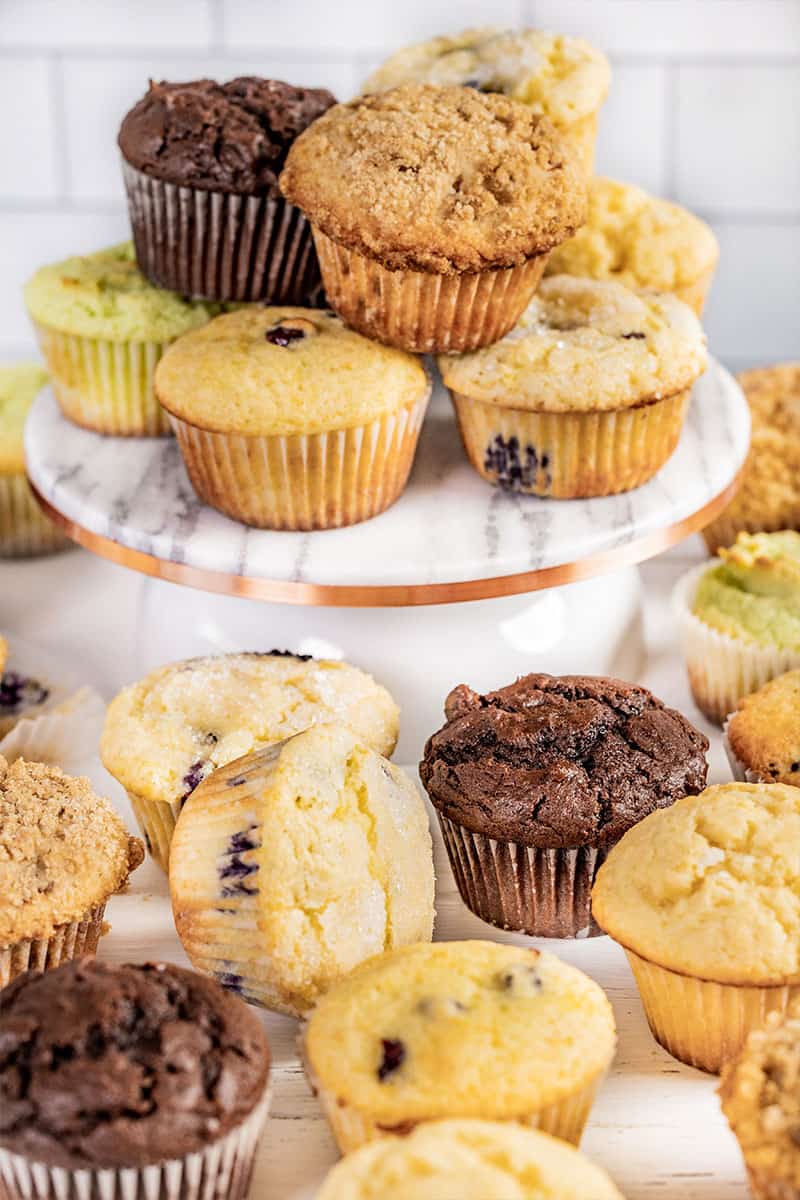 We love some good breakfast muffins in the morning! Or, quite frankly, as a mid-afternoon snack to keep us going until dinner time. There are so many different homemade muffins options out there that you'll never get bored. So many ways to experiment in the kitchen, so little time, right? We've come up with this easy and simple base recipe for all of your muffin-making needs. We're outlining some of our favorite flavors and variations below, as well as some helpful tips. Our basic homemade muffins recipe will give you moist, fluffy, and delicious results every time.
Flavors and Add-ins:
Again, you'll want to use this recipe as a base for your baked goods. You can feel free to leave it as is, but it's definitely worth it to add in some spices, fillings, and toppings. Here are some of our favorite combinations:
Cinnamon and chocolate chips
Double chocolate: White and dark chips
Streusel topping: Made with brown sugar and cinnamon
Blueberry
Cranberry with walnuts or pecans
Lemon poppyseed
You can also try out some more unique combinations based on your specific preferences. Get creative!
Substitutions:
You can make this homemade muffins recipe vegan-friendly by using an egg substitute and plant-based milk to replace the buttermilk. These substitutions shouldn't change the texture or taste of your baked goods. Great news!
You can also sub in any flavor extract for vanilla. Some ideas include almond, lemon, or orange extracts.
A Note on Baking Powder:
If you want your homemade muffins to rise, you need to make sure that you don't skip out on the baking powder. It's one of those ingredients that you may have tried to get away with omitting in the past. There's nothing worse than having all of the ingredients for a recipe, only to find that you're missing one. You may think that a few tablespoons of baking powder aren't that important, but trust us, they are!
If you have added your baking powder and your dish still won't rise, check that it hasn't expired. If it hasn't, you may need to add a bit more to the mix. Using a hand mixer can also help make sure that everything is mixed together thoroughly. Check your oven temperature while you're at it too – it needs to be hot enough! When the conditions (and the batter) are right, you can't go wrong.
Troubleshooting: How Do I Make My Muffins Fluffier?
What's better than fluffy breakfast muffins? Not much! If you follow the instructions on the recipe card you should get fluffy results. But if you want to make yours even lighter and fluffier, we have a useful tip for you.
Make sure that the eggs, butter, and milk are at room temperature before you start mixing. It will form a much smoother batter that will naturally trap air before it goes in the oven. The trapped air then expands when baked, which will encourage your pastries to fluff up really nicely.
Can I Make These Mini?
We love mini breakfast muffins! If mini varieties are more your style, you can totally adapt this recipe to your liking. Follow the steps as instructed, but use a mini muffin pan instead. You also need to lower the temperature.
Bake at 375 degrees F for 10-12 minutes, or until cooked through. Check if they're ready by sticking a toothpick in the middle of your baked goods. If it comes out clean, remove them from the oven.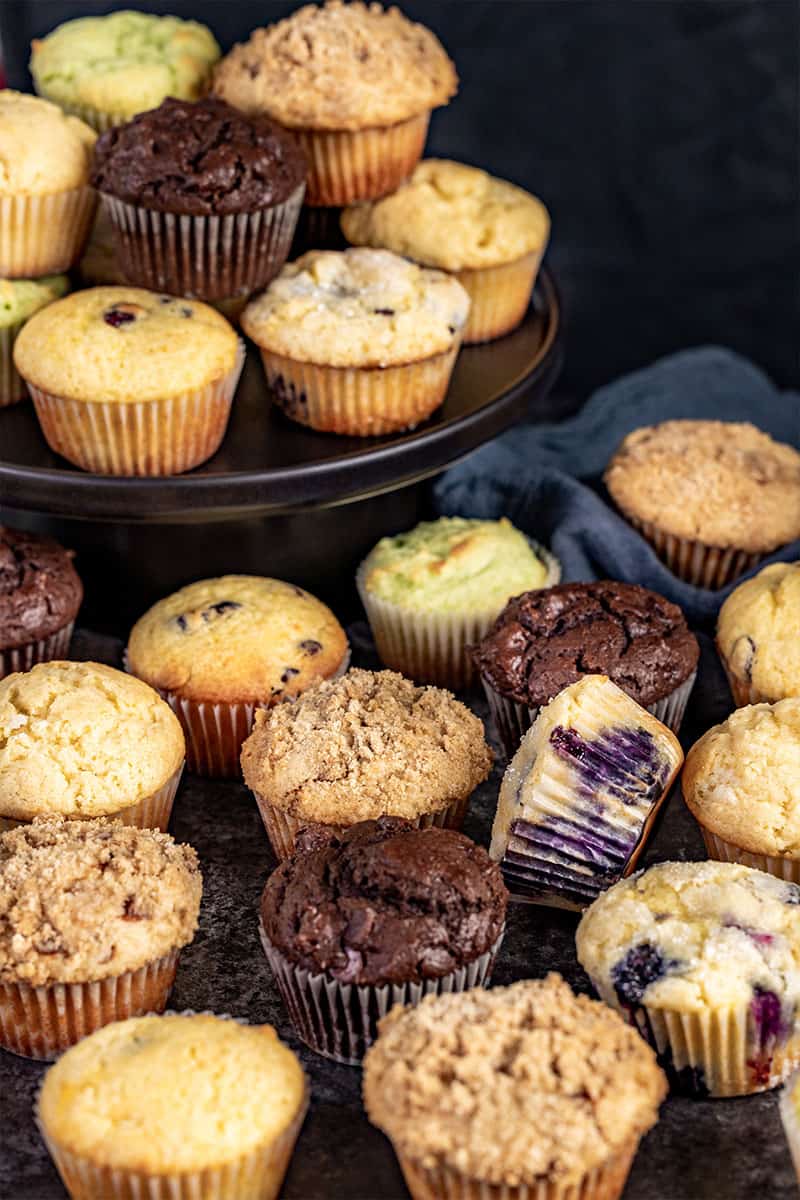 Storage Instructions:
After you've let your baked goods cool completely, you can place them in an airtight container. Store at room temperature on your counter or in your pantry. They will keep for up to 2 days. You can extend their shelf life by storing them in the fridge, where they will keep for up to a week! If you enjoy warmed-up breakfast muffins in the morning, simply reheat in the microwave.
If you like this recipe, you may be interested in these specific muffin flavors:
Watch the video below where Rachel will walk you through every step of this recipe. Sometimes it helps to have a visual, and we've always got you covered with our cooking show. You can find the complete collection of recipes on YouTube, Facebook Watch, or our Facebook Page, or right here on our website with their corresponding recipes.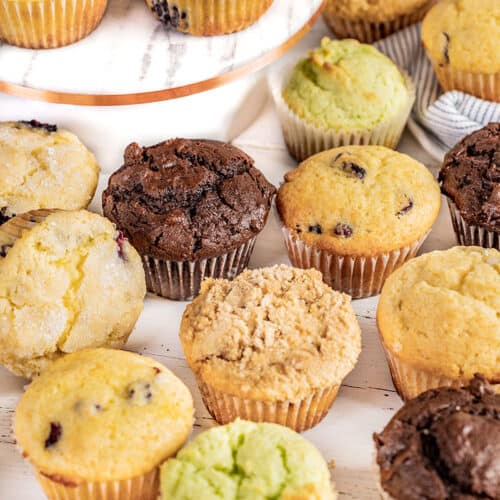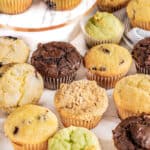 Homemade muffins can be eaten as a sweet breakfast treat or an afternoon snack! Enjoy yours with a pat of butter and you can't go wrong. Use this base to create any flavor of muffin!
Ingredients
½

cup

salted butter

softened

1

cup

granulated sugar

2

large eggs

2

teaspoons

baking powder

½

teaspoon

salt

1

teaspoon

vanilla extract

2

cups

all-purpose flour

½

cup

milk or buttermilk
Instructions
Line a muffin tin with paper liners. Lightly grease paper liners with nonstick cooking spray.

In a large mixing bowl, use a hand mixer to cream together butter and sugar until smooth and creamy, about two minutes.

Beat in eggs until combined, about 20 to 30 seconds. Add in the baking powder, any spices you might be using (for other flavors), salt, and vanilla and mix briefly.

Add in half of flour, mix with hand mixer until just combined, then add in the milk, stirring to combine. Scrape the bottom and sides of the bowl and add in the remaining flour until just combined.

Add in any desired add-ins to the batter (chocolate chips, berries, dried fruit, or nuts) and use a rubber spatula to gently fold them in.

Divide the batter up amongst the 12 muffins. Preheat oven to 425 degrees. Let the batter rest while the oven preheats.

Bake in the preheated oven for 7 minutes. After 7 minutes, do not open the door and reduce the heat in the oven to 350 degrees Fahrenheit. Bake for an additional 13-15 minutes. Watch the muffins closely as cooking times may vary depending on your oven.

Let muffins cool for 5 minutes in the pan before removing them and transferring to a wire rack to cool completely.
Notes
Spices: The most popular spice to add to muffins is ground cinnamon. Use 1/2 to 1 teaspoon total of ground cinnamon, depending on how prominent you want your cinnamon flavor to be. A similar option is to add in pumpkin pie spice.
Extracts: The vanilla extract can be replaced with other flavors of extracts. Popular options include almond extract, lemon extract, and orange extract. 
Streusel Topping: Muffins can be made plain or topped with a crumble or streusel topping. To make a traditional streusel, stir together 1/2 cup brown sugar, 1/2 cup all-purpose flour, 1/4 teaspoon salt, and 1/4 teaspoon ground cinnamon (optional) in a medium-sized mixing bowl. Use a pastry blender (or two knives) to cut 4 tablespoons cold butter into the flour mixture until it resembles small pebbles or sand. Spoon on top of muffin batter just before baking. 
Add-ins should total 1 cup. Feel free to mix and match with the following options:
Mini Chocolate Chips
White Chocolate Chips
Cinnamon Chips
Fresh Blueberries
Dried Cranberries
Raisins
Chopped Walnuts
Chopped Pecans
Other Additions: Poppyseed muffins are popular in different flavors and can be added to the batter at the same time as another other add-ins. Use 3 tablespoons of poppyseed total. For Citrus flavors, use citrus extracts and add in up to 2 tablespoons of orange or lemon zest. 
For chocolate muffins, add 1/2 cup cocoa powder in with the sugar. 
For Pistachio Muffins: replace 1/4 cup of the sugar with a 3.4 ounce package of Instant Pistachio Pudding
Nutrition
Serving:
1
muffin
|
Calories:
226
kcal
|
Carbohydrates:
33
g
|
Protein:
3
g
|
Fat:
9
g
|
Saturated Fat:
5
g
|
Polyunsaturated Fat:
1
g
|
Monounsaturated Fat:
2
g
|
Trans Fat:
1
g
|
Cholesterol:
49
mg
|
Sodium:
180
mg
|
Potassium:
116
mg
|
Fiber:
1
g
|
Sugar:
17
g
|
Vitamin A:
292
IU
|
Calcium:
50
mg
|
Iron:
1
mg