Learn How to Make Homemade Gelato By Hand without the use of an ice cream maker. Make it the old fashioned way! This Pistachio Gelato is a total winner.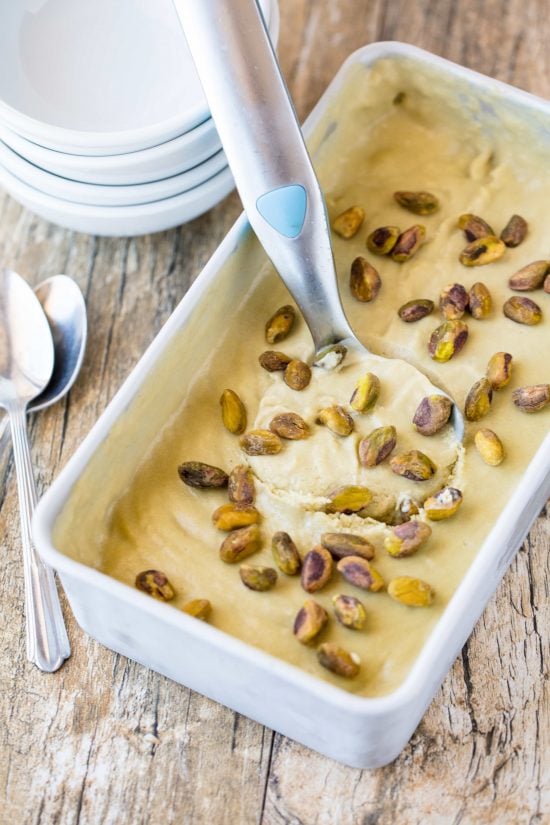 Pistachio gelato is cold and creamy pistachio goodness. I'm all about pistachio lately and find myself craving it constantly. While on a recent trip to Moab, UT I found myself at a self serve ice cream store that had some fantastic pistachio gelato. I knew I'd be replicating it at home because the stuff was just so dang delicious!
My kitchen is full of amazing gizmos and gadgets, but sadly, an ice cream maker is not one of them. Do you have the same problem? Hey, it's okay! In this recipe I have you making the gelato by hand….no ice cream machine required! It really doesn't take much work to make this recipe, you just have to do it in a 4 hour block where you'll be home. It requires a quick whisking every 30 to 45 minutes.
The result is a beautiful and creamy gelato flavored by real pistachios. Pistachio nut paste gives our flavoring (nothing artificial about it!) which you can order online from Amazon or find it in a specialty baking store. This is a recipe any pistachio lover can enjoy, whether they own an ice cream maker or not! You can also experiment with your own flavors by substituting the pistachio nut paste with other concentrated favors like raspberry jam or even chocolate.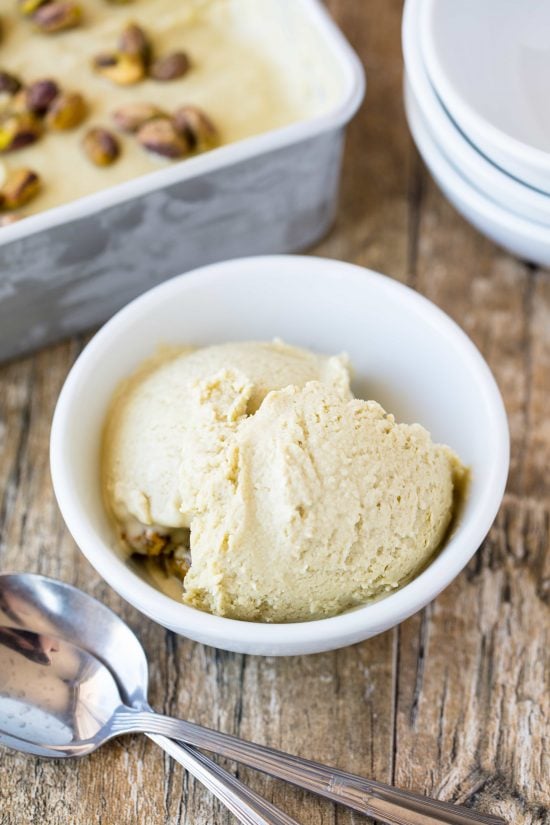 Watch the video below where I walk you through every step of this recipe. It's helpful to have a visual guide, and this is exactly that.
Pistachio Gelato By Hand (No Ice Cream Maker Required!)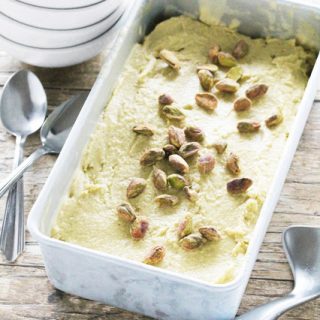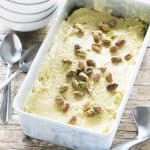 Ingredients
2

cups

2% milk

1

cup

heavy whipping cream

4

egg yolks

1/2

cup

sugar

1/3

cup

pistachio nut paste

1/3

cup

shelled and roasted pistachios

optional
Instructions
Heat the milk and heavy whipping cream in a saucepan over medium-high heat until it begins to simmer and foam.

Meanwhile, in a mixing bowl, whisk together the egg yolks and sugar using a whisk or hand mixer. Continue whisking/mixing until the mixture is smooth and ribbon-like.

Once the milk begins to simmer, remove it from the heat. Slowly pour half of it into the egg mixture while whisking rapidly. Working quickly, transfer the egg mixture into the saucepan, pouring in a slow stream and whisking rapidly until everything is combined. It is important to work quickly here so that the egg doesn't cook and create little chunks of cooked egg.

Heat over medium heat and whisk in the pistachio nut paste. Continue heating until the mixture starts to thicken.

Remove from heat and pour the mixture into a sturdy, freezer-safe pan, like a bread pan. Place in freezer for 30 minutes.

Because we are doing this by hand rather than an ice cream maker, it is important to churn the gelato by hand as it freezes in order to break up the ice crystals and create a smooth texture. Whisk (or use a hand mixer) on the gelato every 30-45 minutes until it reaches the texture of frozen yogurt, then simply leave it in the freezer until ready to eat. This should take 3 to 4 hours, or about 6 "churnings."

Let sit for 5-10 minutes on the counter to soften before serving. Sprinkle pistachio nuts over the gelato if desired.
Nutrition
Calories:
953
kcal
|
Carbohydrates:
71
g
|
Protein:
20
g
|
Fat:
67
g
|
Saturated Fat:
34
g
|
Cholesterol:
572
mg
|
Sodium:
174
mg
|
Potassium:
669
mg
|
Fiber:
2
g
|
Sugar:
63
g
|
Vitamin A:
2595
IU
|
Vitamin C:
2.3
mg
|
Calcium:
429
mg
|
Iron:
1.8
mg