Ginger Glazed Baked Mahi Mahi is an easy, healthy, and tasty way to prepare any firm white fish. Serve it up with cooked rice and broccoli and you have a fantastic complete meal!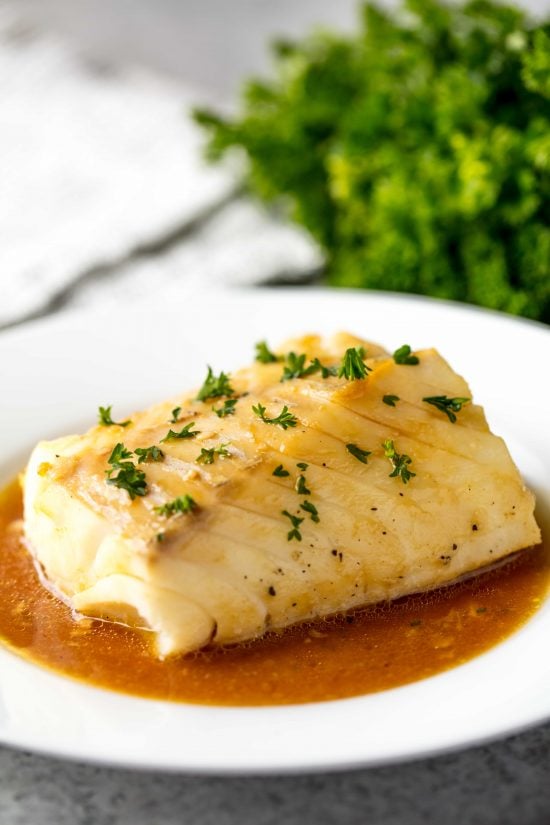 This super easy fish dish has a bit of Asian flair to it. Orange adds a citrus zing to the darker flavors of soy sauce and the spice o the ginger. It's a classic combination. The glaze couldn't possibly get any easier. Just mix it together in a bowl and pour it over the fish. Now that's my kind of dinner!
Mahi Mahi is a great option for this recipe, but any firm white fish will work like cod, halibut, bass, grouper, and snapper. With that many options there's sure to be something in your area. The same directions and cooking times should apply. Just be aware that cooking time on fish depends on how thick it is so keep an eye on it! Fish is done when it flakes easily with a fork.
This recipe is great served up with some rice and broccoli. There's enough of the glaze left in the pan to season your rice. I love making fish for dinner. It's so easy. It's light. And it's pretty good for you too. It helps that my kids are huge fans of fish.
Watch the video below where I walk you through every step of this recipe, including great tips and tricks to help you out in the kitchen. I have an entire YouTube Channel with over 250 video recipes for you to drool over. Each episode is filled with cooking tips and tricks to help you learn how to be a stay at home chef in your own kitchen.
Ginger Glazed Baked Mahi Mahi
Ginger Glazed Baked Mahi Mahi
Author:
Rachel Farnsworth
Ingredients
4 mahi mahi filets
salt and pepper, to taste
½ cup orange juice
3 tablespoons soy sauce
2 tablespoons extra virgin olive oil
1 teaspoon ground ginger
1 teaspoon brown sugar
Instructions
Season fish filets with salt and pepper. Place into a shallow baking dish.
In a small bowl, whisk together orange juice, soy sauce, olive oil, ginger, and brown sugar.
Pour over mahi mahi. Cover, and let marinate in the fridge for 20 minutes.
Preheat oven to 400 degrees. Place baking dish in oven and bake fish for 13-15 minutes, or until fish flakes easily with a fork.