These Hand Dipped Corn Dogs are covered with a thick cornbread coating and fried to golden brown perfection. It's just like they make them on Main Street at Disneyland's Little Red Wagon.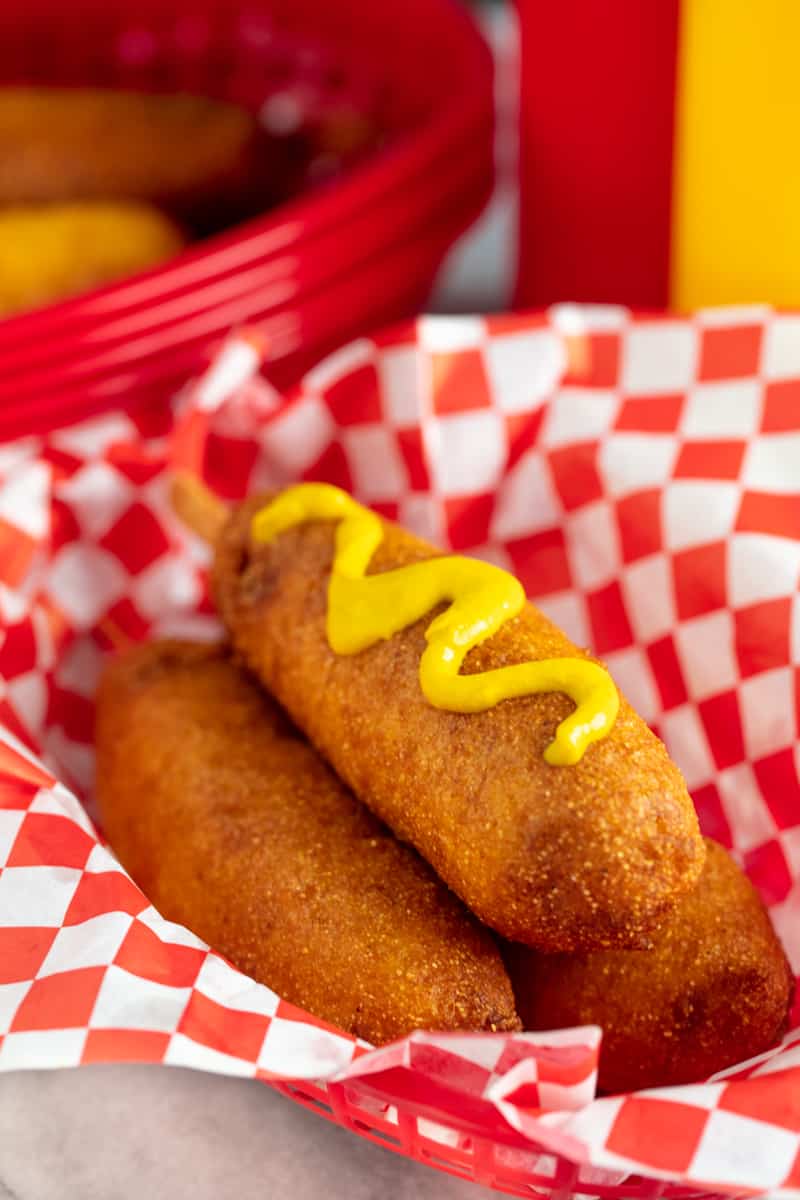 There's just nothing like a freshly fried hand dipped corn dog. This corn dog recipe replicates the recipe used at Disneyland, where corn dogs are a favorite past time. A simple corn bread batter is used to coat hot dogs and they are then fried to golden brown perfection. They are easy to make and can easily be frozen and reheated later.
What kind of hot dogs should I use?
We recommend using a high quality hot dog for the best results. Looking for the words "all beef" on the packaging generally indicates a higher quality hot dog. Choose a hot dog that you like. You can make corn dogs using any shape of hot dog as well so you can choose long and skinny, or the short and fat kind. It's all about your personal taste preferences.
Buttermilk:
Don't have buttermilk? It's easy to make your own buttermilk substitute! You'll just need regular milk and a little bit of vinegar or lemon juice. Or try one of our other buttermilk substitute options.
Where can I buy popsicle sticks or craft sticks?
You can find popsicle or craft sticks in the craft section at major superstores like Walmart or Target. They can also often be found in grocery stores near the section where they sell other food related items like toothpicks and straws.
Freezer and Reheating Instructions:
It's super easy to freeze what you don't eat right away. Reheat in the oven on a baking sheet at 400 degrees for about 10-12 minutes. They will crisp up and still be pretty tasty. There's nothing quite like fresh, but homemade frozen corn dogs are way better than store bought.