This cinnamon toast crunch breakfast casserole is a creative twist on a classic breakfast recipe! Traditional french toast flavors topped with cinnamon toast crunch. Your family will love how delicious this recipe is!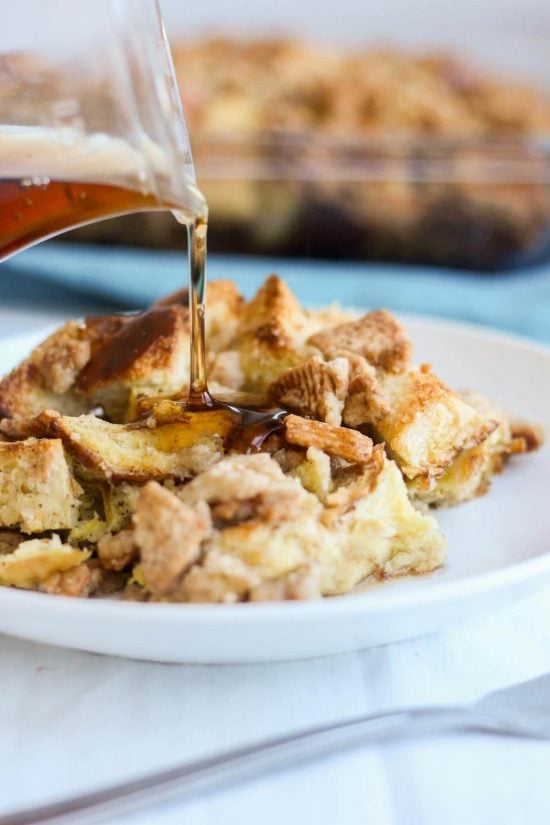 Hey there! Molly here from What Molly Made. I'm the writer, photographer and food lover behind all of the recipes there. I believe love is the answer, you can enjoy butter and veggies equally and that we can all connect over yummy food. I'm so excited to be sharing another recipe here with all of you! If you missed my latest, check out the Greek Yogurt Banana Bread, Blueberry Basil popsicles and Coconut Lime Cupcakes.
To add to those yummy recipes I'm sharing a twist on a classic breakfast today. Cinnamon Toast Crunch Breakfast Casserole isn't your run of the mill breakfast casserole. It's super special. Because the crumble on top is made with Cinnamon Toast Crunch! I love a good crumble any day of the week, but when it involves one of my favorite cereals I love it 24/7.
This cereal really takes me back to my childhood because my sister's and I would eat a giant bowl (or 10) every morning before school. Usually at the counter watching Saved by the Bell. It's such a classic cereal. And because french toast is such a classic breakfast recipe is just makes sense to combine the two.
The base of the casserole starts with crusty bread. I used challah here. It's thick and butter and holds up really well to the liquid ingredients in this recipe. It's even better if you leave it sitting out for a day or so to let is get somewhat crusty. Cut it into one inch cubes then toss it into the casserole dish.
The next step is your typical liquid ingredients for french toast. Eggs, milk, cinnamon etc. are combined and poured over the bread. This is where the casserole is a little different than typical french toast! The little bits of bread soak up all of the yummy liquid while it sits overnight.
This step is one of the main reasons I love making this recipe. You can throw it together easily ahead of time and pop it in the fridge overnight so in the morning all you have to do is heat the oven and bake.
BUT, before  you do that. You have to add the star of this recipe! The crumble. It's made with traditional crumble ingredients and the Cinnamon Toast Crunch as well. it gives this breakfast casserole so much texture!
Bake it for 44-55 minutes in the preheated oven and you're on your way to a delicious morning. I like to bake mine for the minimum amount of time because I like it a little softer. It's best served warm!
Add fresh fruit, syrup or powdered sugar to finish it off!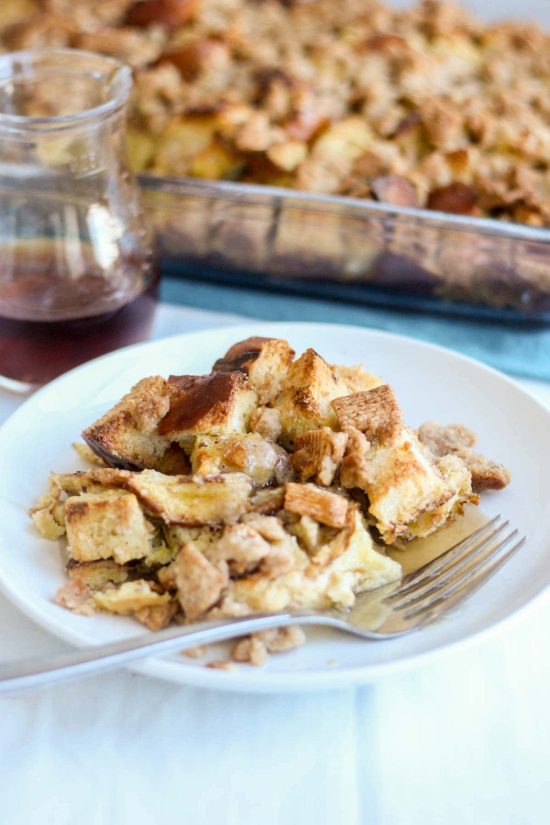 I'm already having visions of you making this breakfast casserole as part of your Mother's Day spread. Mom definitely deserves a special cinnamon toast crunch morning that day (and every day).
Make ahead tip: Make the entire casserole, cover with plastic wrap and place in the freezer for up to two month. Just thaw in the fridge overnight and bake at 350 for 35 minutes. That means you could make this recipe today and freeze it for Mother's Day:) Just a thought!