Healthy, 3-ingredient blueberry basil popsicles are the perfect easy and healthy treat! They take less than 15 minutes to make and freeze in a couple hours. Your family and friends will be amazed that they're made with whole foods and taste so delicious and sweet!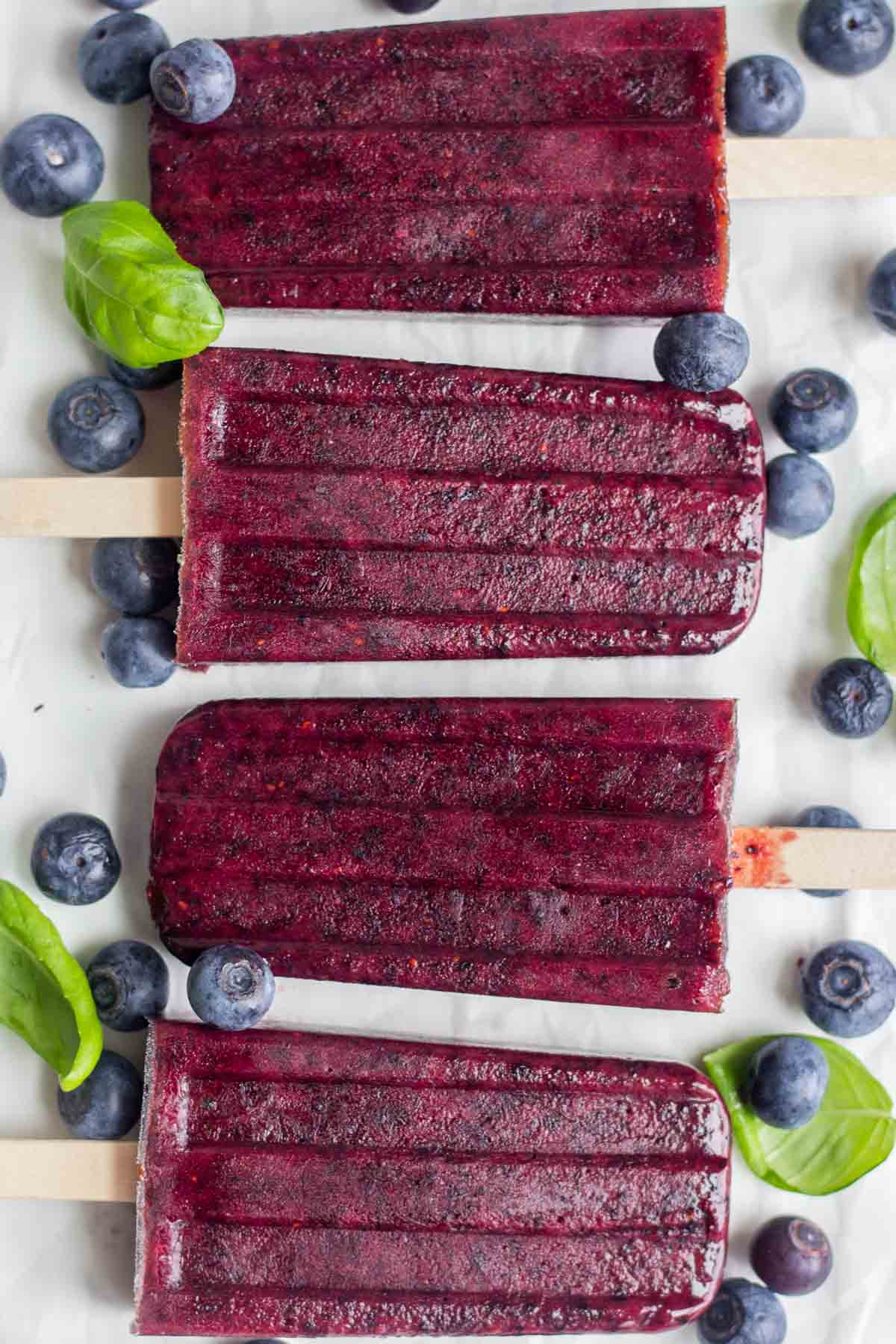 Hey there! My name is Molly Leonard and I am the recipe creator, blogger, photographer and writer over on What Molly Made. My favorite things to make are desserts and treats, both indulgent and healthy. Because life is all about balance, right?!
And one of the ways I love to balance out my diet is with treats that curb my sweets craving but don't have any of the sugar or fat. There is nothing like a sweet popsicle while watching Netflix to finish the night! It's exactly what I need to stay on track during the week.
Because of that I wanted to share with you guys a simple and easy trick to make that happen. Introducing the blueberry basil popsicles! Aside from looking and sounding super pretty, they're packed with flavor. Blueberries are the base of this recipe and they really dominate most of the flavor. They also provide so many health benefits including antioxidants, fiber, vitamin C and more.
Bonus! These blueberry basil popsicles are also vegan, gluten-free and paleo! Because all three of the ingredients are whole and natural they fit nicely into any and all restrictive diets. I did the paleo diet for a really long time and if I would have come up with this recipe back then I would have been so happy! So hopefully this makes all the paleo fans out there just as happy!
The blueberry flavor is complemented with the earthy and aromatic notes of basil. I love basil so much! And it pairs perfectly with so many fruits, especially blueberries. It's the best touch to these blueberry basil popsicles. Hence the name?.
I also like to thin that people will ooh and ahh of the unique flavor combination. They will be pleasantly surprise by how delicious, sweet and refreshing they taste! And you can bask in all the glory knowing it only took you minutes to create it.
So what makes this blueberry basil popsicle recipe so easy?
All you need is a blender and popsicle molds! Plus three ingredients. Yep, you're just three ingredients away from making this healthy snack. Blueberries, basil and honey!
The blueberries and basil provide all of the flavor and the honey adds an extra douse of sweetness to round it all out. You just throw all three in the blender or food processor and blend on high for a couple of minutes. I like to blend mine extra long to really make sure the skin of the blueberries aren't noticeable.
When you've thoroughly blended just pour them into your popsicle molds and place them in the freezer for about 3 hours, or overnight. They freeze completely through and you're left with a fun popsicles you can give to your family, friends and especially your kids!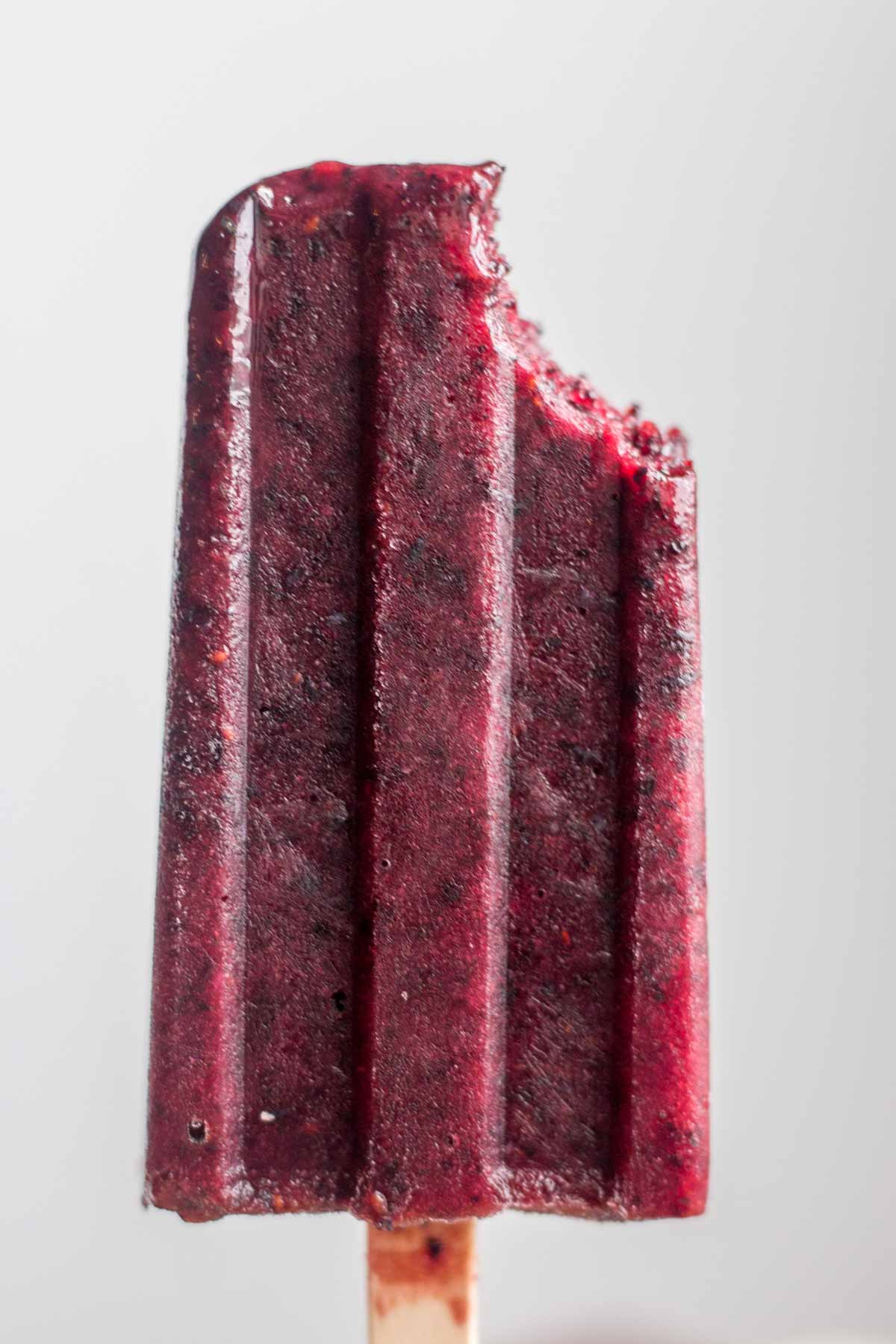 Here's a pro tip: run the popsicle molds under hot water before you attempt to pull them out. The popsicles themselves will have likely frozen to the molds so by carefully running them under hot water you melt the very edges and allow the popsicles to pull away.
From there you can gently pull up on the popsicles sticks and they should slide right out. Serve and enjoy!
You can also leave them in the freezer for up to 3 months and have them once in a while. I had every intention of doing that this time I made them but they disappeared in 3 days. Good thing they're so easy to make again!