A fun and tasty April Fool's Day Dinner Idea where nothing is quite as it seems. Meatloaf cupcakes with mashed potato frosting, apple fries, and Cocoa Krispies mock meatloaf.
Have fun and fool the whole family with this dinner. I have fond memories of my own mother making fun meals like this for us. I've made a video to go along with it. Be sure to check it out as it has extra tips and is a great visual for how to pull off this tricky meal. It's easy to make, of course, but it sure will trick people!
Meatloaf Cupcakes
Meatloaf Cupcakes with Mashed Potato Frosting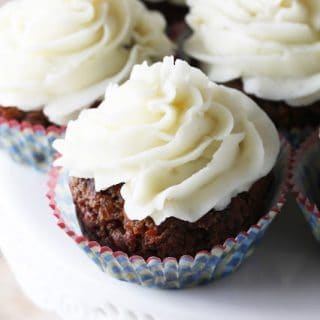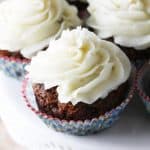 Nothing is quite as it seems with this cupcake! Make cupcakes out of meatloaf and top them off with mashed potato frosting.
Instructions
Preheat oven to 350 degrees. Lightly grease a muffin tin.

Make your meatloaf mixture. You can use any recipe or check out my favorite recipe above.


Make everything except the glaze.

Form meatloaf into large meatballs that fill the muffin tin holes. Bake in the preheated oven for 35 to 40 minutes. Once baked, remove from muffin tin and place in cupcake liners.

Meanwhile, make a batch of

mashed potatoes

Transfer mashed potatoes to a pastry bag with a star tip.

Frost "cupcakes" with mashed potatoes.
Apple Fries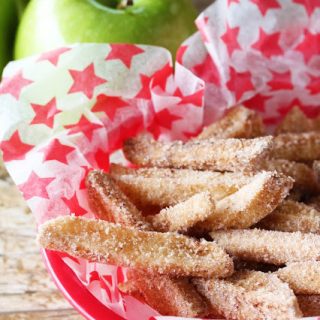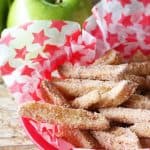 Delicious apple fries rolled in cinnamon sugar.
Ingredients
Vegetable or Canola Oil

for frying

4

granny smith apples

1/2

cup

cornstarch

1/2

cup

sugar

2

teaspoons

ground cinnamon
Instructions
Pour oil in a large heavy skillet, enough to cover the pan with 1/2-inch oil.

Peel the apples. Cut 1/4 inch slices off the apples, leaving the core behind. Cut each of these down into the shape of french fries.

Working in batches, dust the apple pieces with cornstarch, covering each completely. Fry in the oil about 2-3 minutes, until golden brown.

Drain for 60 seconds on a paper towel-lined plate.

Mix sugar and cinnamon in a small bowl. Roll "fries" in mixture and serve immediately.
Nutrition
Calories:
254
kcal
|
Carbohydrates:
65
g
|
Sodium:
3
mg
|
Potassium:
194
mg
|
Fiber:
5
g
|
Sugar:
43
g
|
Vitamin A:
100
IU
|
Vitamin C:
8.3
mg
|
Calcium:
21
mg
|
Iron:
0.4
mg
Cocoa Krispies Mock Meatloaf
Cocoa Krispies Mock Meatloaf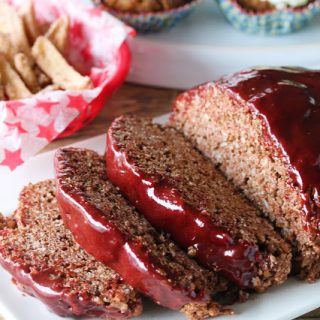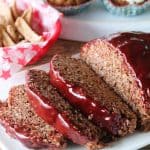 Mock meatloaf using cocoa krispies.
Ingredients
7

cups

Cocoa Krispies

2

tablespoons

butter

3

tablespoons

cocoa powder

10

ounces

mini-marshmallows

1/4

cup

seedless raspberry jelly

2

tablespoons

cocoa powder
Instructions
Places 6 cups of Cocoa Krispies in a gallon resealable bag. Pound with a mallet or rolling pin until crushed. Stir in remaining 1 cup Krispies. Set aside.

Melt butter in a large saucepan over low heat. Meanwhile, lightly grease a baking sheet.

Stir cocoa powder into melted butter until smooth. Pour in mini-marshmallows and stir constantly over low heat until marshmallows are completely melted.

Immediately pour melted marshmallow over Krispies and stir to combine.

Using greased hands, shape the Krispies into a free-form meatloaf shape on the prepared baking sheet.

In a small bowl, stir together raspberry jelly and cocoa powder until completely combined. Brush over the top of the "meatloaf" to glaze. Let loaf cool completely (about 30 minutes) before cutting into slices.
Nutrition
Calories:
259
kcal
|
Carbohydrates:
56
g
|
Protein:
2
g
|
Fat:
4
g
|
Saturated Fat:
2
g
|
Cholesterol:
7
mg
|
Sodium:
160
mg
|
Potassium:
101
mg
|
Fiber:
1
g
|
Sugar:
33
g
|
Vitamin A:
1080
IU
|
Vitamin C:
12.6
mg
|
Calcium:
37
mg
|
Iron:
4.2
mg