Are you looking for a quick and easy dinner option? Look no further than our Easy Air Fryer Shrimp recipe! Made with jumbo shrimp, lemon juice, and a blend of spices, this dish is packed with flavor and cooks in just 7-8 minutes. Use it for an easy weeknight meal or dress it up to impress guests at a party.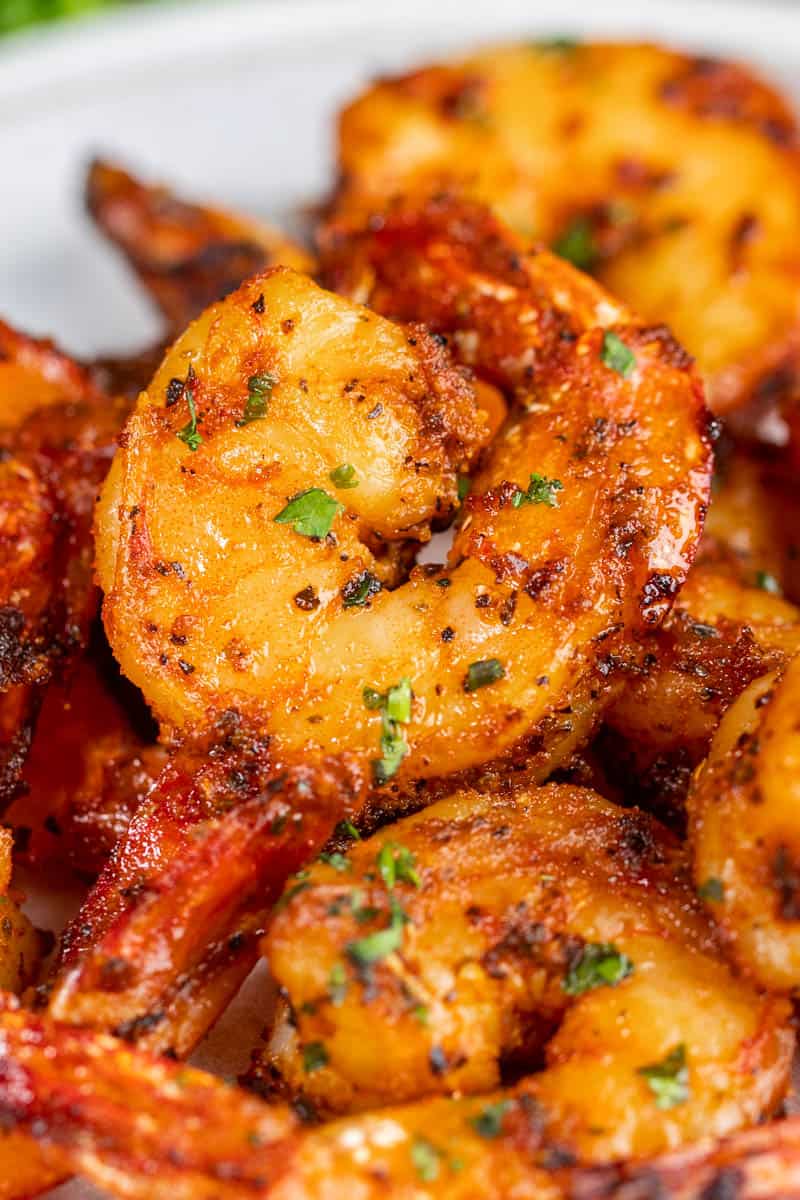 One of the great things about cooking shrimp in an air fryer is that it gives you all of the texture and flavor you love from traditional fried shrimp in a way that's easier, more approachable, and even a bit healthier. The recipe uses extra virgin olive oil and lemon juice for flavor instead of a heavy batter. Air fryers are quick to preheat, use less energy, and are a handy cooking appliance particularly if you are only cooking for one or two. They cook food by circulating hot air around it, which creates a crispy, fried texture without the added oil. This means that your shrimp will come out crispy on the outside while still being juicy on the inside. Plus, cooking in an air fryer is a lot less messy than traditional deep-frying methods and is easy to clean up.
Shrimp Preparation
If you are using frozen shrimp, be sure to let thaw completely before cooking. You can thaw in the refrigerator overnight, or in a ziplock bag submerged in a bowl full of cold water for 10-20 minutes.
If the shrimp didn't come already peeled and deveined, it's easy to do it yourself. To devein shrimp, rinse the shrimp in a colander under cold water. If you want to cook your shellfish with the shell on, simply draw a knife across the back of the shrimp using the tip of your knife. Remember: not all raw shrimp have veins! Check to see if yours does and pull it out using your knife.
If you want to cook shrimp without the shell, start by peeling off the shell before you draw a line with your knife through the back. Then remove the vein as indicated above.
How long should I cook shrimp in an air fryer?
The cooking time for shrimp in an air fryer will vary depending on the size and thickness of your shrimp, but usually, it takes 7-8 minutes to cook.
How many shrimp can I cook at once in an air fryer?
The amount of shrimp you can cook at once in an air fryer will depend on the size of your air fryer basket, but it's best to cook the shrimp in a single layer to ensure even cooking. Some air fryer accessories are available for certain models of air fryers that allow you to cook multiple layers at once on racks.
Do I need to preheat the air fryer before cooking shrimp?
Yes, it is recommended to preheat the air fryer to the desired temperature before adding the shrimp to ensure even cooking. Refer to the manual of your specific air fryer appliance for the best preheating instructions for your particular device.
Is it necessary to flip the shrimp during cooking?
It is not necessary to flip the shrimp during cooking, but you can shake the basket or stir the shrimp halfway through the cooking time for even cooking.
Can I cook frozen shrimp in an air fryer?
For best results, you should thaw your shrimp completely before cooking.
Can I cook shrimp with the shell on in an air fryer?
Yes, you can cook shrimp with the shell on in an air fryer, but it is recommended to remove the shell before cooking for better flavor and texture. Additionally, if you're planning to cook shrimp with the shell on, the time may vary and might take longer.
How can I tell when the shrimp is fully cooked in an air fryer?
It's really easy to tell when shrimp is fully cooked. Shrimp starts off pale, gray, and translucent and turns pink and opaque once fully cooked. You can also use a meat thermometer to check that the internal temperature has reached 145°F.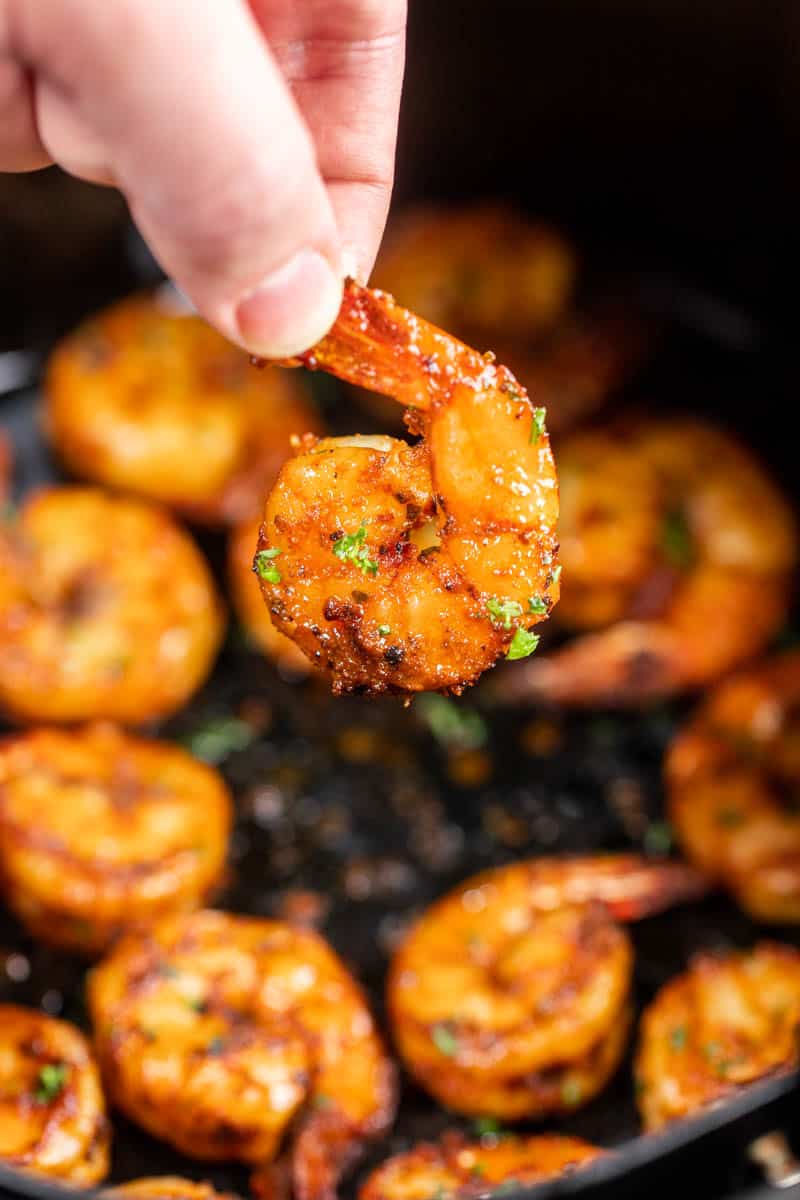 Serving Suggestions
You can serve air fryer shrimp with different sauces for dipping or toss it in to coat. Some ideas include cocktail sauce, lemon butter sauce, garlic butter sauce, or a spicy aioli. You can also try different seasonings or spices to switch up the flavor.
If you are serving your shrimp as a main course, you can try roasted vegetables like cauliflower, brussels sprouts, or broccoli as a side dish for a light and healthy meal. Add a carbohydrate like pasta, rice, bread, or potatoes for a more filling meal.
Storage and Reheating Instructions
You can store any leftovers in an airtight container in the fridge for up to 3 to 4 days. You can also freeze it! Place the shrimp in an airtight container or freezer-safe bag. Then, wrap the container or bag tightly with aluminum foil. It will keep in the freezer for up to 10-12 months. When you're ready to reheat, simply defrost and reheat in the air fryer or oven.
If you like this recipe, you may be interested in these other delicious air-fryer recipes: