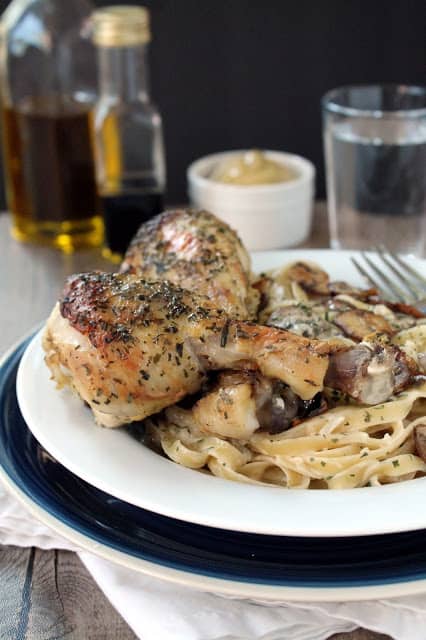 This is one of those recipes that tastes like it would be hard to make, but really it is incredibly simple. The secret is the tarragon. Your average person isn't using tarragon on a daily basis so the flavor seems impressive and exotic. Really it is just some simple leaves you can find in pretty much any grocery store. If you can't find fresh tarragon, you can substitute dry. Tarragon has a flavor all its own. People describe it as a combination of licorice, mint, pine, and pepper. Sound crazy? It's delicious. Don't believe me ask the dishes! Oh wait, this isn't Beauty and the Beast and I don't live in an enchanted castle where my dishes can talk. But I do love tarragon. Tarragon and dijon mustard are the perfect combination. You'll gobble up the drumsticks and twist the pasta around your fork as fast as you can.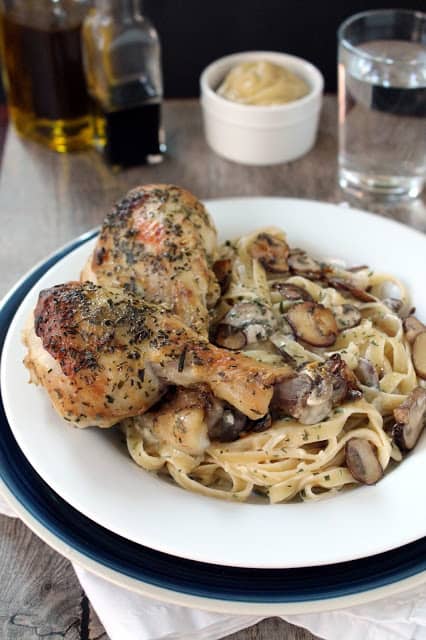 Ingredients

12 chicken drumsticks
Salt and pepper
4 tablespoons butter, softened
2 teaspoons tarragon, finely chopped
1 tsp dijon mustard per drumstick (12 tsp)

Instructions

1. Preheat oven to 375 degrees. Lightly grease a jelly roll pan (or other baking pan of choice).

2. Season drumsticks with salt and pepper.

3. Combine softened butter with tarragon.

4. Rub down each drumstick with dijon mustard and tarragon-butter mixture.

5. Cook at 375 degrees for about 45 minutes. Check with a meat thermometer to ensure it has been cooked to the advised 165 degrees.


For the Pasta:

Ingredients

1 lb linguine
1 tsp olive oil
4 shallots, diced
1 lb mushrooms, sliced
4 T butter
2 cloves garlic, minced
1/4 cup tarragon, chopped
2 cups milk or half and half

Instructions

1. Cook pasta according to package directions.

2. Meanwhile, saute shallots and mushrooms in olive oil in a large fry pan over medium high heat, about 7 minutes until mushrooms and onions are cooked through.

3. Add in butter and allow to melt. Then add in garlic and saute for another 1 minute.

4. Add in tarragon and give the pan contents a quick toss. Add in milk and allow to simmer until pasta is ready.

5. Pour mushroom sauce over linguine and serve hot.