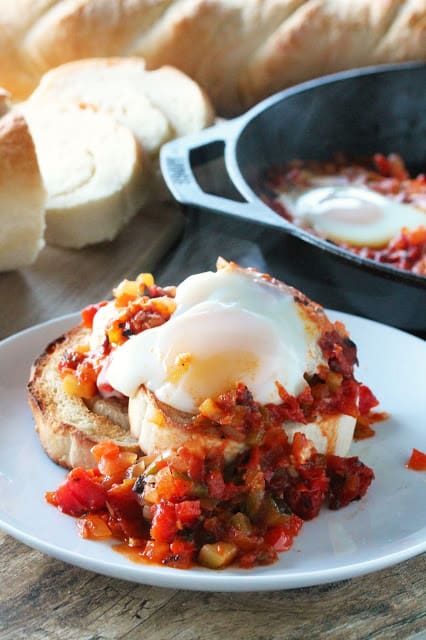 Pisto is a dish from Spain that is flavorful and full of vegetables, served over toasted bread and topped off with a fried egg. I would describe it as somewhere between French ratatouille and Middle Eastern Shakshuka, both of which are absolutely delicious. The vegetables in pisto are finely diced quite small and create an almost chunky sauce or stew. In this recipe I've kept it a one pot dish, cooking the eggs directly in the pisto. Serve this over some toasted french bread and you'll be in heaven!
I received a box of ingredients straight from Spain from the company "Try The World." I had seen a number of advertisements for the business that made me drool so when they offered to send me a box to give it a try, I simply couldn't resist. Every 2 months they send you a box of 7 different food products from a different country every time. How cool is that? Their latest box was from Spain and included a couple of Spanish desserts, Spanish olive oil, hot Spanish paprika, a tomato spread, rose petals jam, and the exotic experience of pickled mussels. It's such a great way to try new things and experience all the wonderful food the world has to offer. Click HERE to order the Spain box before October 30 and get a box from Paris for free! This recipe uses two ingredients from my Spain box for your enjoyment.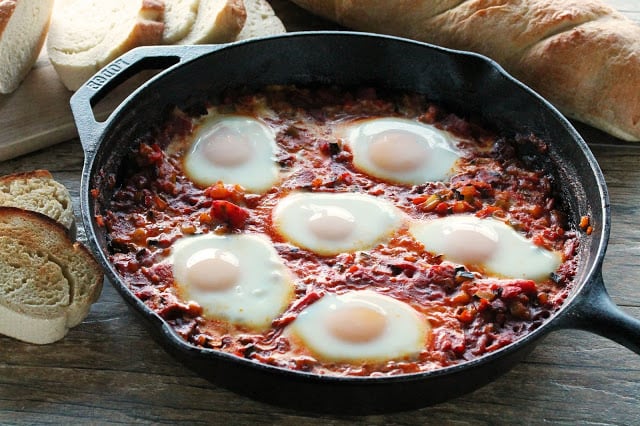 Time to Make It: 35 minutes
Yield: 6 servings
Ingredients
3 tablespoons Spanish olive oil
1 onion, small dice
1 zucchini, small dice
1 red bell pepper, small dice
1 green bell pepper, small dice
4 cloves garlic, minced
2 teaspoons hot Spanish paprika
2 (15 oz) cans fire roasted diced tomatoes
3/4 teaspoon salt
6 eggs
Instructions
1. Heat olive oil in a large heavy oven-safe skillet over medium-high heat. Add in onion, zucchini, and bell peppers. Saute until vegetables are tender, about 5-7 minutes.
2. Add in garlic and paprika and saute one minute.
3. Pour in diced tomatoes and stir in salt. Bring to a simmer and reduce heat to medium-low. Simmer 15 minutes. Preheat oven to 375 degrees while you wait.
4. Create 6 little nests in the tomato mixture to hold the eggs. Crack eggs directly into the holes.
5. Transfer skillet to the preheated oven and let cook until egg whites are set, about 8 to 10 minutes.
6. Serve hot with bread.
Options:
Instead of baking the eggs directly in the vegetable mixture, you can fry the eggs individually to go with the meal or skip the eggs and baking all together for more of a ratatouille version.
Add slices of manchego cheese to the top of the dish before putting it in the oven for Pisto Manchego, a regional version of the dish.