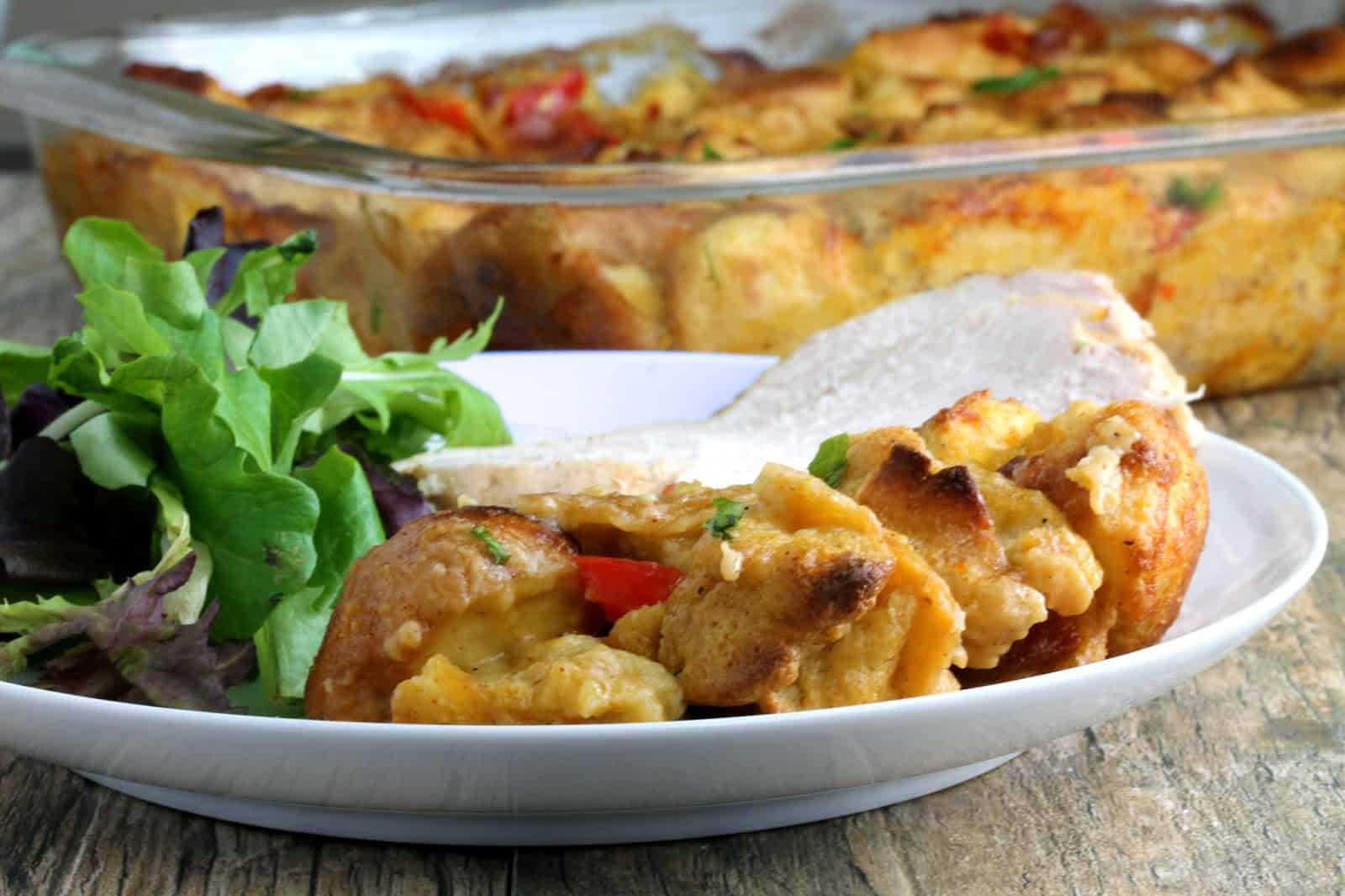 Stuffing is one of my favorite parts of Thanksgiving, but I definitely don'tn limit it to just November. In fact, this version won't even have you thinking Thanksgiving at all. Sure, you can easily eat it with your turkey, but you won't be able to wait a whole year to eat it again. It is inspired by the flavors of the Southwestern US. You've got your bell peppers, your cilantro, and you've got bacon. I was inspired by an episode of Bravo's Top Chef. A couple seasons back they had a Quickfire Challenge where they had to make a stuffing without using certain kitchen tools like knives. The winner was this amazing Southwestern Stuffing. I don't have you using liquid nitrogen and smashing things with a pot like he did, because let's face it, you have a knife. Nonetheless, this recipe is quite tasty and I'm sure it deserved the Quickfire win. It's an amazing creation that will have you gobbling up spoonfuls of stuffing at Thanksgiving or at any other time of the year!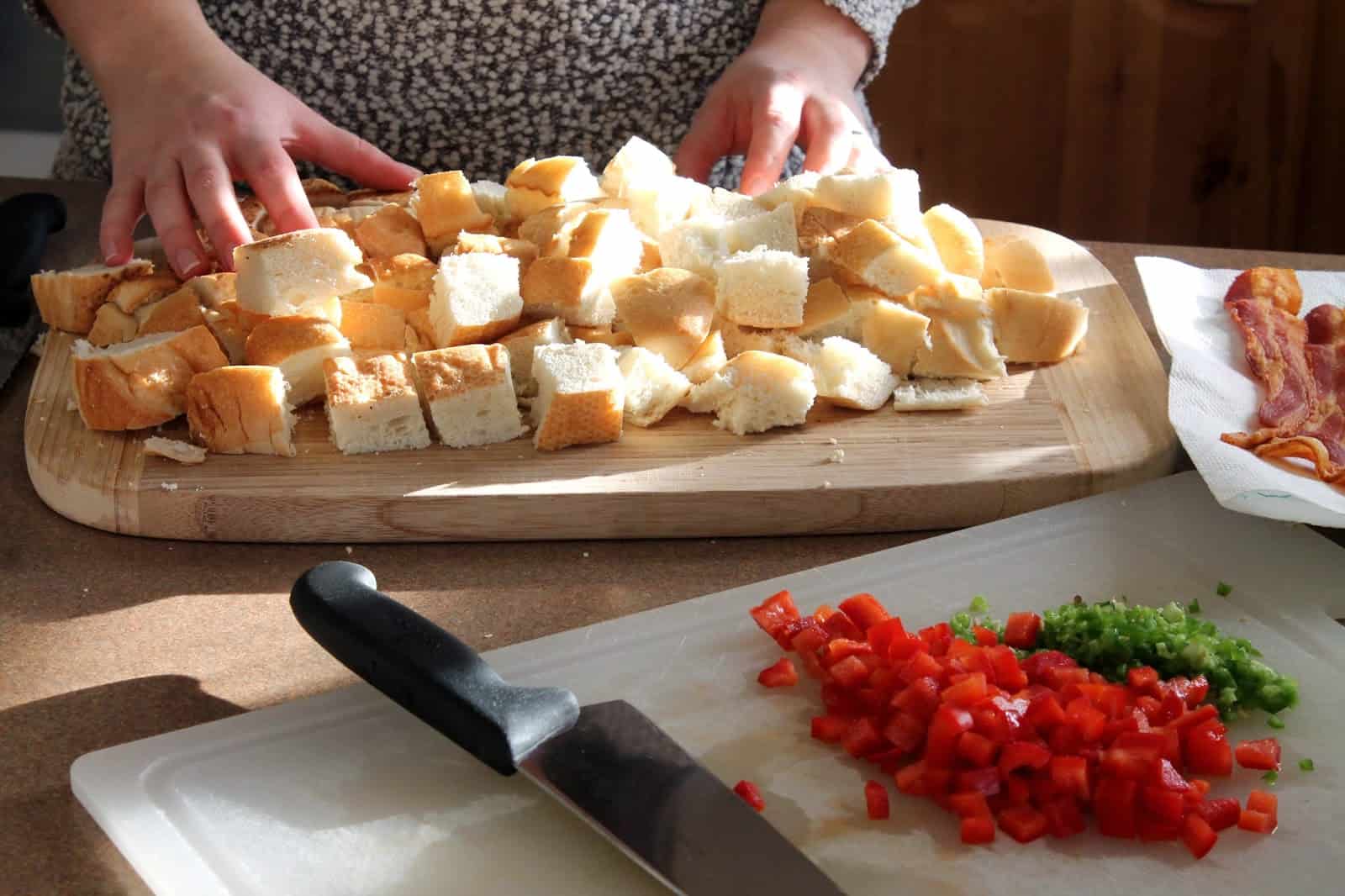 Prep Time: 30 minutes
Bake Time: 20 minutes
Yield: Serves 8
Ingredients
2 tablespoons butter
1/4 cup flour
1 tsp chili powder
1 tsp cumin
1/2 tsp salt
1/4 tsp pepper
2 cups chicken broth
2 red bell peppers, seeded and diced
1 jalapeno, seeded and diced
2 cups heavy cream
1 egg
6 oz cheddar cheese, cut into very small cubes
1 loaf sourdough bread, torn into large chunks
1 bunch cilantro, chopped
1 lb bacon, cooked and diced
Instructions
1. Preheat oven to 425 degrees. Prepare a 9×13 pan by spraying it lightly with nonstick spray.
2. In a medium saucepan make a roux by melting the butter and then whisking in the flour to form a bubbly mixture. Add in the chili powder, cumin, salt, and pepper for flavoring. Pour in the chicken broth and whisk to combine. Add in the diced jalapeno and red bell pepper and bring to a boil. Once boiling the mixture will thicken quickly. Once it thickens remove from heat and set aside.
3. In a small bowl whisk together the egg and heavy cream. Set aside.
4. In a large mixing bowl mix together the bread chunks and cheddar cheese. Slowly pour the cream mixture over it and stir to moisten everything. Then pour the chicken broth mixture over, add in cilantro and bacon, and stir to combine. Immediately transfer it to the prepared 9×13 pan and spread it out in an even layer.
5. Bake at 425 degrees for 30 minutes, until the top starts to brown.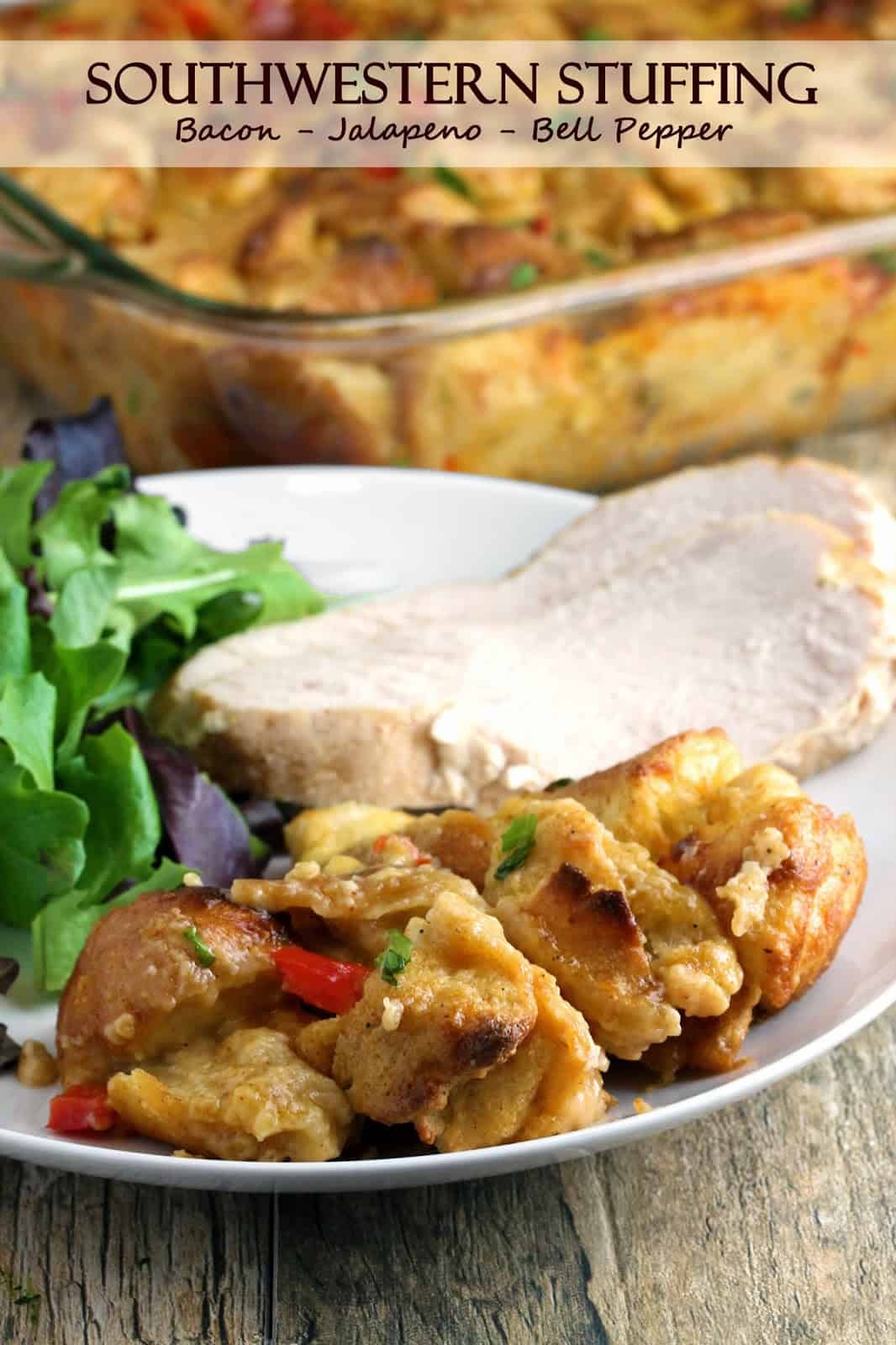 ***Recipe inspired by Chef Tre Wilcox as seen on Top Chef Season 8, Episode 4