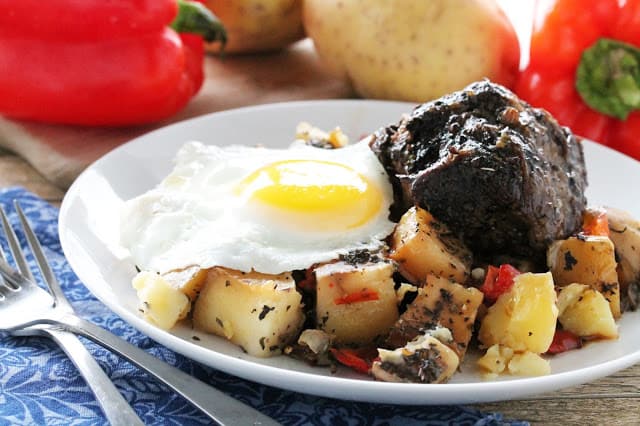 This recipe is simple, but the result is simply amazing. Short ribs are cooked to tender perfection along with seasoned potatoes and bell pepper. Top it off with a sunny-side up egg for extra goodness. I first discovered this dish at La Brea Bakery just outside the entrance to Disneyland in California. I knew I could easily replicate the dish at home and transform it into a slow cooker wonder. This is great as a breakfast, brunch, or dinner, making it a great recipe to have on hand. Cook it overnight for a hearty morning breakfast, or let the smell drive you wild all day and come home to a hearty meat and potato dinner. You can't go wrong!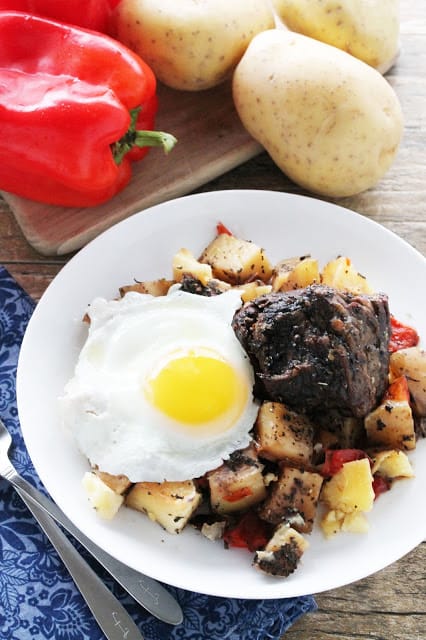 Prep Time: <15 minutes
Slow Cooker Time: 8 to 10 hours, low
Yield: Serves 4
Ingredients
1 lb. boneless beef short ribs
salt and pepper
3 TB worcestershire sauce
6 medium-size yukon gold potatoes, chopped
1 red bell pepper, seeded and sliced
1 tsp basil
1 tsp oregano
4 eggs (optional)
Instructions
1. Heat a skillet over high heat. Season the short ribs with salt and pepper and sear them on each side. Transfer to the bottom of a 5 to 7 quart slow cooker. Pour worcestershire sauce over short ribs.
2. Put the potatoes and bell peppers on top of the meat. Season with basil, oregano, and more salt and pepper.
3. Cook on low 8 to 10 hours. Serve topped with a sunny-side up egg (optional). Need to know how to cook a sunny-side up egg? Click HERE.

Do I have to sear the meat?
Nope. You don't have to. Sear the meat will help keep the juices inside the meat while cooking, but ultimately you'll still end up with a fine product if you have to skip this step. The meat will just be slightly more dry.
Want 120 more really great slow cooker recipes? You can always buy my book! 🙂