Typically labored over and simmered for hours, my Slow Cooker Chicken Mole is pretty much hands off. This still delivers the multi-layered flavors of chiles, chocolate, dried fruit, herbs and spices with tender, shredded chicken that's perfect for tacos or enchiladas.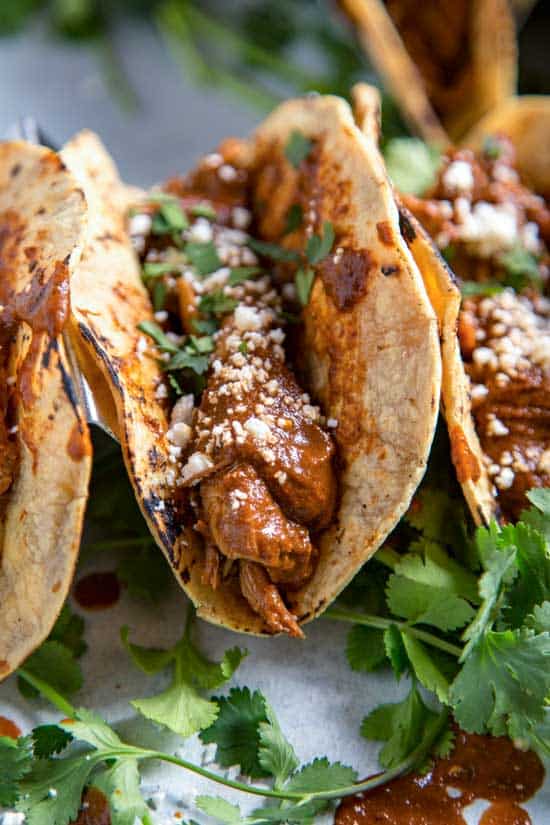 Hi everyone, it's Kevin from Kevin Is Cooking. Special thanks to Rachel for letting me contribute here on The Stay at Home Chef. For today's post I'm sharing my Slow Cooker Chicken Mole Tacos!
A mole is a Mexican sauce that is comprised of toasted nuts, dried fruit, chiles, chocolate and other savory ingredients, herbs and spices.
When I think of a mole I think of a rich, savory Mexican sauce that has complex, layered flavors, and has been painstakingly nurtured, simmered and labored over. Not so for my Slow Cooker Chicken Mole where you mix the sauce ingredients together, pour over the chicken, close the lid and set the timer.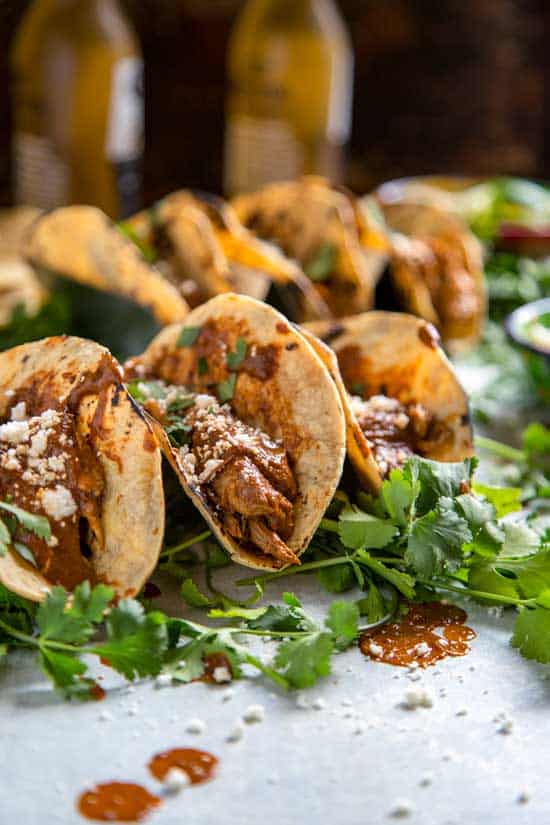 Just come home from work, shred the chicken, toast the corn tortillas over a flame to char a little and warm them up.
Add the chicken and top with the Cotija cheese, Mexico's version of a feta cheese, and cilantro. A squeeze of lime on top and you're good to go!
This mole sauce is amazing. Nuanced and packed with flavor and seriously most of the ingredients I bet you already have on hand in your pantry.
The extra sauce this makes is fantastic on eggs, used for enchiladas, or you can stir it into soups or chili. Enjoy!