Rosemary Ranch Grilled Chicken Kabobs have the perfect marinade for the juiciest, flavorful and tender chicken kabobs for your summer backyard barbecues. This recipe will certainly impress!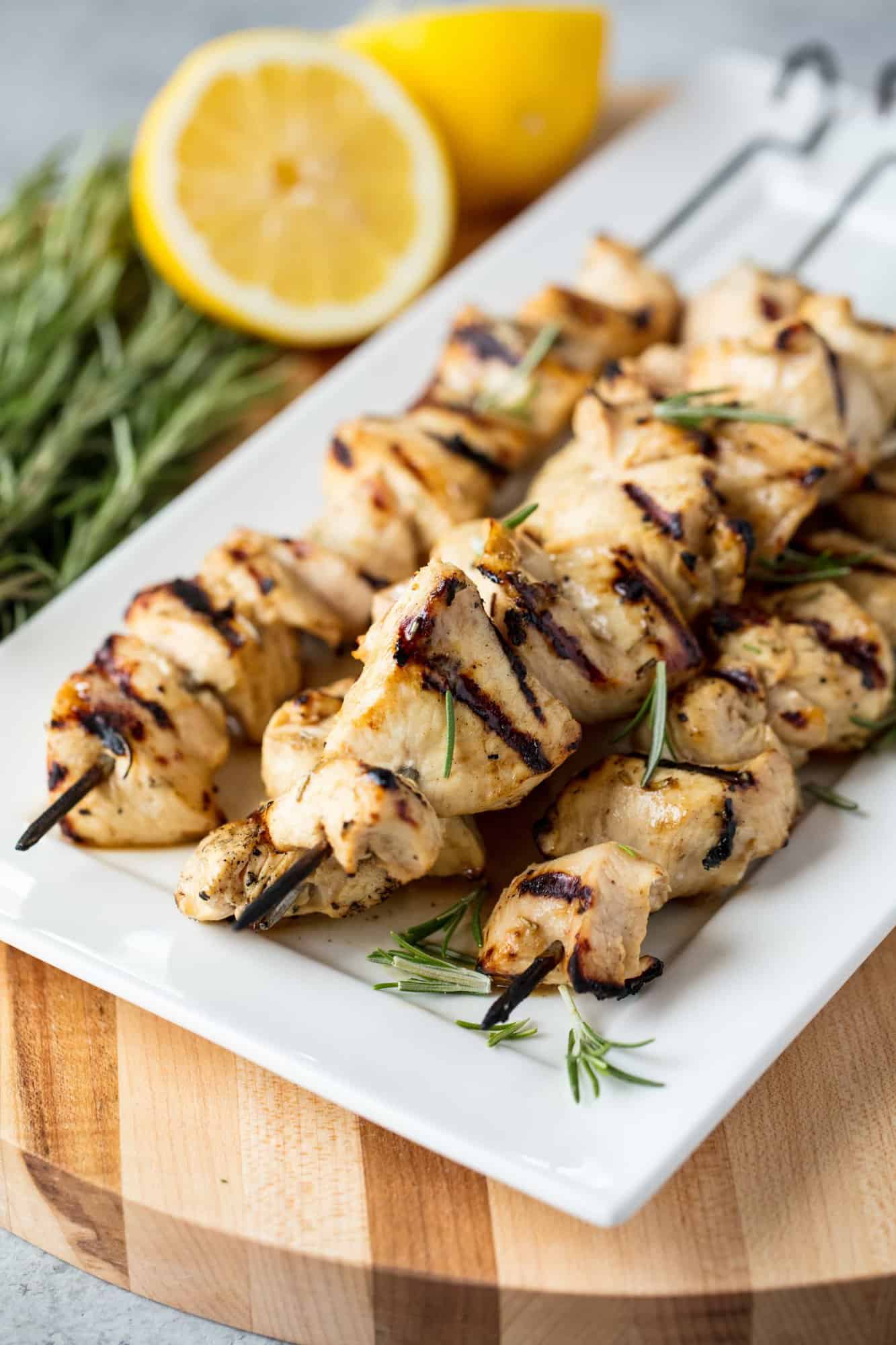 It's finally warm outside and we are in the last few days of the school year around here. Grilling time! I absolutely love to grill. The flavor it adds to food is unreal and I grill as often as I can. This recipe is all about the marinade and it doesn't disappoint. It's super flavorful and has the right balance of acidity to properly tenderize your chicken.
The marinade in this recipe can also be used with veggies for the side. Don't marinate them with the chicken to prevent cross contamination, but this marinade is simply marvelous on potatoes. Slice up a peeled russet potato, or use some smaller red or gold potatoes and cut them in half. Place them in a foil packet, drizzle the marinade over, and grill them up along side your chicken for a complete meal!
Can I make Chicken Kabobs without a grill?
While chicken kabobs are traditionally grilled, they can be prepared in the oven as well. Preheat your oven to 450 degrees Fahrenheit. Prepare the recipe as usual. Bake the kabobs on a lightly greased baking sheet for 12-15 minutes, turning halfway through, and then broil on high for 3-4 minutes to brown the edges.
Alternatively, you can also make kabobs on the stovetop using a grill pan or heavy skillet. Just like the grill, you'll preheat the skillet to high heat. Pan grill the kabobs in high heat for about 10 minutes, until the meat is cooked through, rotating every few minutes. Be careful not to crowd the pan.
Do I have to use breast meat? Can I use chicken thighs instead?
No. Any boneless, skinless cut will do. Different cuts of meat have different flavor and moisture, so cooking time can vary. Be sure that your meat reaches an internal temperature of 165 degrees Fahrenheit.
Make ahead instructions:
You can make a freezer meal of the kabobs so they will be ready on the fly. Simply prepare the chicken and freeze it in the marinade, in the gallon bag. When you are ready to make the kabobs, remove the frozen bag from the freezer and place it on a plate in your refrigerator until thawed. For faster thawing, submerge the frozen chicken in cold water, changing out the water every 20-30 minutes. Be sure that the container is airtight. With this method it should only take 60-90 minutes to thaw.