These peanut butter blondies are soft, chewy, and absolutely bursting with peanut butter flavor!  These blondies are made completely from scratch with a few key ingredients to maximize their soft texture!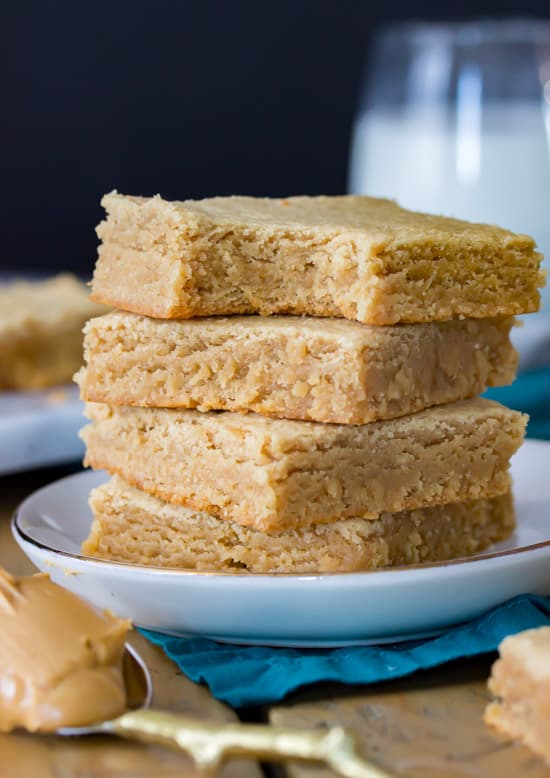 Hello again! Sam here from Sugar Spun Run with yet another sweet treat to share!
Today I want to share these incredibly soft and chewy peanut butter blondies.  I love peanut butter, and after developing what I consider to be the very best and softest peanut butter cookie (which I used as the base for my peanut butter blossoms), I knew that I wanted a peanut butter blondie recipe that was equally soft and chewy and bursting with peanut butter flavor.
These blondies are it.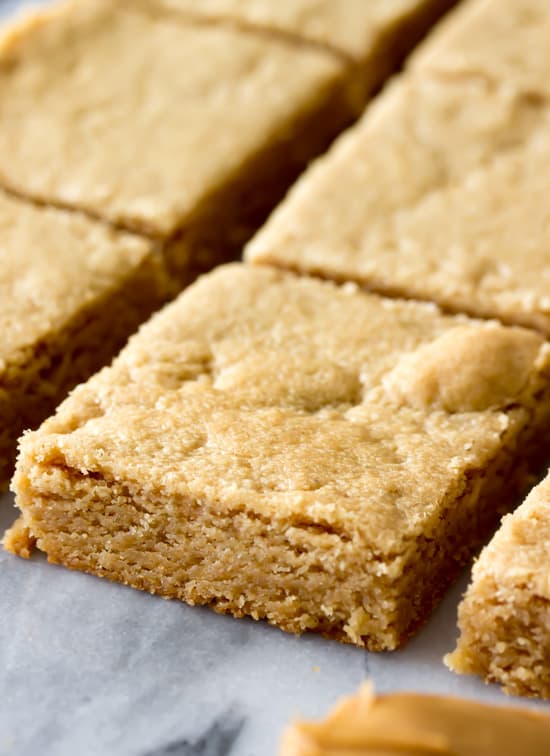 The addition of an extra egg yolk, a heavy handed pouring of brown sugar, and a teaspoon of cornstarch all help to make these peanut butter blondies extra soft.  We're also going to use a full cup of peanut butter in this recipe for the best possible flavor.
I use creamy peanut butter for this recipe, and while I think that crunchy peanut butter would work fine, I do not recommend using a natural peanut butter (the kind that you need to stir) as I'm not sure that it would turn out quite as well.  You can, however, feel free to get creative with in other add-ins such as chocolate chips or toffee bits for a little bit of added texture!
You'll bake these peanut butter blondies in a 13×9 pan, and while you may lightly grease and flour the pan, I recommend lining the pan with parchment paper but using enough that the paper hangs over the shorter sides of the pan.  Once the blondies bake and cool completely you'll be able to simply lift them out of the pan to easily cut them — and it makes for easy cleanup, too!
The parchment paper is a little wiggly so it's a little trickier to spread the thick peanut butter blondie batter into the pan, but I always do it because it makes everything much easier in the long run.
Enjoy!