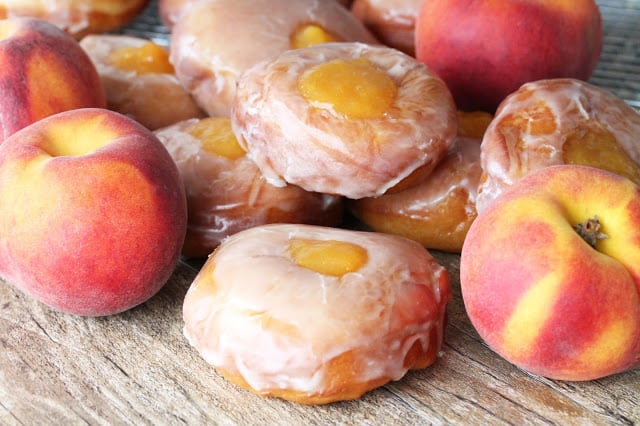 I have a passionate love affair with peaches this summer. I've been eating them on an almost daily basis and loving ever minute of it. When I stumbled upon a peach pie donut at a popular donut shop I absolutely had to have a taste. I was disappointed by the actual donut (hardly any filling!) but knew I'd be making my own at home. After all, I have an ongoing love affair with donuts. In fact, when I moved earlier this summer I waited to pack my donut making equipment until the last few days. I just couldn't guarantee I wouldn't make donuts!
For this recipe I've used the soft, fried donuts I have come to know and love and carry with me on my hips for the rest of my life. They are the perfect soft, yeasts donut. I've glazed them and filled them with a homemade peach pie filling. Of course, you could always use some store bought filling from a can, but there's nothing quite like that homemade fresh peach filling. These donuts taste just like a peach pie except, you know, in donut form. Oh, it's absolutely heavenly! This is a donut everyone will love.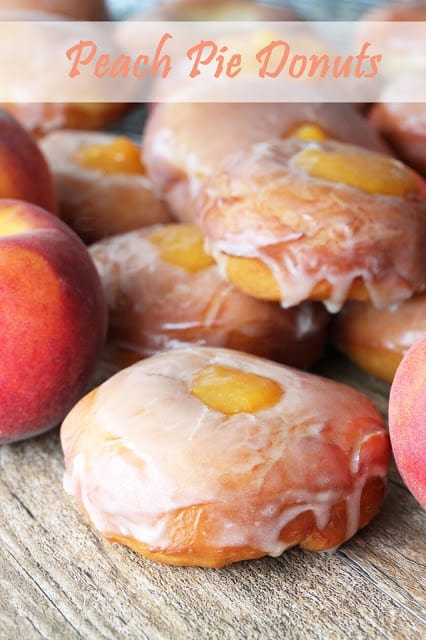 Peach Pie Doughnuts
Time to Make It: 3 hours
Hands on Time: 45 minutes
Yield: 1 Dozen Donuts
Ingredients
2 1/2 tsp instant dry yeast
1/2 cup warm water (approximately 100 degrees)
1/4 cup white sugar
1/4 cup milk
1/2 tsp salt
1/4 cup vegetable shortening
2 large eggs
1/2 tsp. vanilla extract
2 1/2 to 3 cups all-purpose flour
2 TB butter, melted
1 1/3 cups powdered sugar
1 pinch salt
2 tsp milk
1/2 tsp vanilla extract
2 to 4 tsp. water
2 cups peach pie filling (recipe below)
Instructions
1. Combine the yeast, water, sugar, milk, salt, shortening, eggs, and vanilla in the bowl of a stand mixer. Pour in 2 cups of the flour and knead on a medium-low speed with a dough hook until well combined. Slowly add in the remaining flour until a nice dough ball forms. Dough should be wet, but should not stick to your fingers or the sides of the bowl.
2. Spray a large mixing bowl with nonstick cooking spray. Transfer the dough to the bowl, cover with a clean dish towel, and let rise 1 1/2 hours.
3. Roll the dough out onto a lightly floured surface 1/4 to 1/2-inch thick. Use a drinking glass or round cookie cutter to punch out 12 donuts, re-rolling the dough as necessary to get a dozen donuts and use almost all of the dough. Let rise another 30 minutes.
4. Meanwhile, heat the shortening in a large pot to about 350 degrees. While the shortening is coming to temperature, make the glaze in a medium-size mixing bowl by whisking together melted butter, powdered sugar, pinch salt, 2 tsp milk, and 1/2 tsp. vanilla extract. Add in water 1 tsp at a time until it is just thin enough to dip something in easily. It shouldn't be runny, but it shouldn't be thick either.
5. Fry the donuts a few at a time until golden brown, flipping half-way through. It is helpful to do a test donut to ensure that the donut gets cooked through. Transfer the donuts to a wire rack covered with a layer of papertowels. Let cool for 1 to 2 minutes then dip the top of the donut into the glaze and place it back on the wire rack.
6. Once all of the donuts have been fried, fill a piping bag with the peach pie filling, like you would with frosting. Using a wide-mouth tip, insert the tip into the top of the doughnuts one at a time, squeezing to fill with 1 to 2 tablespoons of peach pie filling per donut.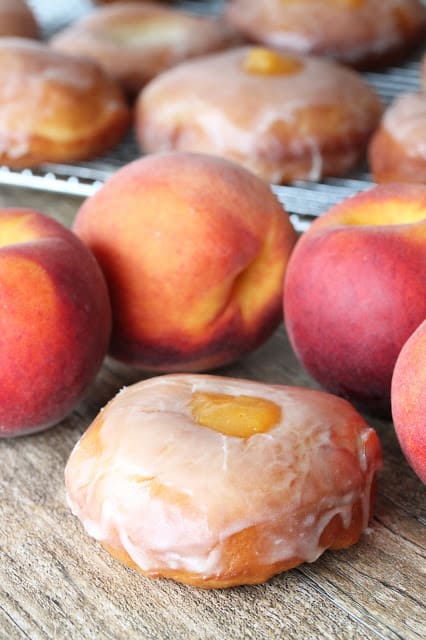 Peach Pie Filling
Time to Make It: About 15 minutes hands on, 1 hour 15 minutes total
Yield:  about 2 cups
Ingredients
4 large peaches, peeled, pitted, and diced
1/3 cup sugar
1 tablespoon cornstarch
1 teaspoon lemon juice
1/8 teaspoon ground cinnamon
pinch nutmeg
pinch salt
Instructions
1. In a medium sized saucepan, toss peaches with sugar, cornstarch, lemon juice, cinnamon, nutmeg, and salt. Let sit 1 hour.
2. After 1 hour, heat the mixture over medium-high heat until thickened.
3. Transfer to a blender and blend until mostly smooth. Some small chunks remaining are okay as long as they can fit through the large tip of a piping bag.