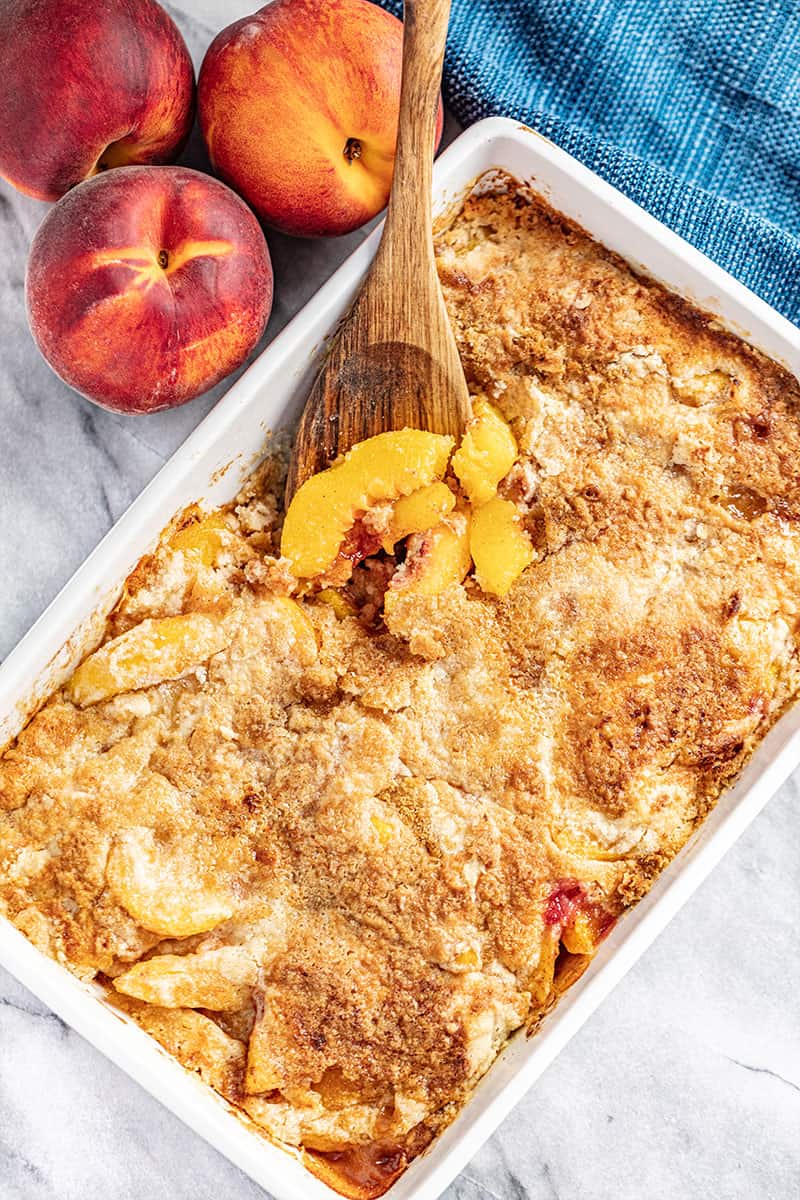 Peach Dump Cake is a family favorite summertime dessert made entirely from scratch with just a handful of simple ingredients. The recipe includes instructions for frozen, fresh, or canned peaches. No box cake mix needed!
There's nothing quite like peaches in the summer, and we can't think of a better use for peaches than in a dump cake. Like everything we do, we prefer to make it from scratch with just a handful of simple ingredients you're sure to find in your pantry.
Feeling a bit overloaded with fruit dessert terms? Cobblers, crisps, crumbles, pies and dump cake! Phew! That's a lot. We love them all, but we are particularly fond of dump cake because of how easy it is to put together and how amazingly delicious it is hot out of the oven with a scoop of vanilla ice cream on top!
Can I use canned peaches instead of fresh or frozen?
This recipe calls for fresh or frozen peaches. You can also use canned peaches. Purchase peaches that are canned in a light syrup or no syrup at all for best results. Syrup will provide additional sugar content to the recipe. You can rinse off canned peaches that have been canned in syrup for better results.
If you would like to use home canned peaches, the same rules apply: if you canned peaches in syrup, simply rinse off the syrup for best results and continue on with the recipe.
Dry spots in your dump cake?
The nature of dump cakes make it difficult to spread your flour mixture evenly over uneven fruit. High spots may not mix with liquids and remain raw. If you notice raw spots while baking, simply use a spoon to flatten out the high spot out so it can absorb some liquids.
Can peach dump cake from scratch be made over a campfire?
We love a good camping adventure when the kids are out of school for the summer. You can cook this in a cast iron dutch oven over hot coals for approximately 45 minutes. To make it easier while in the great outdoors, measure and pre-mix your flour, sugar, baking powder, and salt and store in a zip top bag until ready to pour on top of your peach mixture.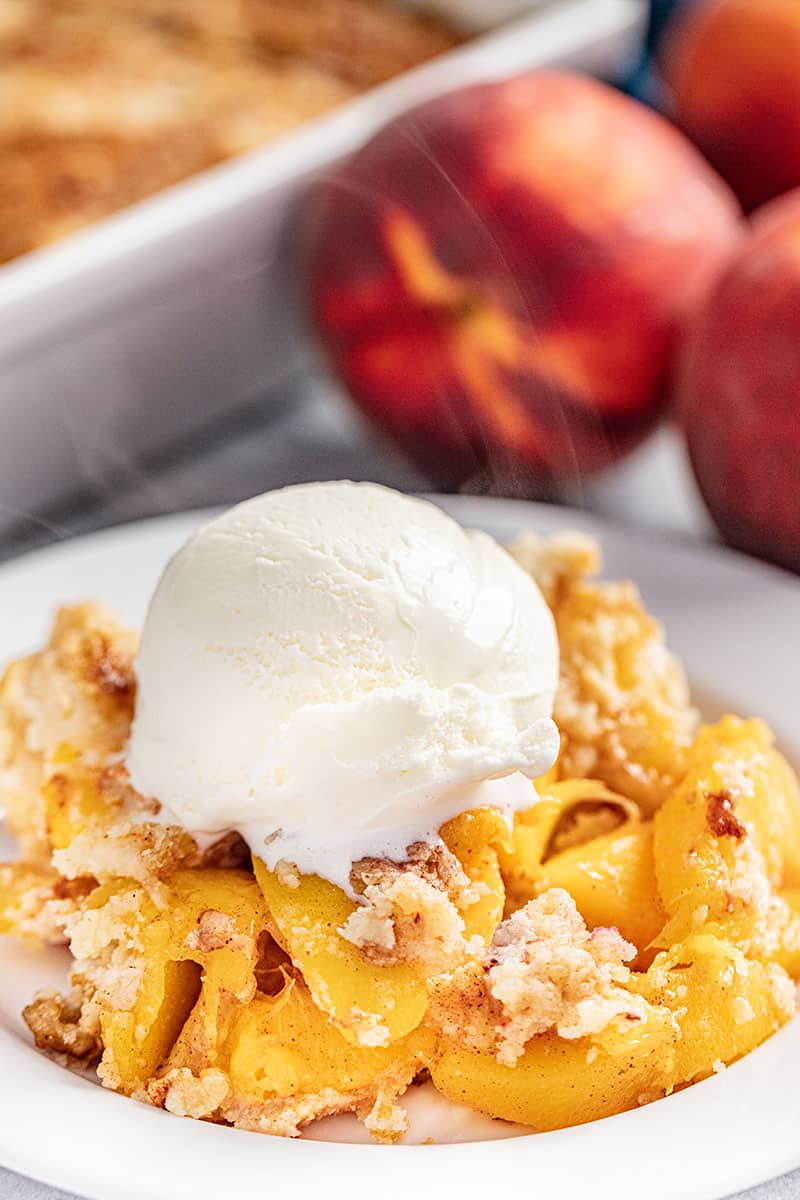 Storage Instructions
Peach dump cake can be stored in the refrigerator for up to 4 days in an airtight container, but trust us, you're going to eat this all within 24 hours. 
Watch the video below where Rachel will walk you through every step of this recipe. Sometimes it helps to have a visual, and we've always got you covered with our cooking show. You can find the complete collection of recipes on YouTube, Facebook Watch, or our Facebook Page, or right here on our website with their corresponding recipes.