Delicious Nutella and marshmallow cream sandwiched between two chocolate chip cookies.  My Nutella Cream Chocolate Chip Sandwich Cookies are to die for!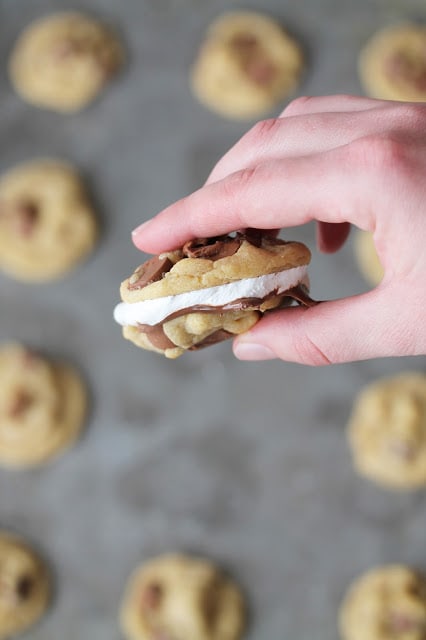 You don't need this recipe.
Repeat: you don't need this recipe.
I kept telling myself that over and over, but the thought of this cookie kept coming back to me again and again and finally I couldn't resist anymore. Here I am now. You take two chocolate chip cookies, spread one with marshmallow cream and the other with nutella and sandwich them together. It doesn't take a genius to figure out that these are ridiculously good, ridiculous being the key word. Seriously, no one needs this recipe, and yet everyone does. I'm torn! It's ridiculous! But sometimes I just need a little bit of ridiculous food in my life. Because it's dang tasty! Gah! It's too delicious. Now you have to try it.
Be careful watching the video too. It'll make you drool ridiculous amounts.