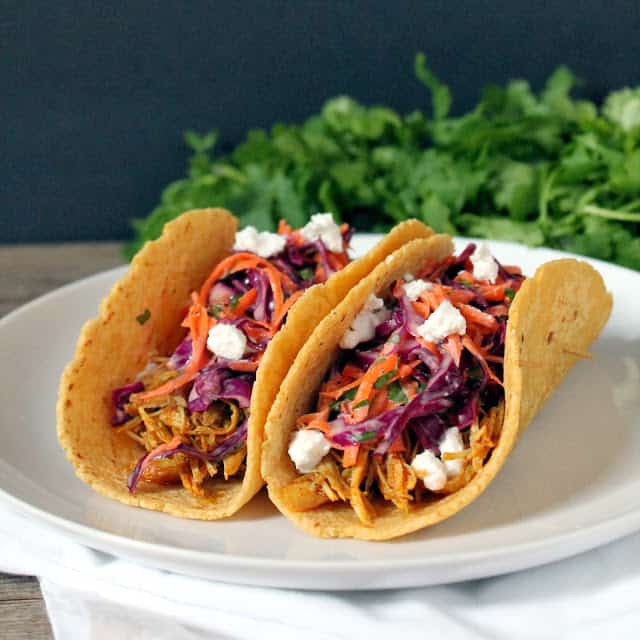 Don't let the long list of ingredients fool you. It's mostly spices! This recipe takes less than 5 minutes to throw in the crockpot and will take you under 15 minutes to go from crockpot to table. Super easy!
The flavors of Morocco get all wrapped up in a taco with this quick and easy slow cooker meal. The slow cooker is just the tool to make a nice, tender, shredded meat. This slow roasted shredded chicken is zippy and flavorful and topped with a refreshing yogurt based slaw.  It's a pleasant switcheroo on ye ol' taco and it is dang tasty too! You gotta love fusion!
Ingredients
2 large boneless-skinless chicken breasts, trimmed of fat
2 tsp paprika
1 tsp cumin
1/2 tsp turmeric
1/2 tsp cayenne pepper
1/2 tsp salt
1/4 tsp cinnamon
1/4 tsp ginger
1/2 cup vegetable oil
1 lemon, sliced
For the slaw:
2 cups thinly sliced purple cabbage
2 cups grated carrots (about 4 carrots)
1 tablespoons minced fresh mint leaves
1/4 cup fresh cilantro leaves, chopped
1 lemon, juiced
1/4 cup plain Greek yogurt
salt and pepper
8 Corn tortillas for serving
2 oz plain goat cheese, crumbled
Hot sauce
Instructions
1. Put the chicken breasts, paprika, cumin, turmeric, cayenne pepper, salt, cinnamon, ginger, vegetable oil and lemon slices in a slow cooker. Cook on low for about 6 hours until chicken shreds easily with a fork.
2. When ready to eat, combine the purple cabbage, carrots, mint leaves, and cilantro in a small mixing bowl. Squeeze the lemon juice over it, add in the Greek yogurt, and season with salt and pepper. Stir to combine.
3. Serve tacos on tortillas with a heaping pile of shredded chicken, a healthy spoonful of slaw, and a sprinkling of goat cheese. Give it a little shot of your favorite Mexican hot sauce for a nice kick.
***If you are feeling the love, head on over to foodgawker and click the little heart button on my Morocco Tacos. I could really use a trip to Cabo***