Juicy ground lamb meatballs are drizzled with lemon-garlic sauce and wrapped up with veggies in a pita for a gyro that packs a flavorful punch!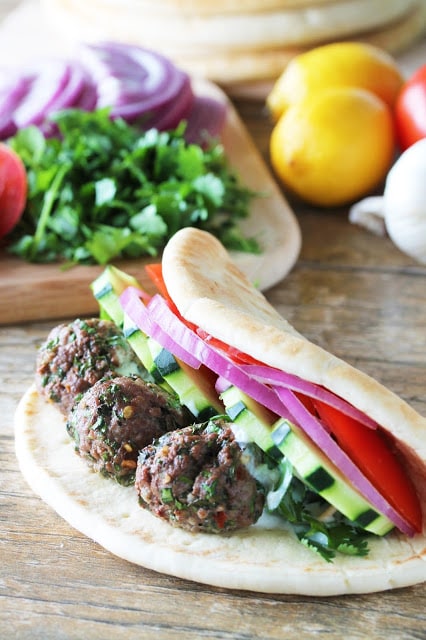 Lately I've been heading to the grocery store with no list. This is a big deal for me. I am a total planner. My grocery lists are usually detailed and organized by location in the store. But, I've been feeling a lack of inspiration for new recipes. It's an art and it can't be forced. I've been heading to the store with no list so that I can just let the ingredients speak to me and see if inspiration finds its way to my plate. That is how ground lamb ended up in my grocery cart with all the fixings for gyros.
(We've covered this on the blog before, but let's get the pronunciation right. It's a Yee-row. Glad that awkwardness is over). The funny thing is I only planned on making the lamb meatballs. It wasn't until I got home that I started making plans to turn them into gyros. The result was inspiration on a plate. The lamb meatballs are juicy and flavorful while the garlic sauce adds punch and acidity. Roll it up in a flat bread and you've got yourself a mean little sandwich. Wait, did I say little? These are actually huge and quite filling. I stuffed myself silly and was quite happy about it. It's a great way to enjoy ground lamb.