Whether you are attempting to enter the world of cooking for the first time, or simply want to get a better hold over your current pantry, this post will help get some control over the crazy and endless world of ingredients.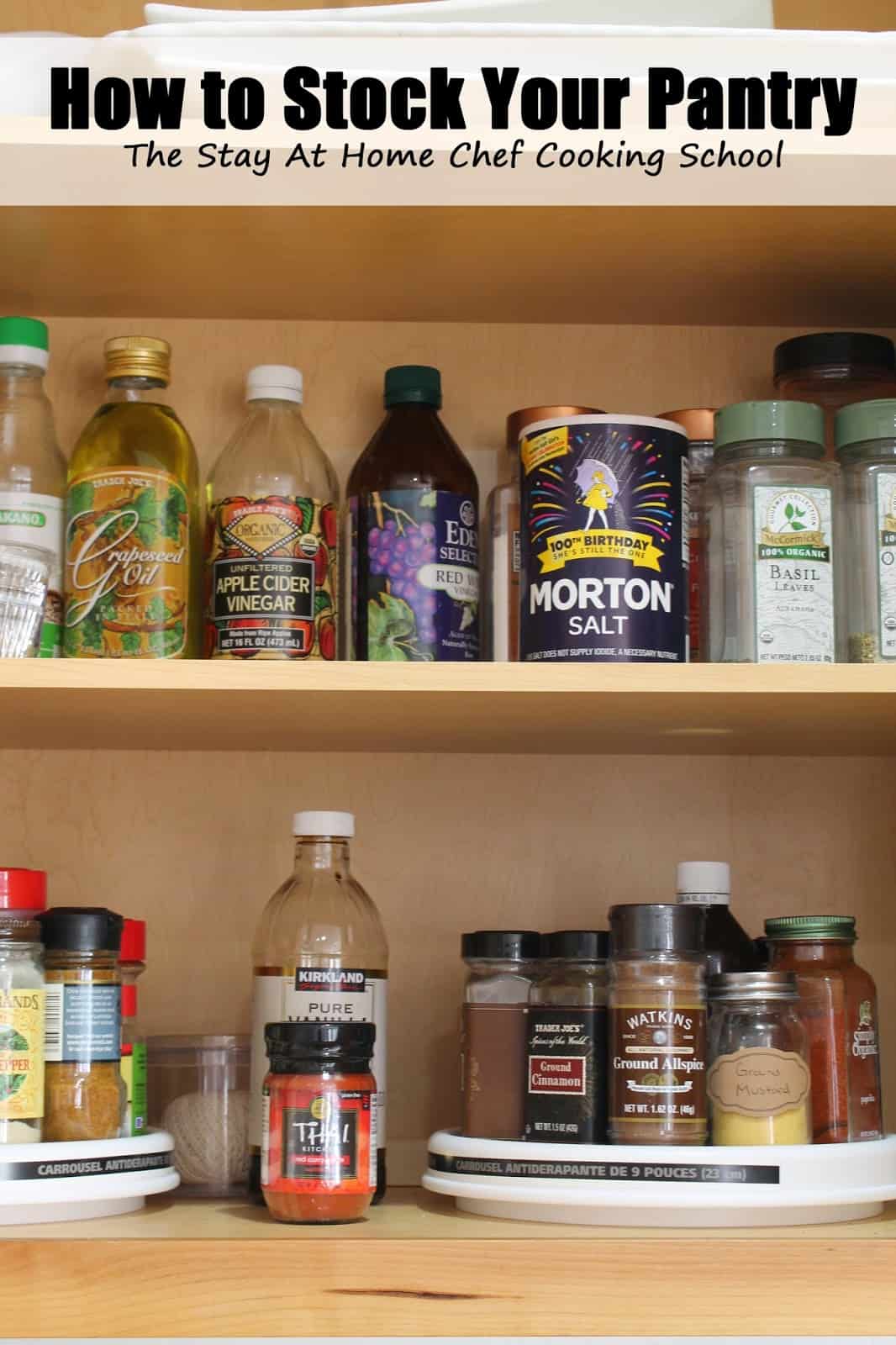 Stocking A Pantry  
It can be overwhelming to stock a pantry.  There seems to be an endless smorgasbord of options, especially when it comes to herbs and spices. Fundamental cooking techniques can cover a wide array of cuisines, but the ingredients you use can be vastly different. I recommend stocking your pantry based on the kinds of cuisines you are interested in cooking.
The Basic Pantry Staples  
Salt – Table salt is the most commonly used salt in recipes. Sea salt has larger crystals and is best used as a finishing salt. Salt should be stored away from moisture.
Black Pepper – You can purchase ground pepper or a jar of peppercorns to grind in a spice grinder. Pepper should be stored away from moisture.
Garlic – Garlic is sold in bulbs. Look for bulbs that are tight together. Minced and crushed garlic can also be purchased in jars, in varying quality. Garlic is best when fresh, but pre-minced and pre-crushed can also be used. Garlic should be stored at room temperature in a dry place.
Onions – Red onions, white onions, yellow onions, and sweet onions are the most commonly found varieties. White and yellow onions are most often used in cooking. Red onions can be cooked, but are often eaten raw. Onions should be stored in a cool, dry place.
All-purpose Flour – This flour is a finely ground wheat flour. It can be purchased bleached, or unbleached. Flour should be stored in a cool, dry place in an airtight container.
Granulated Sugar – This fine cane sugar is an all-purpose sugar to use in both cooking and baking. Sugar should be stored in a cool, dry place in an airtight container.
Eggs – Eggs can be purchased in varying sizes and colors. The color of the shell does not matter, but the size does. Most recipes call for large eggs. Eggs should be stored in the refrigerator.
Extra Virgin Olive Oil – This is the highest quality olive oil and should have no defects. It is the most versatile of olive oils and can be used as a cooking oil, or drizzled fresh. Olive oil should be stored in a cool, dry place away from sunlight.
Chicken Broth or Stock – Chicken broth or stock is a liquid that has been flavored by chicken, bones, and herbs. It can be purchased in cans or boxes, or can be made from scratch. Fresh chicken broth, or liquids from opened cans or boxes should be stored in an airtight container in the fridge, or frozen.
In addition to these basic pantry staples, you can stock your pantry with additional items based on the cuisines that interest you. A well stocked pantry would have the basic pantry staples, baking staples, and the staples from at least one variety of cuisines.  
Baking Pantry Staples
Light Brown Sugar
Powdered Sugar
Baking Soda
Baking Powder
Cornstarch
Instant Dry Yeast
Chocolate (milk, semi-sweet, unsweetened)
Butter, unsalted
Heavy Cream
Vegetable Shortening
Vegetable Oil
Italian Pantry Staples
Basil, dried and/or fresh
Oregano, dried and/or fresh
Parsley, dried and/or fresh
Rosemary, dried and/or fresh
Sage, dried and/or fresh
Thyme, dried and/or fresh
Balsamic Vinegar
Canned Tomatoes
Canned Olives
Cornmeal
Dried Pasta
Red Wine
White Wine
Semolina Flour
Latin Pantry Staples
Dried Chiles
Cayenne Pepper
Chile Powder
Ground Cinnamon
Ground Cumin
Avocado
Cilantro
Green onions
Lemons
Limes
Tomatillos
Chipotle in Adobo
Black Beans, dried or canned
Pinto Beans, dried or canned
Chorizo
Rice (long or short grain white rice)
Tortillas, corn or flour
Tequilla
French Pantry Staples
Basil, fresh or dried
Ground Mustard
Herbes de Provence, fresh or dried
Parsley, fresh or dried
Rosemary, fresh or dried
Tarragon, fresh or dried
Carrot
Celery
Leeks
Shallots
White Wine Vinegar
Red Wine Vinegar
Dijon Mustard
Unsalted Butter
Heavy Cream
Red Wine
White Wine
Port Wine
Asian Pantry Staples
Crushed Red Pepper Flakes
Ginger, ground or fresh
Lemon Grass
Lime
Cilantro
Chili Sauce
Fish sauce
Rice vinegar
Soy sauce
Sesame oil
Oyster sauce
Coconut milk
Curry paste
Noodles (soba, udon, ramen, rice, lo-mein)
Jasmine Rice
Peanut oil
Sake
American Pantry Staples
Basil, fresh or dried
Oregano, fresh or dried
Cayenne Pepper
Garlic powder
Onion powder
Ground Mustard
Cornmeal
Yellow Mustard
Ketchup
Mayonnaise
Worcestershire Sauce
Vegetable Oil
Honey
Apple Cider Vinegar
Chicken and Beef Stock
Beer
Bourbon
White and Red Wine