Make your own Homemade Cookie Cereal that's healthy, hearty, and super tasty! Your family will feel so spoiled when you present them with homemade cereal and it's easier than you might think!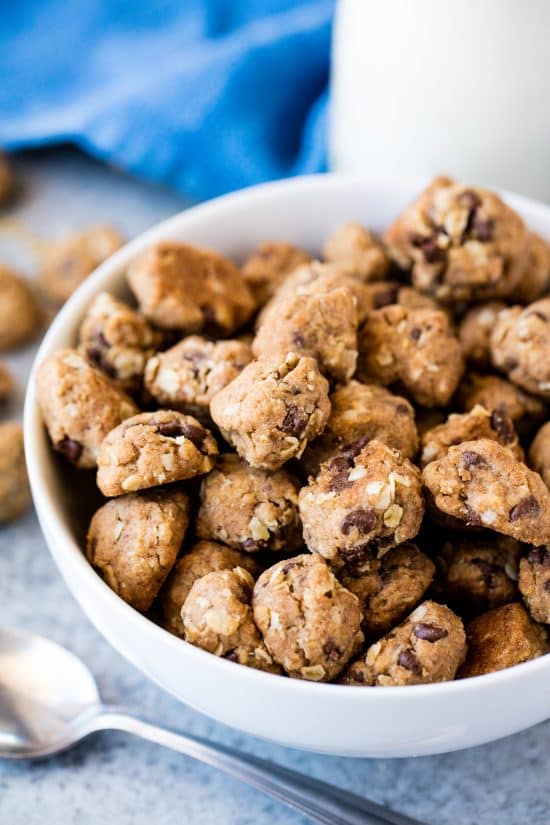 Sometimes I do "weird" and "crazy" things like make my own cereal. Here's the thing, my husband and children eat a ton of cereal. Like a ridiculous amount. I used to have a walk-in pantry. My good friend, and neighbor, was an organization guru and we did a trade where she came and organized my pantry, and I made her a lemon meringue pie. Score, right? Well, I made the pie and she came and worked her magic. In her organization she discovered how bad our cereal habit really was. There were something like 10 open boxes of cereal, and our cereal took up an entire 6 feet of shelf space. All that sugar and air.
It is kind of embarrassing, but they love it. So when I do weird and crazy things like make my own healthier version of cereal, it may not seem so weird and crazy anymore. Making it my way means I know exactly what is going into their cereal bowls and I can boost the nutrition level on it.

MY OTHER RECIPES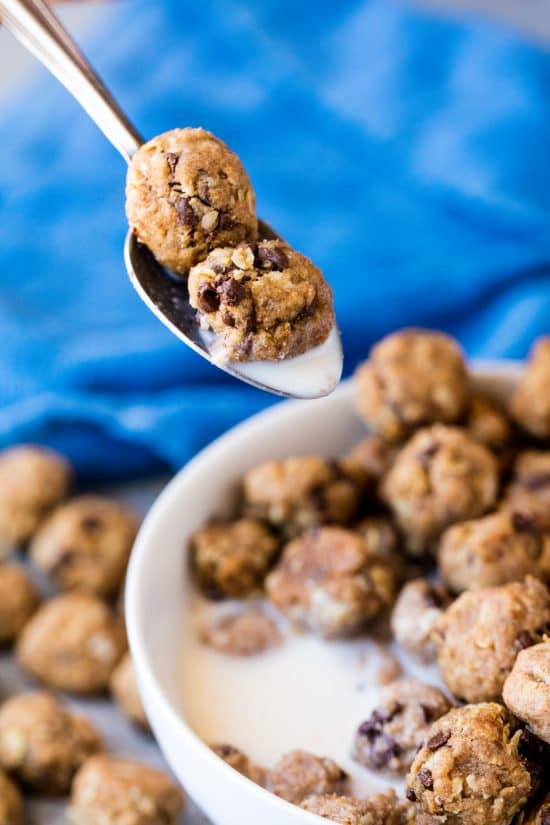 This cereal is way more filling than your run of the mill boxed variety, so you may want to take that into consideration when you pour yourself a bowl. One cup of the cereal is enough to fill me up easily. Just keep that in mind when pouring yourself a bowl.
It stays good in an airtight container for about a week. Make sure it is completely cool before you put it in a container though, otherwise you'll bring some moisture into the container, and that won't be great. I've been known to store it in tupperware containers, but plastic bags also work.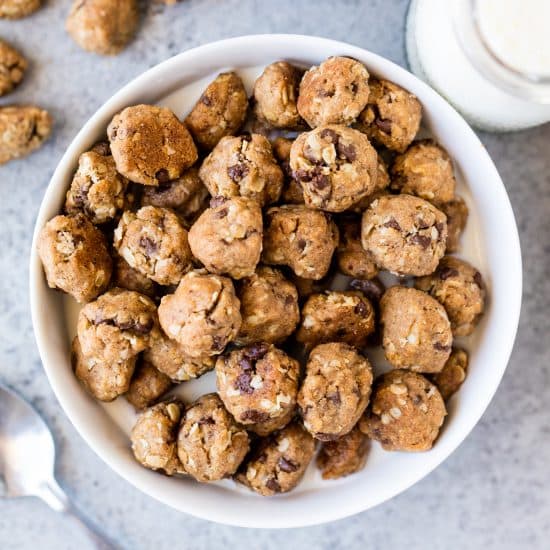 Even I love this cereal, and I rarely have a bowl of cereal in the morning. It's a nice sweet treat in the morning that's actually substantial and filling. I never thought I'd get that from a cereal! And my kids actually get a kick out of making it. It makes for a fun afternoon activity.
Watch the video below where I walk you through every step of this recipe. With a visual reference, you can always rest easy that your attempt at home will turn out pretty close to mine. I aim to give you every tool you need to replicate my recipes at home so that you can make restaurant quality recipes for your own family.
Homemade Cookie Cereal
Homemade Cookie Cereal
Author:
Rachel Farnsworth
Ingredients
½ cup coconut oil
¼ cup brown sugar
1 teaspoon vanilla extract
1 tablespoons ground flax seed
3 tablespoons water
1¼ cups whole wheat flour
¾ cup quick oats
¼ teaspoon salt
½ teaspoon baking soda
½ cup mini chocolate chips
Instructions
Preheat oven to 400 degrees. Line 2 baking sheets with parchment paper.
In a large mixing bowl, use a hand mixer to beat the coconut oil, brown sugar, and vanilla extract until creamy. Add in the ground flax and water and beat until combined.
Add in the flour, oats, salt, and baking soda. Stir until well combined. Stir in the chocolate chips. The mixture will be almost crumbly, but will hold together when pressed and shaped.
Roll dough into tsp sized balls and place on the prepared baking sheets, leaving a little space in between each piece. They won't spread much.
Bake in the preheated oven, one baking sheet at a time, until golden brown, 7 to 10 minutes.
Remove from oven and cool completely on wire racks. Store in an airtight container. Serve with milk or eat plain.
***Recipe adapted from
Half Baked Harvest
Looking for something healthier? Try my Tropical Smoothie Breakfast Bowl!
This recipe first appeared on The Stay At Home Chef on June 26, 2014