Learn how to make Homemade Challah Bread. This easy-to-make version of the traditional Jewish bread is soft and sweet and perfect for eating plain or serving up as the most amazing french toast.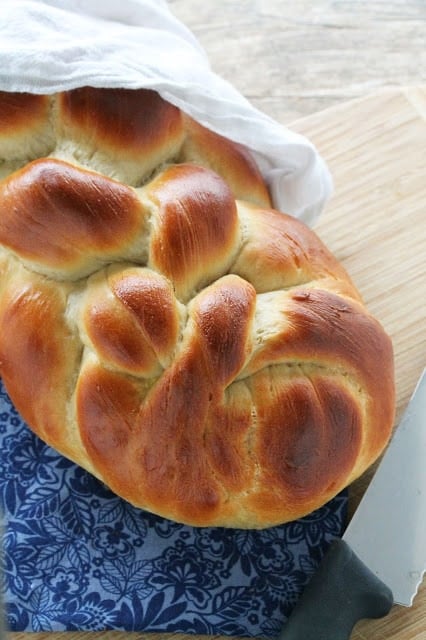 Challah is one of my favorite breads to make. It's soft and delicious and makes french toast that is absolutely out of this world! People not familiar with the bread often wonder how to pronounce it. Let's just say that chants of "holla!" ring through our halls when I'm making it. It is an easy bread to make, but it ends up looking so fancy when it is braided. I love eating this up plain, with soup, and we have spoiled ourselves silly by making the most amazing french toast out of this challah. Seriously, homemade challah makes the best french toast. You should
try it
!
You can always do a regular 3 strand braid, but if you want it to really look great, watch my video for how to make a 6 stranded braid just below the recipe. Once you figure out the pattern, it's totally easy and you can create a truly beautiful and impressive loaf.
Watch the video where I walk you through every step of making this bread. Not only will you learn the correct pronunciation, you'll also get the visual on how to do that tricky 6 stranded braid.
Homemade Challah
Homemade Challah Bread with a 6 Stranded Braid
Author:
Rachel Farnsworth
Ingredients
2½ cups warm water
1 tablespoon yeast
½ cup honey
4 tablespoons vegetable oil
2 eggs
1 tablespoon salt
8-9 cups flour
1 egg + 1 tablespoon water (egg wash)
Instructions
In the bowl of a stand mixer, combine the warm water, yeast, honey, vegetable oil, eggs, and salt. Add in the flour 1 cup at a time, mixing on a low speed in between. Mix until well combined and the dough is smooth and elastic. Add a little more flour if it is still sticking to the side of the bowl. The dough will be slightly sticky (you don't want a stiff dough), but it should be able to form a ball in the mixer.
Place the dough into a bowl that has been sprayed with nonstick cooking spray. Let rise for 1½ hours.
Divide the dough into two loaves. For each loaf, divide the dough into 6 balls and roll into strands about 12 to 15 inches long (or 3 if you want to do a normal braid). Pinch the strands together at one end and braid (see video) Once you reach the end of the strands pinch them together. Repeat with the other loaf.
Place the braided loaves on a baking sheet covered with nonstick cooking spray. Let rise 1 hour.
In a small bowl whisk together the 1 egg + 1 tablespoon water. Brush it over the loaves. This is called an egg wash.
Bake at 375 degrees for about 25 minutes. Cool before slicing.
Notes
***You know how bread recipes call for a range of flour? For instance, this recipe calls for 8-9 cups. How do you know how much to do? And why can't they just tell you exactly what to put it in? Well, the actual amount you need depends on a variety of factors including the weather and humidity in your house. One day I may only need 8 cups while the next I may need 9. Crazy, huh? Always start out on the low end and add a little more if you find your dough to be too sticky so that it can't form a ball.***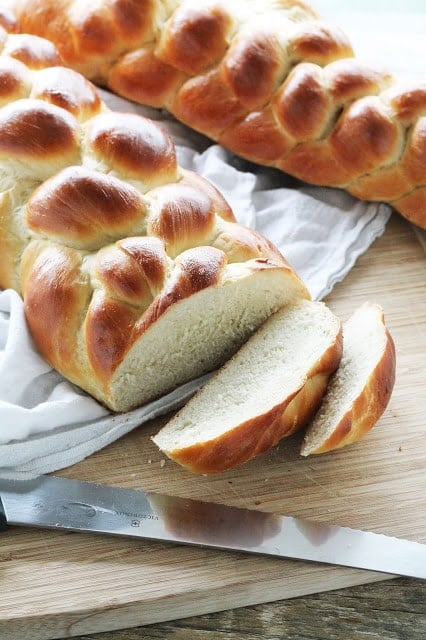 MY OTHER RECIPES
This recipe first appeared on The Stay At Home Chef on August 8, 2013