Tuna stuffed avocados are something I eat as a healthy lunch option at least once a week. I'm always experimenting with creating new flavors. You've probably seen my viral recipe for a Mexican-inspired tuna stuffed avocado, and now I'm bringing you an all new one that has quickly become my new favorite. There's no need for mayo in this tuna recipe! We're keeping it healthy and tasty.
Pro Tip: use a high quality tuna for this recipe like Bumble Bee Solid White Albacore. Trust me, it matters. You can see the difference in quality just by opening the can.
In this recipe I'm flavoring tuna with lime juice, soy sauce, and garlic and am utilizing the tuna itself instead of the staple Thai flavor of fish sauce. The result is a light and refreshing Thai-style avocado that makes an absolute heavenly lunch. Add in the cilantro, green onions, and chopped peanuts and you've got yourself quite the little meal. If you are feeling spicy I highly recommend drizzling it with a little hot chili sauce. It packs that extra punch.
Don't forget to check out my new
e-cookbook
with my top 15 healthy recipes in it. I picked all the good ones, including this one, to give you a great resource for your kitchen. I've only included the very best! Chipotle twice baked sweet potatoes, superfood protein bars, several easy and amazing breakfasts, fabulously easy low-cal dinner options, and more! Just scroll past the recipe to buy it or click
HERE
to learn more.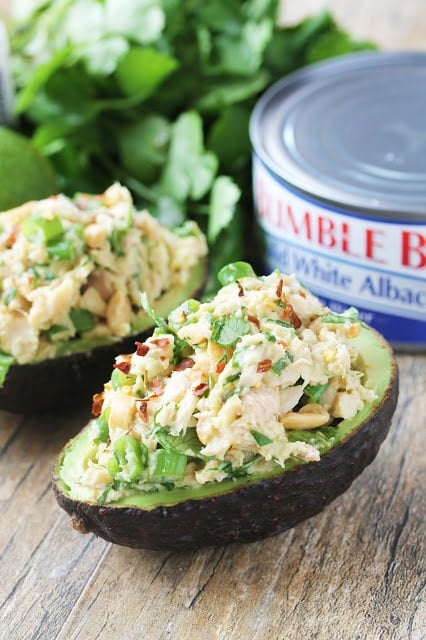 Watch the video to see just how I make this amazing healthy lunch.
HEALTHY THAI TUNA STUFFED AVOCADO