Grilled Lemon Herb Chicken Thigh Skewers are moist and flavorful and super easy to make. People are always blown away by how much delicious flavor these skewers pack in!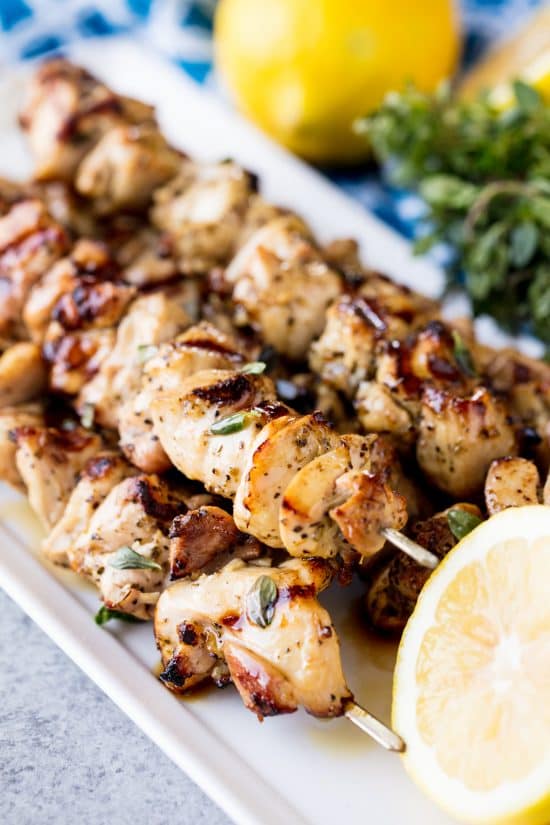 Boneless chicken thighs are one of the least expensive cuts of chicken, yet they have great flavor and moisture making them perfect for grilling. These skewers are a simple summer dinner that are also a crowd pleaser. Toss them in a marinade and then spend a few minutes grilling them up. That's all it takes to produce these flavorful, tender chicken skewers the whole family will love.
Every time I serve these, people absolutely gobble them up and then proceed to ask for the recipe. It's so simple it always surprises them! Just a few ingredients is all you really need to make these chicken skewers really sing on the grill. And the key is to use boneless skinless chicken thighs. They are my secret weapon on the grill and always stay super moist. Ditch the chicken breasts and head for the thighs when it comes to grilling.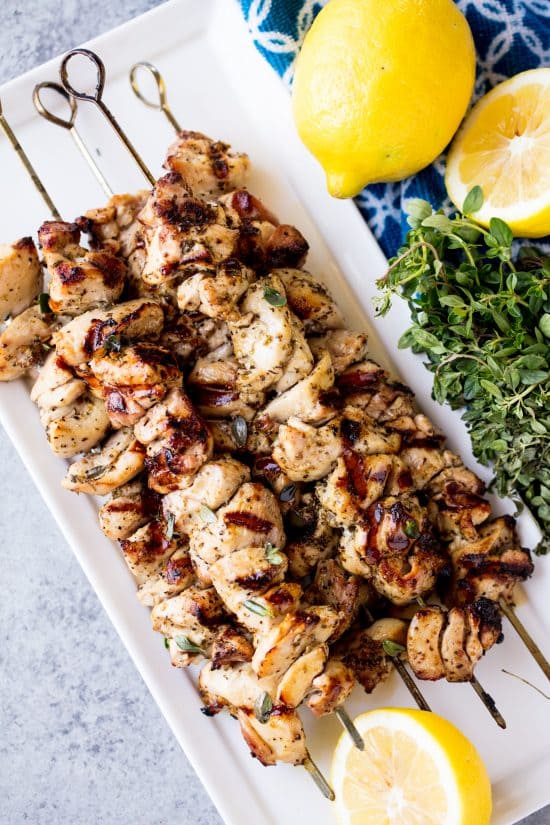 I personally use metal skewers on the grill because they always hold up without breaking or catching on fire. The trick with metal skewers is to make sure you don't grab the actual skewer before it cools down. They do cool quickly though and are usually ready to handle within 5 minutes of removing them from the grill.
If you are using wooden skewers, be sure to soak them in water for 30 minutes before you thread them and grill. Otherwise they'll catch on fire! Either way, these skewers will be a great summer dinner from the grill.
For the photos I garnished my skewers with halved lemons and some fresh oregano. Neither of those makes a difference in the final flavor, and are 100% used for their pretty factor.