Thick, rich and delicious these M&M Fudge Brownies are overloaded with chocolate, candy and ganache making this the perfect indulgence.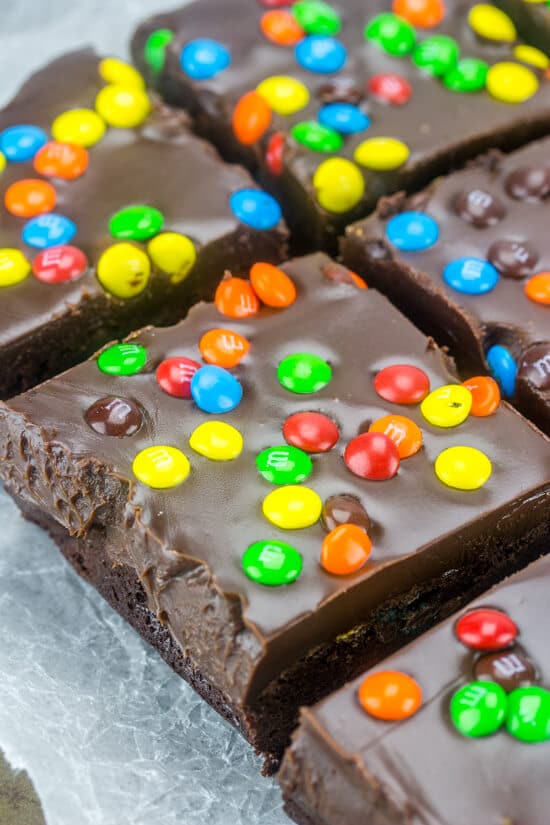 Hey guys! I'm Alli and I blog over at Tornadough Alli! I am so happy to be here on Rachel's little slice of the web and that I can share these seriously awesome M&M Fudge Brownies with you guys. I mean chocolate on chocolate on chocolate? Who doesn't love that?
I'm all about easy recipes over on my site and these brownies are exactly that! I have 4 kids so when it comes to baking and cooking I have little mouths in the background demanding an answer as to when things are going to be done and those of you who are parents know how old that can get after like the 5th time, so I love to adapt my recipes to make them quick, easy but still stinking delicious!
With minimal ingredients these M&M Fudge Brownies are fast and tasty! Add in some M&M baking chips and you have yourself a fun and colorful treat that the kids will drool over! These bad boys are chocolate upon chocolate my friends! We are chocolate lovers around here so we can't skimp on that by any means, amiright?
So you have your chocolate from the brownies, then add in the chocolate from the M&M's and if that isn't enough I had to go and top it off with a milk chocolate ganache for the top, then topped with MORE M&M's. Yeah I just can't stop myself when it comes to the good old chocolatey goodness and honestly I'm not sure if I really want to! I'm sure some of you can relate!
When it comes to brownies I'm such a picky brownie eater. I'm not the cake brownie type of person. I honestly think that fudge is the only way to go. I mean if I wanted a light and fluffy brownie then I would just make myself some chocolate cake, right?
So when I make my brownies they are always a variation of FUDGE! I love the chick, moist and gooey bites I get out of them. There is something oddly satisfying about it. I know it's totally weird, but I mean its food. I find food amazingly awesome and love everything about it, especially desserts because yeah, desserts are life!
So if you're looking for something ultra delish, ultra fudgy, super easy and kid-friendly then these M&M Fudge Brownies absolutely need to make an appearance in your kitchen ASAP! Grab the kids and have them help, especially with these!
I love having the kids in the kitchen with me and they love learning and helping mom, bonding as you'd call it. And anyone who I can bond over food with is a winner in my book, especially when it's easy brownies like these!