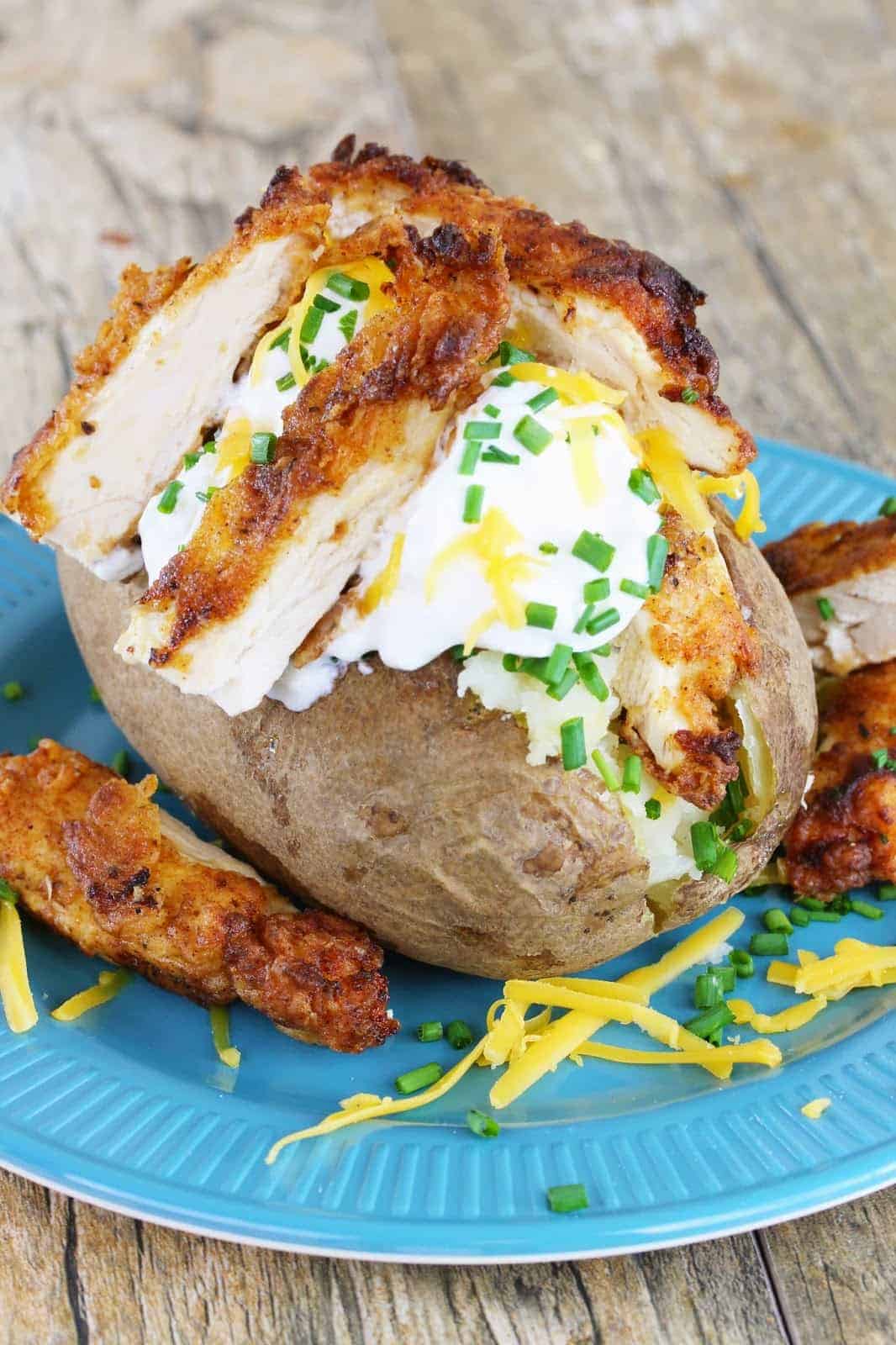 Once you try this recipe you are pretty much going to wonder where it has been all your life. I don't know why this isn't a thing already. Fried chicken stuffed in a baked potato is a match made in heaven.
I've got you pounding out a chicken breast and pan frying it to keep it nice and easy. To do this I like to put the chicken breast between two sheets of plastic wrap. Keeps things from getting too crazy. Then use a meat tenderizer to relieve your stress and pound it out. Don't have a meat tenderizer? Try a rolling pin. That's always fun.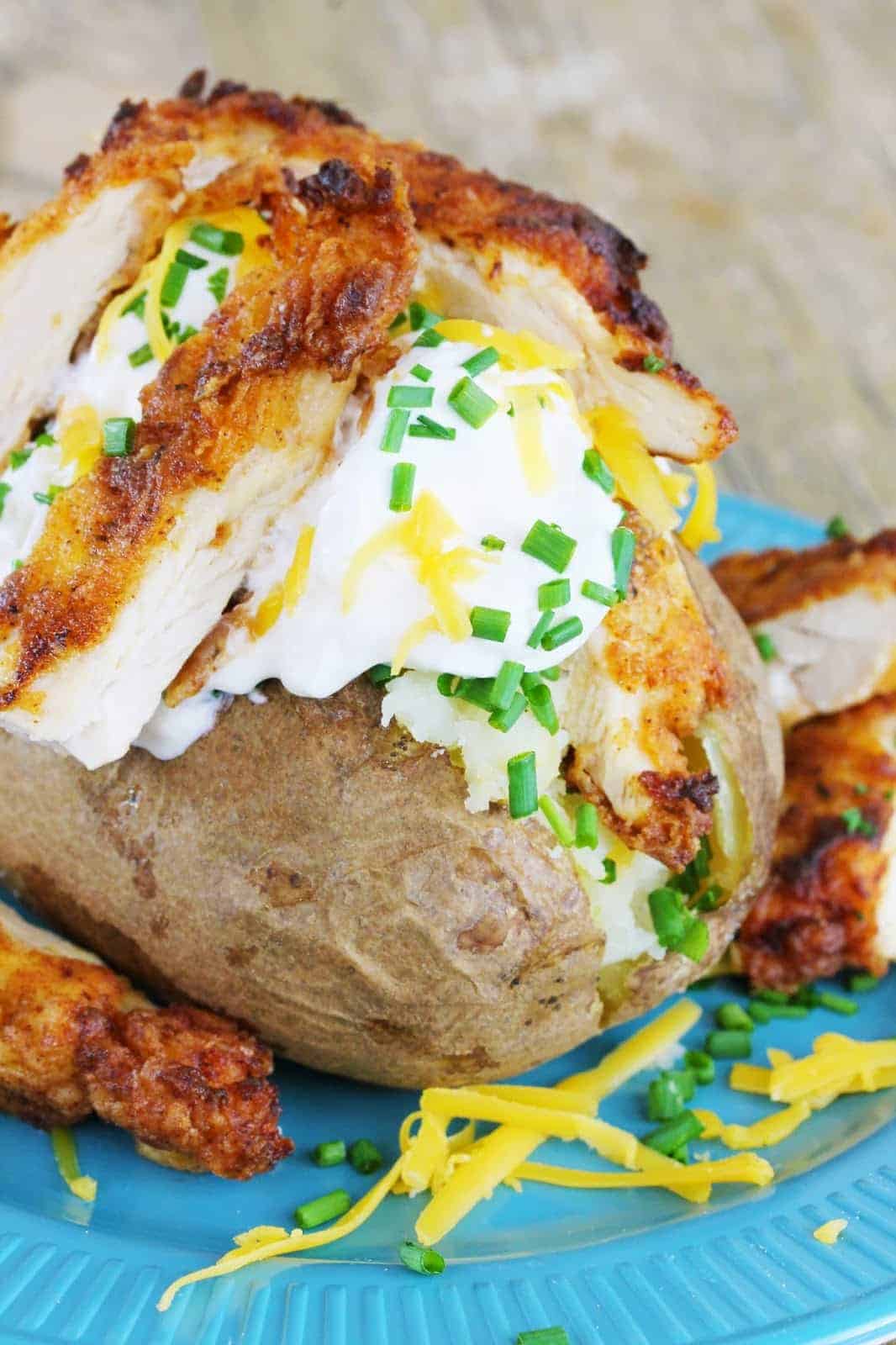 Seriously, why isn't this a thing already? It's so dang tasty I have a hard time not thinking about it. My son has the same problem. This was his favorite meal in a long time. Every time we talk about it he starts drooling and swooning. Yes, you really must try this one.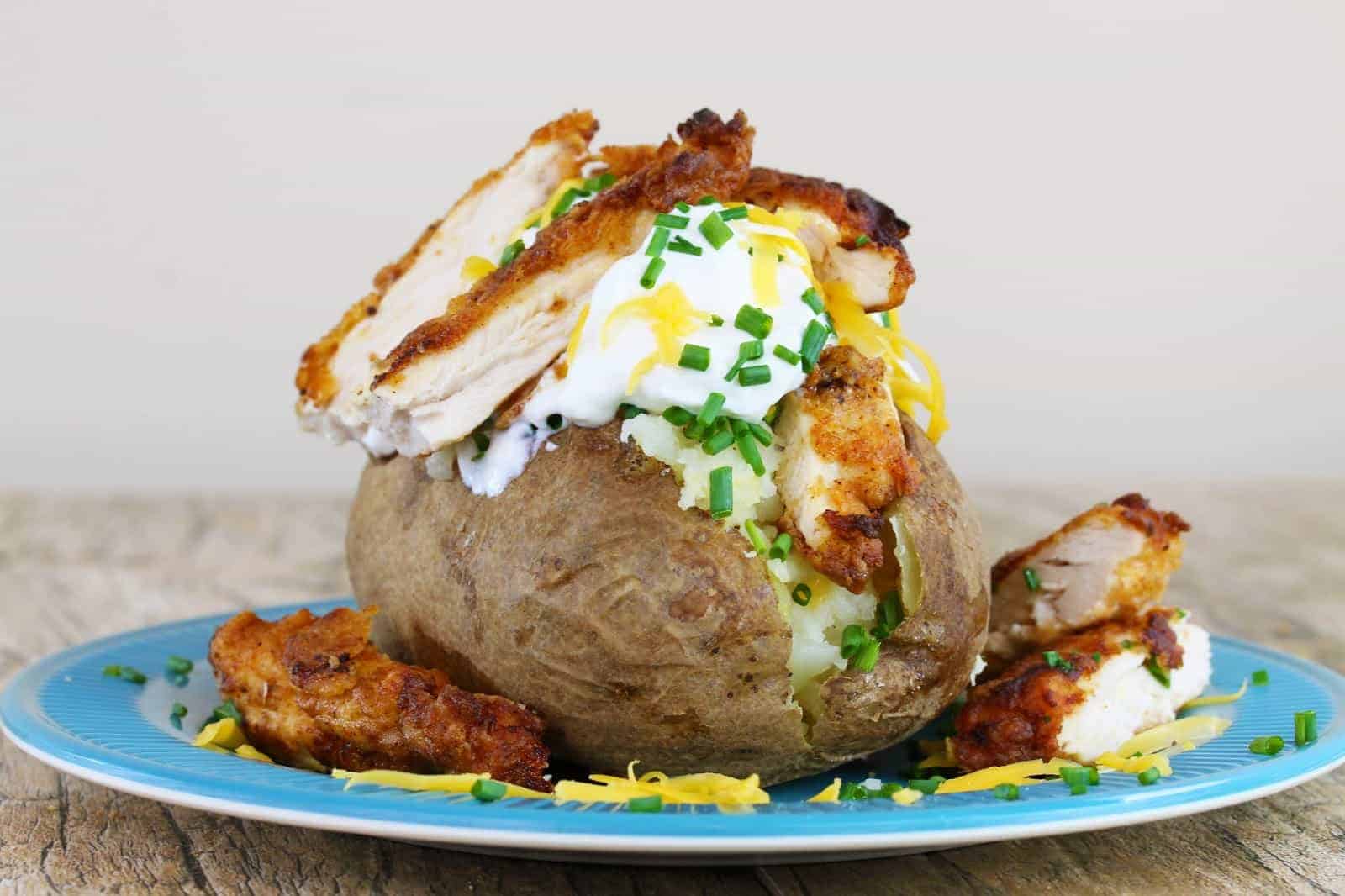 Hands on Time: 20 to 30 minutes
Ready in: 1 hour, 30 minutes
Ingredients
4 large russet potatoes
2 chicken breasts
salt and pepper
1 cup buttermilk
1 egg
1 1/2 cups flour
1 tablespoon cornstarch
1 tablespoon paprika
1 tablespoon salt
1 teaspoon pepper
oil for frying
4 tablespoons butter
1 cup shredded cheddar cheese
sour cream
chives
Instructions
1. Preheat oven to 400 degrees. Wash potatoes and wrap in aluminum foil. Bake until soft, about 1 hour. Actual baking time depends on size of potatoes and for the largest potatoes can take up to 2 hours.
2. When potatoes are done, remove from oven and set aside, still wrapped in foil. Prepare the chicken by pounding out the chicken with a meat tenderizer until 1/4 inch thick.
3. Prepare the dredging stations. Whisk together buttermilk and egg and place in a shallow bowl. In another shallow bowl, combing flour, cornstarch, paprika, salt, and pepper.
4. Pour enough oil in a heavy skillet to generously cover the bottom of the pan. Heat to 350 degrees.
5. Working one at a time, immerse the chicken into the buttermilk mixture, then transfer it to the flour mixture to coat both sides. Place in hot oil and fry 2 minutes per side. Remove and place on a paper-towel lined tray to drain.
6. Unwrap the potatoes from the aluminum foil. Use a sharp knife to cut a slit in only the top of each potato. Squeeze the ends together to force the slit to bulge open. Use a spoon to scoop out the flesh of the potato into a mixing bowl, leaving enough on the edges for the skin to hold its shape.
7. Stir butter and shredded cheese into the mixing bowl with the potato. Season with salt and pepper. Scoop the mixture back into each of the potato skins.
8. Slice the fried chicken into strips. Stuff some of the chicken into the potato.
9. Top stuffed potatoes with sour cream, chives, and remaining chicken.