Calling all peanut butter lovers! These easy peanut butter cookie ice cream sandwiches are made with flourless peanut butter cookies and homemade peanut butter swirl ice cream. This is the ultimate summer dessert!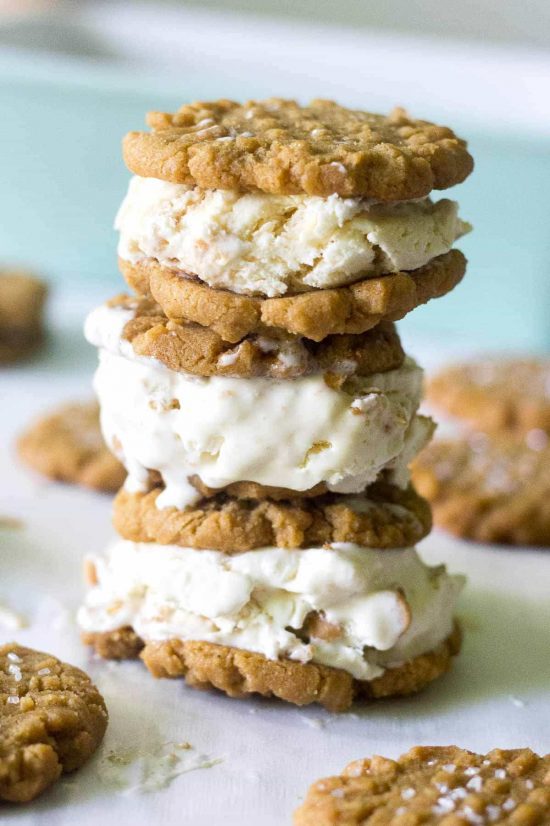 Molly here from What Molly Made! I've been sharing a new recipe each month here on The Stay at Home Chef since January and I hope you all are loving them! If you missed a few no worries, you can check them out in Rachel's archives!
My latest recipe was peanut butter pretzel blondies and it's become very clear I have an obsession with peanut butter. I have a serious love for all peanut butter desserts, I think they have to be my favorite! Even above chocolate or lemon recipes. Though those are a close 2nd and 3rd!
Today I'm sharing a killer summer dessert. Is there anything better in the heat of summer than giant ice cream sandwich?
The cookies are sweet and chewy and the ice cream is cold and creamy and I promise they will not disappoint on an warm afternoon!
Not to mention you will totally impress all your friends and family when you pull out homemade ice cream sandwiches! Even the peanut butter is made from scratch. But don't let that fool you! Because these flourless peanut butter cookie ice cream sandwiches are simple to make.

There are 2 parts to these ice cream sandwiches:
First up, the flourless peanut butter cookies! You need one bowl to make these and they're perfect for your gluten free friends!
There's no butter or flour in these tasty peanut butter cookies. Start with the butter and sugar, then add the eggs, vanilla, baking soda and salt and that's it! Roll the dough into large tablespoon-sized balls and push them down in a criss-cross with the back of your fork.
I love to sprinkle my peanut butter cookie with sparkling sugar because I think it looks super pretty, but it isn't necessary to make the recipe. You will still get all that yummy peanut butter flavor!
Once you have the dough on the cookie sheets (parchment lines), all you have to do is bake them for around 10 minutes. No chilling required!
Don't worry when you watch them bake they will start to spread in the last couple of minutes and look deliciously perfect.
Pro tip: do your best to make each cookie the same size. They will all bake more evenly and will be so much easier to assemble the ice cream sandwiches when they're all the same size.
The second part of these sandwiches is the no churn peanut butter ice cream. This ice cream is made with three ingredients and all you need is your mixer.
The base of the recipe is heave cream and sweetened condensed milk. Whip the cream like traditional whipped cream then fold in the sweetened condensed milk.
From there, slightly melt the peanut butter and swirl it into the ice cream base once you've poured it into the pan. Freeze and you're ready to make your sandwiches! Make the base and swirl in the peanut butter and freeze.
Once you have those two made all you have to do is assemble them! Take two cookies and a giant scoop of ice cream and put it all together. You can even add extra peanut butter chips around the outside if you're feeling some extra peanut butter.
Make ahead tip: Make the ice cream and cookies a couple days in advance and keep them both covered in the freezer. Assemble all of the ice cream sandwiches individually and wrap each one in tin foil. Place them back in the freezer until you're ready to serve! You can even pack them in a cooler to take to the pool or on a picnic.
My favorite part about this recipe is it fits into everyone in my family's diet. My mom went gluten free a few years ago when her doctor told her it would help with her arthritis. She still eats gluten on special occasions but I love to make gluten free desserts that fit into her lifestyle whenever I can.
I also love that this ice cream sandwich recipe doesn't have any butter. It definitely isn't dairy free, but cutting the fat in the cookies by eliminating butter makes up for the dairy that's in the ice cream! At least we're not having double dairy:)
When it comes to ice cream sandwiches this has to be on you try! Especially if you're a peanut butter lover like me!