These rocky road cookie cups couldn't get any easier! They're made with pre-made cookie dough and topped with toasted marshmallow, toasted almonds and chocolate chips. They're the best summer dessert and come together in minutes!
Molly here from What Molly Made! I've been sharing a new recipe each month here on The Stay at Home Chef since January and I hope you all are loving them! If you missed a few no worries, you can check them out in Rachel's archives!
I was inspired by Rachel's latest Chocolate Chip Cookie Shots and all the toasted marshmallow happening this summer and knew I wanted to share a cookie cups recipe with you! Not only are cookie cups a delicious, bite-sized dessert, they're also a cinch to make.
They require only 8 minutes to bake and 4 simple ingredients.
4 Ingredients for Rocky Road Cookie Cups:
Pre-made cookie dough: This is what makes these cookie cups so easy! No mixing or extra bowls to clean (double win), just a quick trip to the store to fancy up the refrigerated cookie dough. I used traditional chocolate chip here but you could get creative and use peanut butter, chocolate or anything else that sounds good.
Toasted almonds: You can buy your almonds toasted already, but I like to grab a skillet and throw the almonds in to toast for a few minutes at home. It will make your house smell so good!
Chocolate chips: I use semi-sweet chocolate chips so they aren't too sweet. You could definitely use dark chocolate here too. I love dark chocolate!
Toasted Mini Marshmallows: The marshmallows are the very best part. They're sweet and when you put them in the oven to broil they puff up and get golden brown. It makes them taste just as good as they look!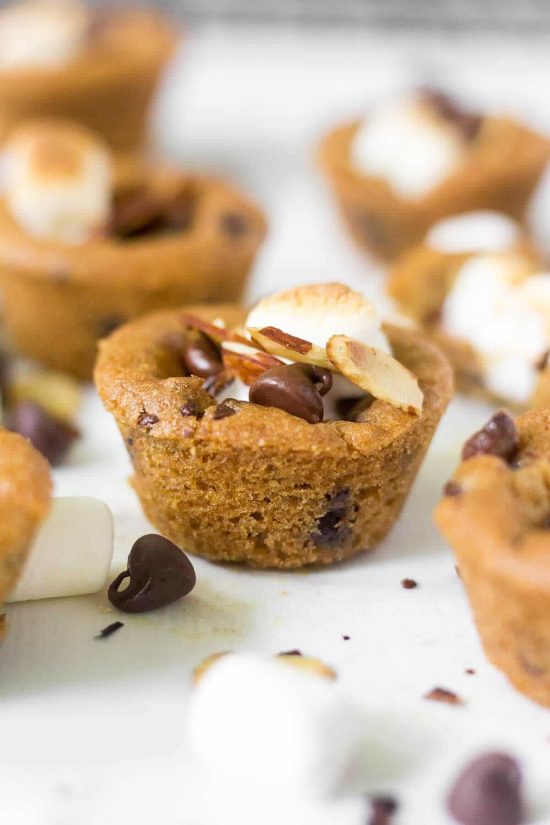 That means, when you head to the store all you need to do is add 4 simple ingredients to that shopping list of yours. I don't know about you, but I want as little extra work in the summer as possible. That means all the easy recipes.
Recipes that take minutes, but impress everyone just the same.
And impress is exactly what I did when i took this into work last week. Someone actually said, "these are almost too adorable to eat!" I call that a success!
Not only are the ingredients easy to pick up but they're easy to put together too.
How To Make Rocky Road Cookie Cups:
Start the process by letting the cookie dough sit out for a few minutes to soften. This makes them easier to roll. Once rolled, put them inside a greased mini muffin tin and push down slightly in the center with your thumb to make a mini hole (see images above for reference).
Throw them in the oven at 350°F for 10 minutes. In just 10 minutes these cookies turn into a soft-baked little cups. Ready to top with all the rocky road ingredients!
Top each cookie cup with 3-4 marshmallows, a few chocolate chips and a pinch of toasted almonds. Turn the oven to broil and put the cookie cups with the toppings back in the oven for 1-2 minutes. I recommend watching the cookie cups really closely at this point to avoid burning. They'll get extra large and started to to slightly brown. That's when you want to pull them out! Let cool or serve warm, and you're done.
You're going to love these rocky road cookie cups! An easy and delicious dessert are always my favorite.