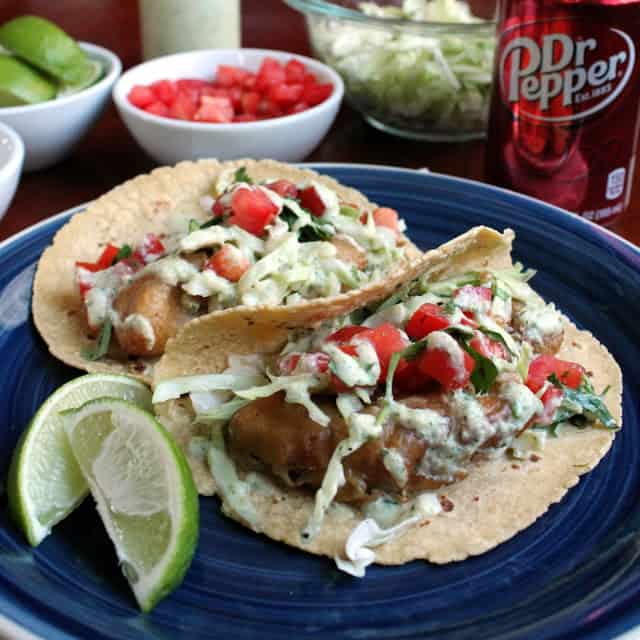 Battered Fish Tacos (No Beer)
I just returned from a 2-week vacation. I'm exhausted! It feels so good to be home. You know how when you are on vacation you just can't wait to get home and sleep in your own bed? Well, for me I also can't wait to cook in my own kitchen. My stomach was yearning for something homey and comforting. Since home for me is now San Diego I figured what could be more homey than a fish taco? It's a San Diego classic! Though I love a good grilled fish taco, I figured I needed the added comfort of fried fish. You know, for good measure. We all know a little extra fat is comforting sometimes. I know your mind is probably jumping straight to beer battered fish tacos. Well, we don't do beer in our household. Instead I jump to my stress beverage of choice and go with Dr. Pepper. The result is a flavorful, crunchy coated fish, perfect for a fish taco. Fish tacos are all about the sauce so I made a quick green chili crema to go over it. Yum! Toss on a little shredded cabbage, some tomato, cilantro, and a hit of lime juice and you've got yourself one heck of a fish taco. Now you can bring a little San Diego to your house!
Ingredients
Green Chili Crema
1 tablespoon olive oil
1/2 white onion, diced
4 whole green chilis (from a can), roughly chopped
1/2 tsp salt
1 cup heavy cream
2 tablespoons sour cream
1/2 cup fresh cilantro leaves
Batter
1 cup flour
1 tsp baking powder
2 garlic cloves, crushed
2 tsp yellow mustard
1/2 tsp salt
1/4 tsp pepper
1 tsp red pepper flakes
1 cup Dr. Pepper
1 lb white fish (mahi mahi, snapper, etc.), cut into small strips (3 inches x 1/2 inch)
Other Ingredients
Oil for frying
2 cups shredded cabbage
2 tablespoons red wine vinegar
Salt and Pepper
1 cup diced tomatoes
Cilantro, for garnish
2 Limes, cut into wedges
8 Tortillas
Instructions
1. Make the green chili crema by heating the olive oil in a small saucepan over medium high heat. Add in the onion and saute for about 5 minutes. Stir in the green chilis and season with salt. Pour in the heavy cream and bring to a simmer. Once it starts to simmer, remove from heat and whisk in the sour cream. Add in the cilantro leaves. Use an immersion blender to blend it up, or transfer it to a blender. Pour in a squeeze bottle or bowl and put in the fridge to cool.
2. Prepare the toppings. Shred your cabbage and toss it with red wine vinegar seasoned with a little salt and pepper to taste.
3. Heat the oil in a large skillet. You will need about 1 inch deep of oil. I used vegetable oil. Heat it to about 370 degrees.
4. Make your batter by mixing together the flour, baking powder, garlic cloves, mustard, salt, pepper, and red pepper flakes in a mixing bowl. Pour in about 1 cup of Dr. Pepper and whisk until well combined. The batter should be nice and thin.
5. Fry your fish by picking up a piece of fish with tongs, dipping it into the batter, and putting it directly into the oil. Work in batches, frying each piece for about 4 minutes, flipping halfway through. Drain on paper towels.
6. Assemble tacos with a couple pieces of battered fish, some shredded cabbage, tomatoes, cilantro, a hit of lime juice, and a good smothering of that delicious green chili crema.
Intimidated by frying? I've made a video to show you exactly how easy it is!