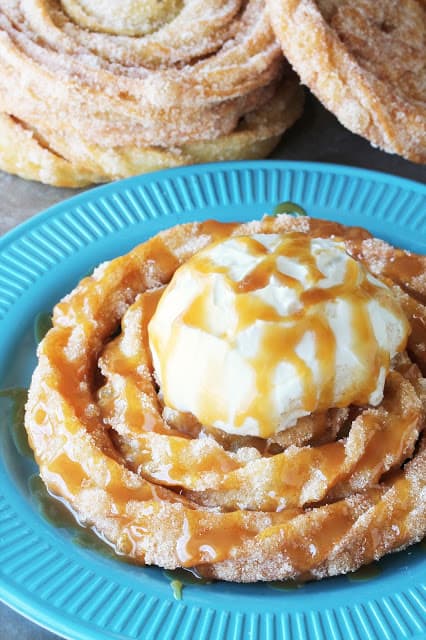 Inspired by Disneyland's delicious Churro Funnel Cakes, this is an easy and decadent dessert. Spiral churro goodness topped with freshly whipped cream and drizzled with caramel sauce.
When I saw that Disneyland started serving up churro funnel cakes I knew that this was the kind of goodness I needed to make at home. Instead of just making a regular funnel cake and dipping it in cinnamon-sugar, I've taken a traditional funnel cake batter and swirled it up, topping it with the same deliciousness served at Disneyland: whipped cream and caramel. This decadent treat is super easy to make and makes such a fun dessert. This should hold me over until I make my next trip to Disneyland. We had annual passes and went almost every week for two years. Now it's been almost that long since we've been! Yikes! I'm already gearing up for a trip this fall.
Watch the video below where Rachel will walk you through every step of this recipe. Sometimes it helps to have a visual, and we've always got you covered with our cooking show. You can find the complete collection of recipes on YouTube, Facebook Watch, or our Facebook Page, or right here on our website with their corresponding recipes.