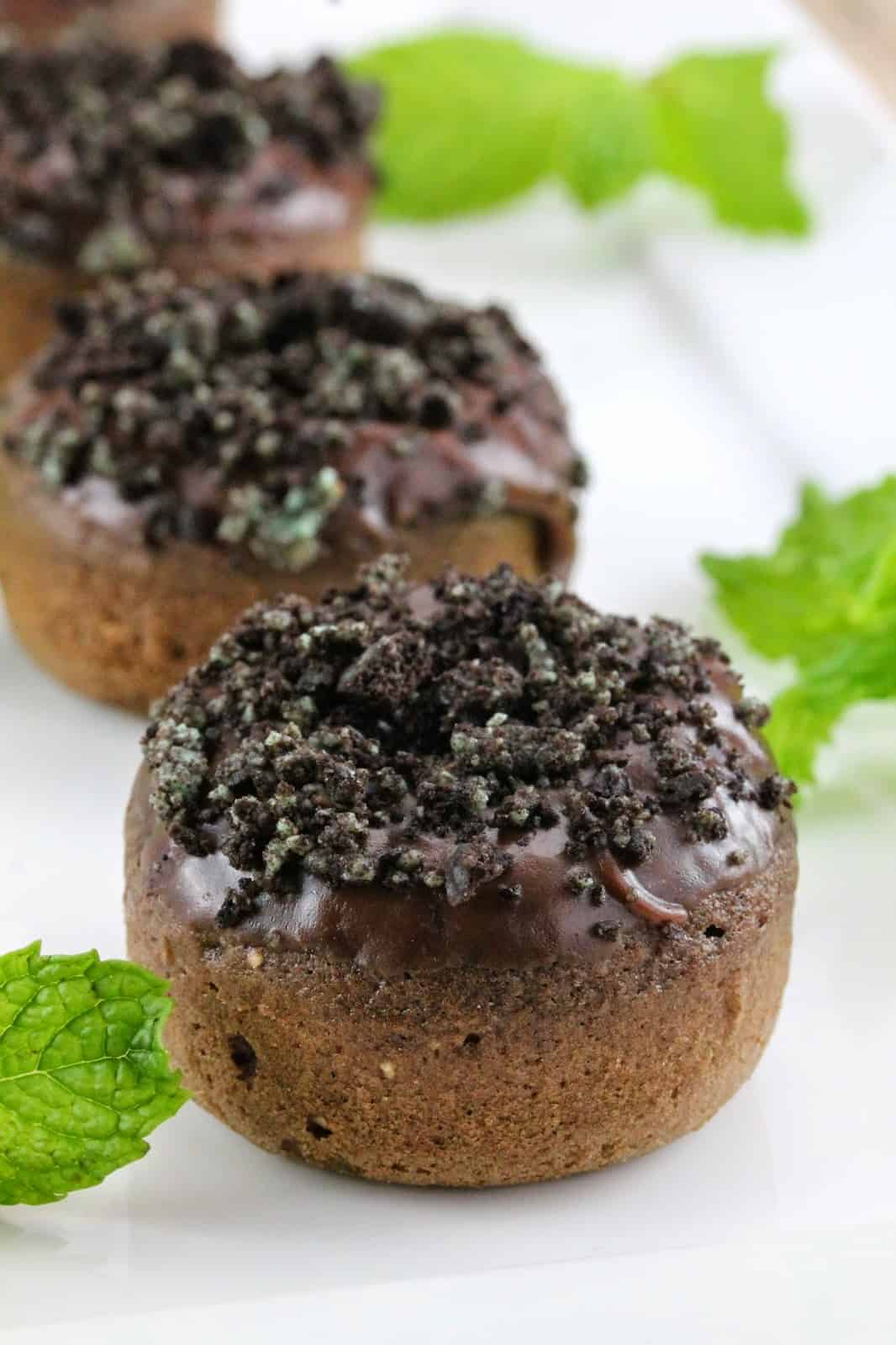 Get ready for a week of desserts! I catered my little sister's bridal shower on Saturday and the theme was "Love is Sweet." I've been testing fabulous dessert recipes for weeks to build the perfect sweet fest for my little Sis. She's a Nutella and Oreo lover so be prepared for some sophisticated desserts incorporating the two plus some other fun treats.
We're starting off with these beautiful Baked Mint Chocolate Donuts topped with crumbled mint Oreos. I've got to admit, Mint Oreos are a total weakness of mine. They are my absolute favorite kind of Oreo. This donut has a wonderful chocolate cakey texture (my favorite) with a mint chocolate frosting. Top it off with a little crushed oreo and you have yourself one dang decadent donut. It's breakfast, right?
Time To Make It: 30 minutes
Yield: 24 mini donuts
Ingredients
2/3 cup sugar
2 eggs
1 tsp vanilla
1/2 cup milk
2 TB butter, melted
1 1/2 cups all-purpose flour
1/3 cup unsweetened cocoa powder
1 tsp baking powder
pinch salt
Frosting
2 TB milk
1/4 cup butter
1/2 tsp mint extract
2 oz. semi sweet chocolate chips
1/4 cup powdered sugar
6 mint oreos, crushed (optional)
Instructions
1. Preheat oven to 350 degrees. Lightly grease a mini-donut pan.
2. In a medium-size mixing bowl whisk together sugar, eggs, vanilla, milk, and melted butter.
3. Stir in flour, cocoa powder, baking powder, and salt until combined.
4. Transfer batter into a pastry bag fitting with a large circular tip. Pipe dough into donut molds, filling about 1/2 or 2/3 full.
5. Bake in the preheated oven for about 10 minutes.
6. Meanwhile, make the frosting by heating milk, butter, and mint extract in a small saucepan over medium heat. Once the butter is completely melted and the mixture just starts to simmer, remove from heat and stir in chocolate chips until melted. Stir in powdered sugar until combined. Place crushed oreos on a small plate.
7. Remove from oven and remove donuts from pan. Dip the tops of the donut into the frosting and then into the crushed oreos. Let cool completely on a wire rack.