Bacon flavored muffins, with a creamy Nutella center. You can't go wrong combining bacon and Nutella!
Yes, I did that. I was just sitting on the couch one day and the idea popped in my head. What if I made a bacon muffin that was stuffed with Nutella? How could it not be spectacular? I have an absurd amount of Nutella in my pantry. I buy it in bulk at Costco and always have what seems to be an endless supply on hand. I have one of those 11 pound jars
on my Amazon wish list, but no one ever seems to take it seriously and actually buy it for me as a gift. Yes, I really do dream of having one! I promise, I'll eat the whole thing! I just don't mess around when it comes to my beloved jars of Nutella. I should pretty much be a spokesman for them.
So, when it comes to a recipe involving Nutella, you know I can produce something that will be spectacular. This recipe is no exception. A savory bacon muffin by itself is pure awesomeness, but when you stuff it with a bit of Nutella you've got a magical surprise waiting for you in the middle.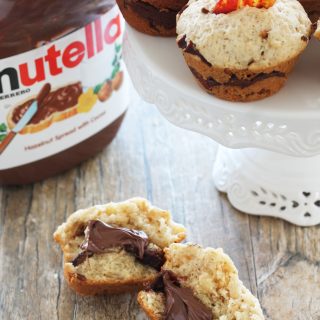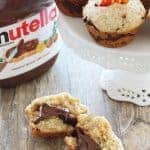 Bacon flavored muffins, with a creamy Nutella center. You can't go wrong combining bacon and Nutella!
Ingredients
1

pound

bacon

2 1/4

cups

all-purpose flour

3/4

cup

granulated sugar

2 1/4

teaspoons

baking powder

1/4

teaspoon

ground cinnamon

1/4

teaspoon

nutmeg

3/4

cup

milk

1

egg

2

tablespoons

bacon grease

1/2

cup

butter

melted

12

heaping teaspoons Nutella
Instructions
Lay the bacon strips out on 2 baking sheets. Put into a cold oven. Set the oven to 400 degrees and set a timer for 20 minutes. The bacon will cook as the oven preheats After 20 minutes, check the bacon for doneness. You'll want a crispy bacon for crumbling into the muffins. Add up to an additional 5 minutes if necessary. Once done, remove bacon from pans and transfer to a paper towel-lined plate to drain. Reserve some of the bacon grease on the pans for later. Reduce oven heat to 350 degrees.

Prepare the batter by combining flour, sugar, baking powder, cinnamon, and nutmeg in a large mixing bowl. Stir to combine.

Stir in milk, egg, and bacon grease. Crumble bacon and add to mixture. Pour in melted butter and stir until well combined.

Lightly grease a muffin tin or use cupcake liners. Spoon in enough of the batter to cover the bottom of each muffin tin. Then, spoon a heaping teaspoon of Nutella into each muffin tin. Use the remaining batter to cover the Nutella.

Bake in a 350 degree oven for 20-25 minutes until starting to brown. Remove muffins from tin and cool on a wire rack.
Nutrition
Calories:
422
kcal
|
Carbohydrates:
35
g
|
Protein:
8
g
|
Fat:
27
g
|
Saturated Fat:
12
g
|
Cholesterol:
62
mg
|
Sodium:
336
mg
|
Potassium:
220
mg
|
Sugar:
16
g
|
Vitamin A:
295
IU
|
Calcium:
65
mg
|
Iron:
1.6
mg