Delicious Apple Pork Chops with Caramelized Onions will quickly become a family favorite. This classic combination makes a perfect fall or winter dinner.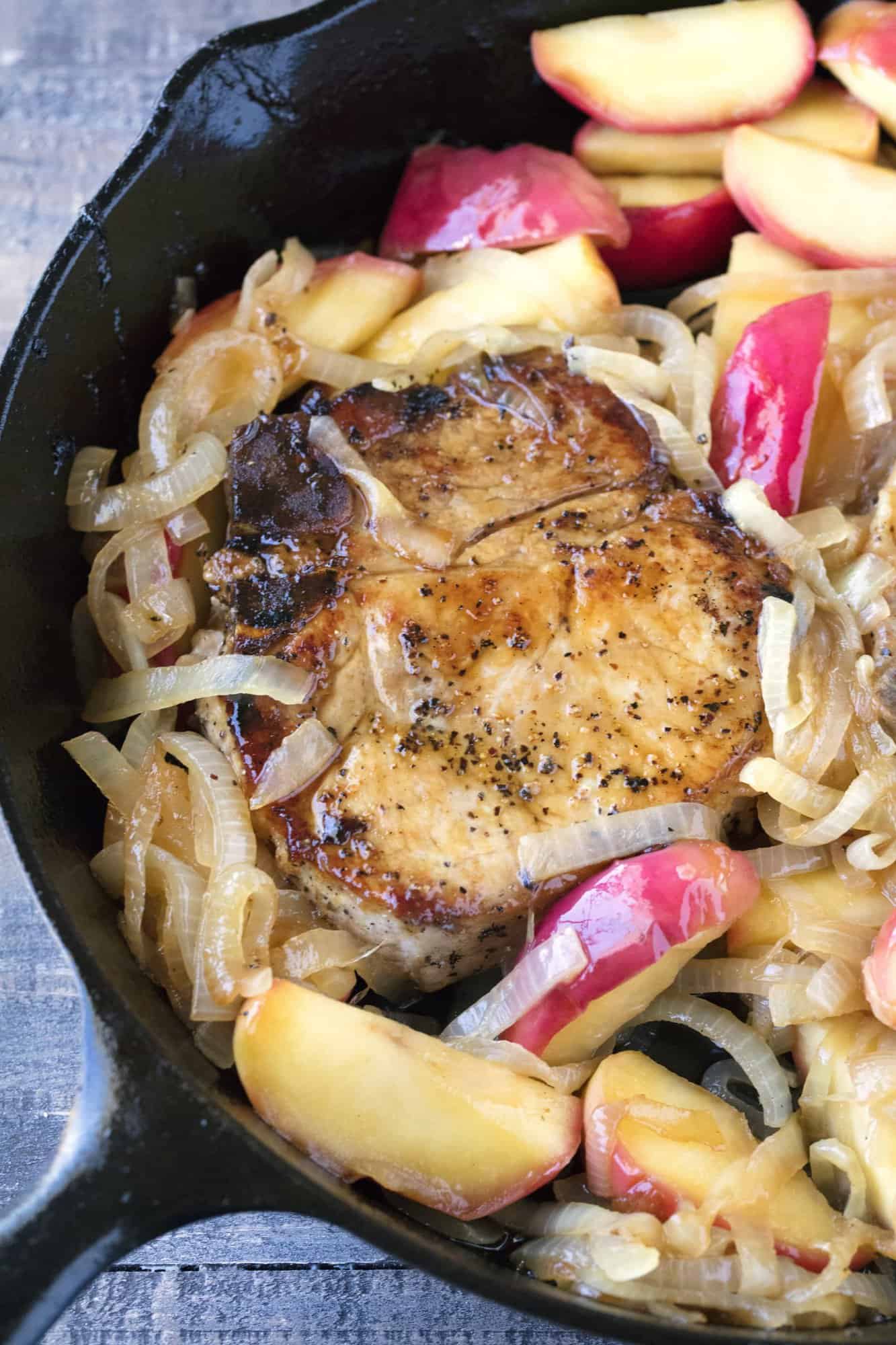 This was the first meal I ever made for my husband. I was a senior in college and he came over to my little crappy apartment for dinner. This was the meal I knew I could afford that would wow him. We were engaged 6 months later. I'm not saying it was the pork chops, but they definitely helped.
These pork chops are one of my favorites. While great in the fall, I tend to eat them year 'round. It is comforting and delicious with a balance between sweet and salty goodness. It is simple to make and can be ready in about 20 minutes. It also tends to be pretty inexpensive! Which makes it the perfect meal to impress a crowd.

This recipe could include a variety of cooking lessons. It deals with pork, apples, caramelizing onions, and a sauce reduction. What to choose!?!
Let's start with the fact that pork is a red meat. Does that blow your mind? A number of decades ago pig farmers decided to try and compete with chicken and branded themselves as "the other white meat." Pigs were bred and modified to be leaner and whiter. It has come at a price and pork has lost a bit of flavor and is easier to overcook and dry out. The knowledge that pork is a red meat is important. Do not treat it like chicken. While pink chicken should never be eaten, pink pork could very well be done. Use a meat thermometer if you have to! The middle of your pork only needs to reach 145 degrees. If you cook a lean cut beyond that then it will overcook and dry out, becoming tough and chewy. I have eaten way too many overcooked pork chops and pork loins because home cooks treat it like chicken. Stop it! It's a red meat! Use this knowledge and go forth to produce tender pork chops because now you can!
This recipe also calls for a sauce reduction. A reduction thickens a liquid and intensifies its flavor. A reduction simply boils out liquid through evaporation leaving behind flavor. This particular recipe will reduce apple juice into a thickened sauce of intensified apple flavor. Cool, eh?