Delicious Apple Pork Chops with Caramelized Onions will quickly become a family favorite. This classic combination makes a perfect fall or winter dinner.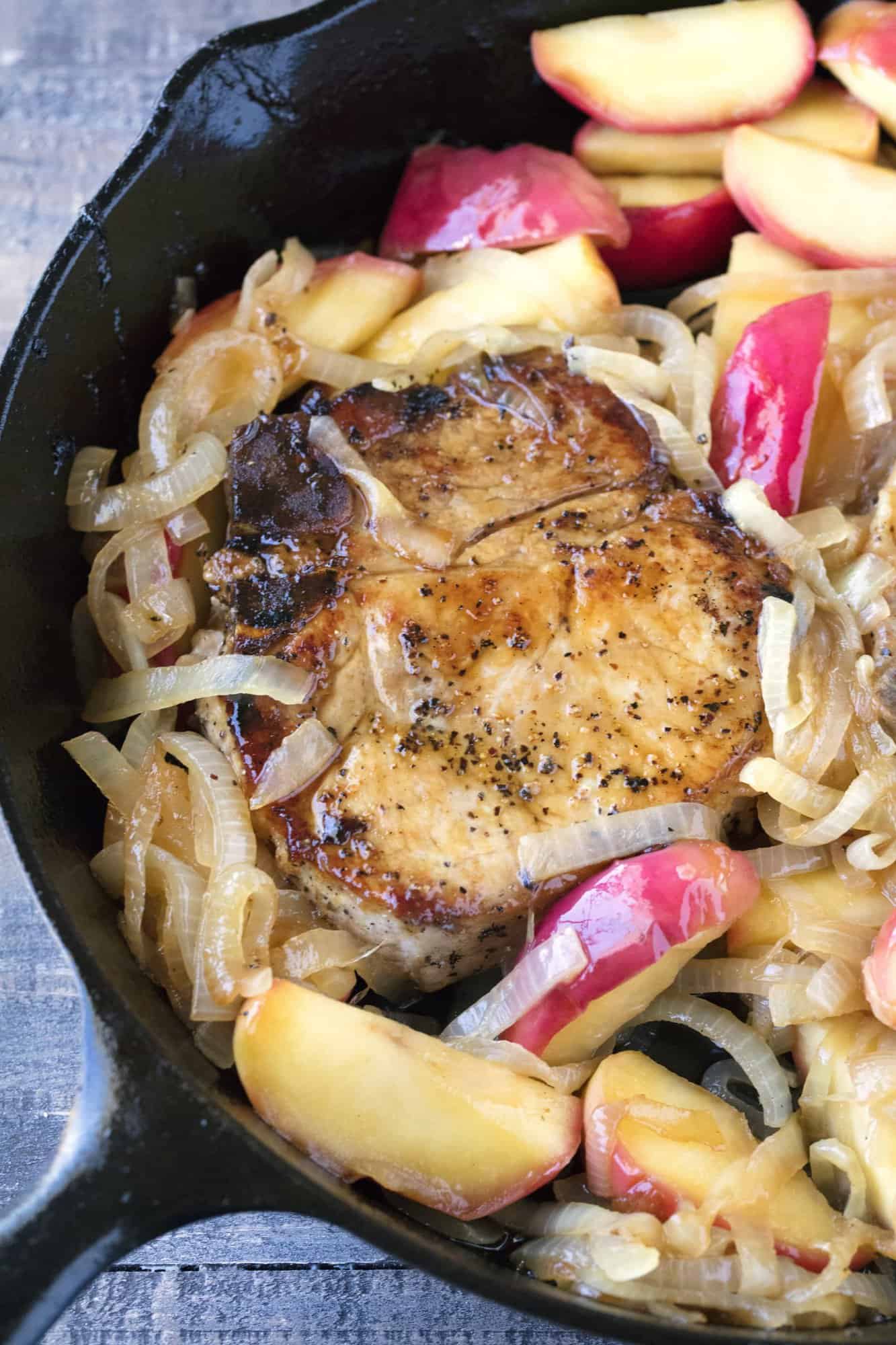 This was the first meal I ever made for my husband. I was a senior in college and he came over to my little crappy apartment for dinner. This was the meal I knew I could afford that would wow him. We were engaged 6 months later. I'm not saying it was the pork chops, but they definitely helped.
These pork chops are one of my favorites. While great in the fall, I tend to eat them year 'round. It is comforting and delicious with a balance between sweet and salty goodness. It is simple to make and can be ready in about 20 minutes. It also tends to be pretty inexpensive! Which makes it the perfect meal to impress a crowd.

This recipe could include a variety of cooking lessons. It deals with pork, apples, caramelizing onions, and a sauce reduction. What to choose!?!
Let's start with the fact that pork is a red meat. Does that blow your mind? A number of decades ago pig farmers decided to try and compete with chicken and branded themselves as "the other white meat." Pigs were bred and modified to be leaner and whiter. It has come at a price and pork has lost a bit of flavor and is easier to overcook and dry out. The knowledge that pork is a red meat is important. Do not treat it like chicken. While pink chicken should never be eaten, pink pork could very well be done. Use a meat thermometer if you have to! The middle of your pork only needs to reach 145 degrees. If you cook a lean cut beyond that then it will overcook and dry out, becoming tough and chewy. I have eaten way too many overcooked pork chops and pork loins because home cooks treat it like chicken. Stop it! It's a red meat! Use this knowledge and go forth to produce tender pork chops because now you can!
This recipe also calls for a sauce reduction. A reduction thickens a liquid and intensifies its flavor. A reduction simply boils out liquid through evaporation leaving behind flavor. This particular recipe will reduce apple juice into a thickened sauce of intensified apple flavor. Cool, eh?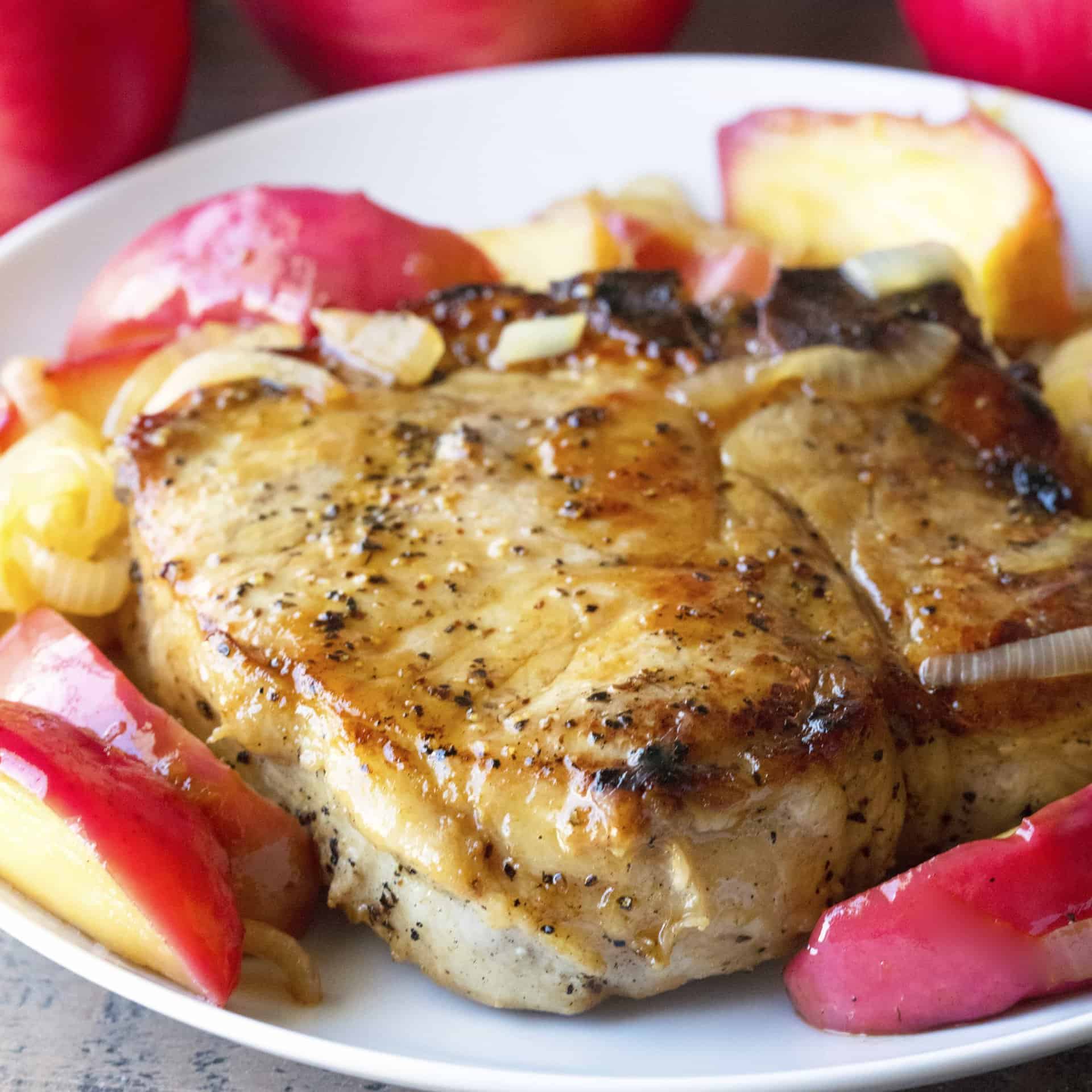 Watch the video below where Rachel will walk you through every step of this recipe. Sometimes it helps to have a visual, and we've always got you covered with our cooking show. You can find the complete collection of recipes on YouTube, Facebook Watch, or our Facebook Page, or right here on our website with their corresponding recipes.
Apple Pork Chops with Caramelized Onions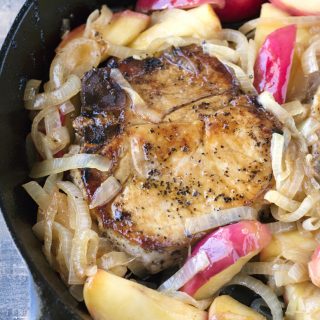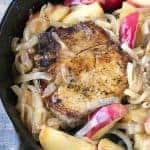 Delicious Apple Pork Chops with Caramelized Onions will quickly become a family favorite. This classic combination makes a perfect fall or winter dinner.
Ingredients
4

pork chops

3

apples

cored, sliced in half and quartered

1

large onion

sliced (white or preferably vidalia when in season)

2

tablespoons

olive oil

divided

1

tablespoon

brown sugar

1/2

cup

apple juice

Salt and pepper
Instructions
Heat 1 tablespoon olive oil in a pan over medium high heat. Add in apples and onions, salt them using about 1/4 tsp, and saute for about 5 minutes. Turn heat to low and continue to saute for about 10 more minutes until apples are softened and onions are translucent. During the last 2 minutes add in the brown sugar and stir through. Remove from pan and set aside.

Use the remaining olive oil to rub over your pork chops. Season both sides with a little salt and pepper. Remember that pork needs salt so don't skimp.

Heat the pan used to cook the apples and onions until it is smoking hot (a drop of water would instantly sizzle like crazy and evaporate). Put the pork chops in and sear them for about 2 minutes on each side. They'll get a nice brown crust on them so you'll know they are perfect.

Add in the apple juice and turn the heat down to medium low. The apple juice will sizzle and reduce fairly quickly as the pork chops finish cooking. This apple juice reduction will serve as a bit of a sauce. The remaining cooking time on your pork chops will depend on how thick they are cut. It will probably only take about 4 minutes per side total. See the cooking lesson above for more information on cooking pork.

Add in the apples and onions at the end, smothering the pork, and serve hot.
Nutrition
Calories:
366
kcal
|
Carbohydrates:
25
g
|
Protein:
29
g
|
Fat:
16
g
|
Saturated Fat:
4
g
|
Cholesterol:
89
mg
|
Sodium:
67
mg
|
Potassium:
677
mg
|
Fiber:
3
g
|
Sugar:
20
g
|
Vitamin A:
75
IU
|
Vitamin C:
6.5
mg
|
Calcium:
18
mg
|
Iron:
0.8
mg