The best key lime pie has the most amazing graham cracker shortbread crust, a perfectly creamy and tart filling, and homemade whipped cream. It is simple to prepare and oh, so good!
Key lime pie has long been a dessert favorite, cherished for its refreshing taste and velvety texture. This classic treat, which perfectly melds sweet and sour flavors, offers a burst of tropical vibes in each slice. Whether you're new to baking or have a seasoned hand, you'll find joy in crafting this pie that never goes out of style.
Frequently Asked Questions
Can I use regular limes instead of key limes?
Yes, while key limes offer a distinct tartness, regular limes can be an acceptable substitute, though the flavor might be slightly different.
What if I don't have a stand mixer?
No worries! You can use a hand mixer or even mix by hand using a whisk, though it may require a bit more effort.
Is store-bought crust okay?
Of course. If you're short on time, a pre-made crust can be a convenient option.
Should I bake in a glass or metal pan?
Either option is good. It really just comes down to personal preference. Glass pie pans are great for even heating, while metal pans can make the crust crisper.
Key Limes
These small green limes are more tart and aromatic than regular limes. Their unique flavor gives the pie its distinct taste. Freshly squeezed key lime juice is always best, but it is near impossible to find key limes outside of Florida. If you can't find fresh key limes, you can use:
Regular limes
Store-bought key lime juice (found in the produce section of your local grocery store)
Substitutions
Butter: Refined coconut oil or a plant-based butter substitute are good dairy-free alternatives.
Honey: Maple syrup or agave nectar works well.
Troubleshooting
Over-beating the Filling: This can introduce too much air, making the filling bubbly. Mix until just combined to keep it creamy.
Underbaking the Crust: If the crust isn't baked long enough, it might become soggy. Ensure it's golden before adding the filling.
Tips From the Chef
Ensure your ingredients are at room temperature before mixing for a smoother consistency.
When zesting limes, avoid the white pith; it can add bitterness.
Always preheat your oven for even baking.
If your crust starts to brown too quickly, use an aluminum foil shield.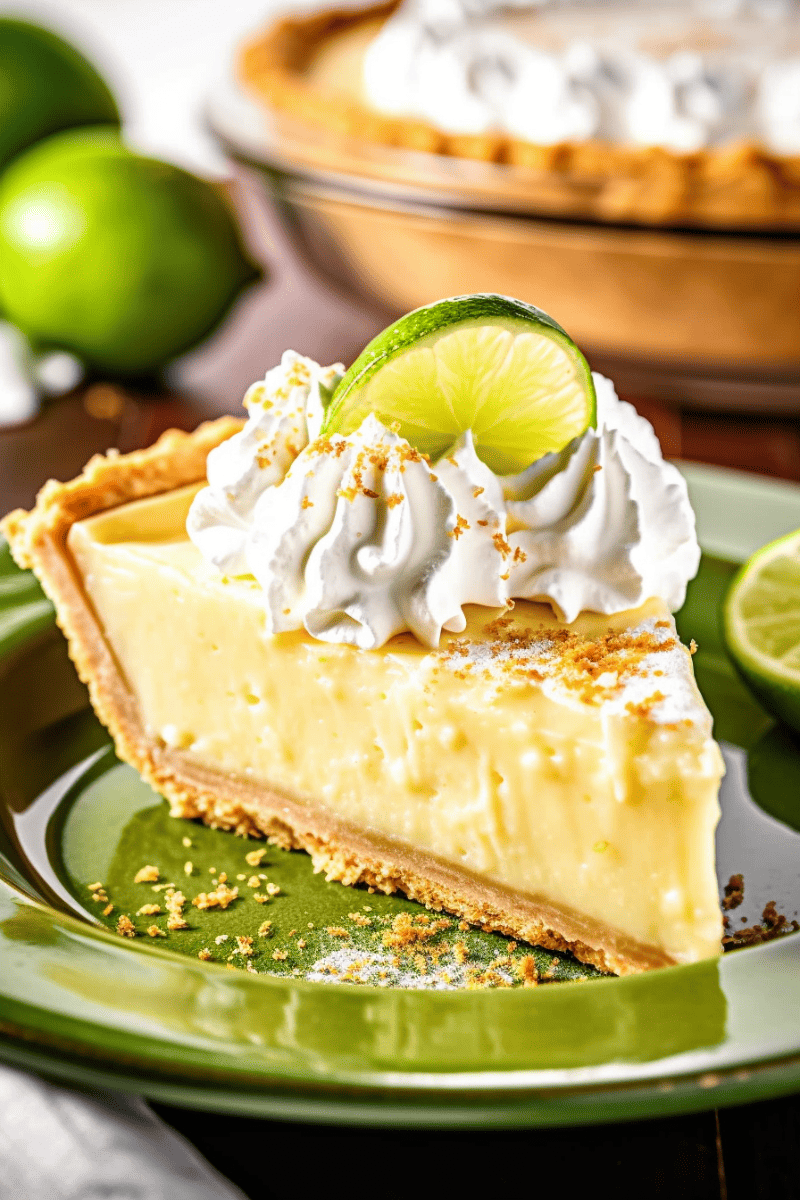 Not all butter is created equal
Fat content varies, so it is important that the final, uncooked crust is dry and somewhat crumbly. If it is too sticky, add in 1 tablespoon of flour until it resembles wet sand.
Make Ahead Instructions
You can make the crust for this recipe up to 3 days ahead of time, stored at room temperature. Wait to make the filling until the day of serving to keep the crust from softening.
Storage & Freezing Instructions
Leftover slices should be refrigerated in an airtight container and consumed within 3-4 days for best flavor.
If you're thinking of freezing, wrap the pie tightly in plastic wrap and then aluminum foil. It can be stored frozen for up to a month. When ready to enjoy, thaw in the refrigerator overnight.
Watch the video below where Caytlin will walk you through every step of this recipe. Sometimes it helps to have a visual, and we've always got you covered with our cooking show. You can find the complete collection of recipes on YouTube, Facebook Watch, or our Facebook Page, or right here on our website with their corresponding recipes.