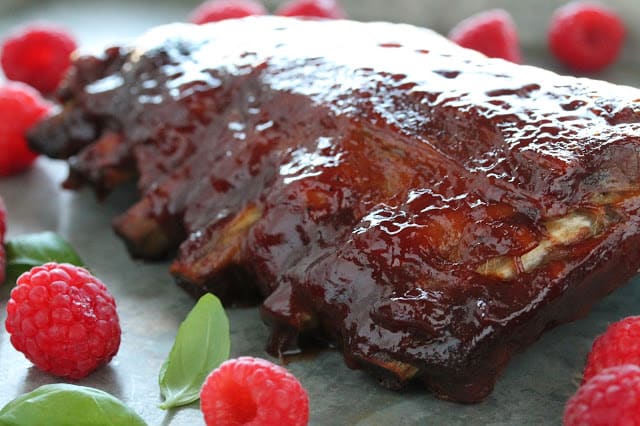 Raspberries are one of my favorite summer treats. My bushes are full! Combine raspberries with baby back ribs and you've got yourself a killer summer meal. A homemade raspberry-chipotle sauce is brushed on meaty, tender baby back ribs. It's all cooked up in the slow cooker so it couldn't be easier. I've written about the secret to crockpot ribs before, and include my secret in this recipe. Seriously, these ribs will fall off the stinkin bone which will allow you to shove them in your gluttonous face even faster. You're welcome. It's time to enjoy yourself a little before all this summer goodness goes away!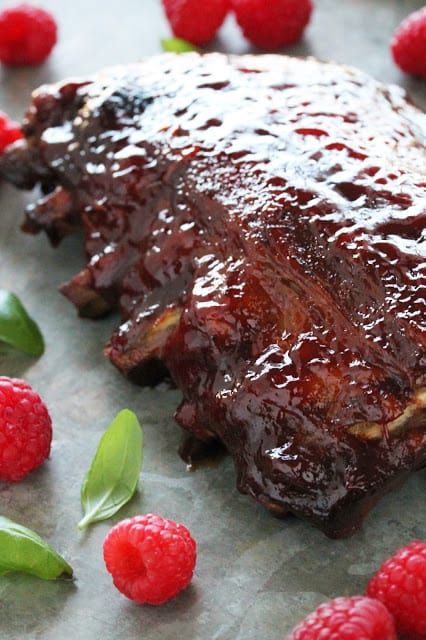 Prep Time: 15 minutes
Slow Cooker Time: 8 hours, low
Yield: Serves about 4
Ingredients
2 tablespoons olive oil
1 large sweet onion, diced
2 cloves garlic, crushed
2 cups raspberries
1/2 cup fresh basil leaves, loosely packed
3 chipotle chiles in adobo sauce
1 cup ketchup
2/3 cup brown sugar, tightly packed
2 tablespoons Worcestershire sauce
2 teaspoons ground mustard
1/2 teaspoon black pepper
2 racks pork loin baby back ribs
Instructions
1. In a large saucepan over medium-high heat, heat olive oil. Add in sweet onion and saute for about 5 minutes. Add in garlic and saute for another 60 seconds. Stir in raspberries, basil, chipotle chiles, ketchup, brown sugar, Worcestershire sauce, ground mustard, and pepper. Increase heat to high and bring to a boil. Reduce heat to medium-low and simmer for 10 minutes.
2. Transfer sauce to a blender or food processor and blend until smooth. Divide sauce in half and set aside one half in the refrigerator to be used at serving time.
3. Cut rib racks in half. Layer ribs in a crockpot, pouring a little of the remaining sauce over each layer.
4. Cover and cook on low 8 hours.
5. Before serving, lay the racks on an aluminum foil-lined baking sheet. Brush generously with reserved sauce. Broil under a broiler until sauce begins to bubble and caramelize. Serve hot.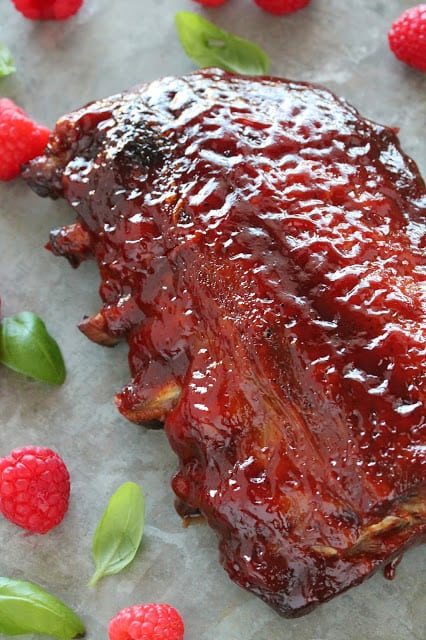 Get New Recipes Sent To Your Inbox 😃
Join my newsletter and get new mouth watering recipes sent directly to you weekly!