Chipotle Twice Baked Sweet Potatoes are sweet, smokey, and a little bit spicy. This tasty dish can be served up as a vegetarian main course, intriguing side dish, or even a fun appetizer.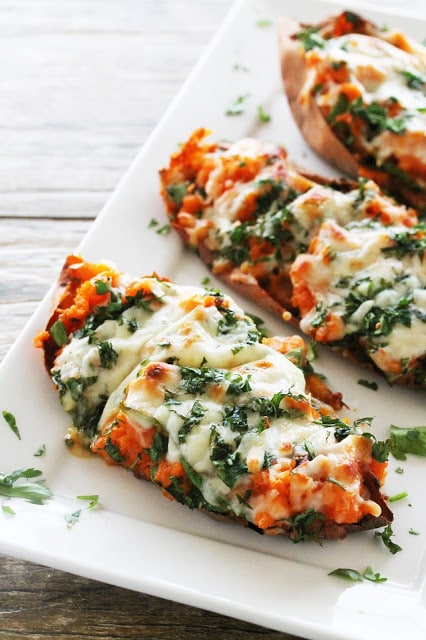 These sweet and smokey sweet potatoes are a healthy treat you can really dig in to. We've been making them for years and they quickly became one of our all time most popular recipes on the blog. I understand why! These make a great vegetarian dinner, an intriguing appetizer, and a tasty side dish. It's even good as leftovers! These sweet potatoes are something totally different than what you are used to and can really jazz up this orange potato.
Fun Fact: what's the difference between a sweet potato and a yam? Well, odds are you've never actually eaten a yam! Real yams are found in Asia and Africa and have purple, red, or white flesh and a dark black or brown skin. Those red skinned, orange flesh "yams" you buy at the grocery store are actually sweet potatoes. Yes, I realize that they are usually labeled as yams, but it's simply not so. That other thing in the store that looks more like a potato that's labeled as a sweet potato? Why yes, it's a sweet potato too! It is simply a different variety, much like how you can by a russet potato or red potatoes. This recipe can be made with either variety of sweet potatoes, but I prefer the orange flesh sweet potato myself.
Can I use regular potatoes instead of sweet potatoes?

We love the flavor, and the added health benefits from sweet potatoes, but you absolutely could substitute with any large baking potato.

Spinach Optional?

We know, not everyone enjoys their greens. If you don't love spinach you can always omit it.

Storage and Reheating Instructions:

Store any leftovers in an airtight container in the fridge for up to 4 days. Reheat in the microwave for 30 seconds at a time until warmed through.
If you like this recipe, you may be interested in these other delicious potato recipes:
More Sweet Potato Recipes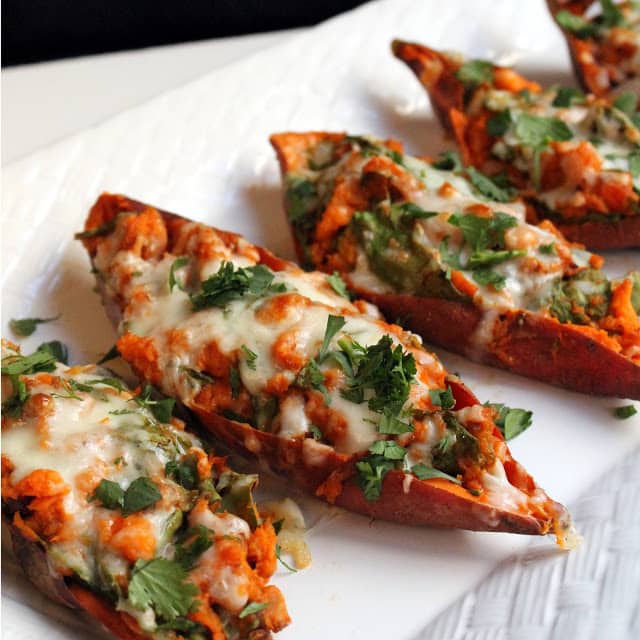 Watch the video below where Rachel will walk you through every step of this recipe. Sometimes it helps to have a visual, and we've always got you covered with our cooking show. You can find the complete collection of recipes on YouTube, Facebook Watch, or our Facebook Page, or right here on our website with their corresponding recipes.