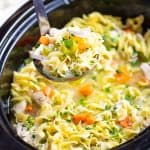 Print Recipe
Slow Cooker Chicken Noodle Soup
Slow Cooker Chicken Noodle Soup is total comfort food. Toss some ingredients into the crockpot and let your house smell like heaven all day long!
Place chicken breasts into the bottom of a 6 to 8 quart slow cooker. Top with onion, carrots, celery, ginger, and garlic. Pour in chicken broth and stir in thyme and oregano.

Place the lid on and cook on low for 6 to 8 hours, or on high for 3 to 4 hours. Shred chicken with a fork.

Stir in egg noodles and replace the lid. Cook on high for 12 to 15 minutes until egg noodles are soft and cooked through. Stir in parsley and serve immediately.