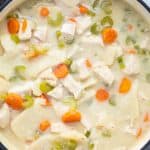 Print Recipe
Southern Style Chicken and Dumplings
This Southern Style Chicken and Dumplings Recipe is easy to make and full of old fashioned goodness. You'll love the flat dumplings mixed in with a delicious creamy chicken soup.
DUMPLINGS
2 

cups 

all-purpose flour

1/2

teaspoon

baking powder

1 

teaspoon 

salt

1/3 

cup 

shortening

 cold

1 

cup 

buttermilk
Heat a large dutch oven pot over medium high heat. Add in olive oil and heat through, 1 minute. Add in celery, carrots, and onion and saute 5 minutes, or until onions are soft and translucent. Stir in garlic and cook 1 minute more.

Add in chicken breasts and season with salt and pepper. Pour in chicken broth and milk. Bring to a boil and boil 20 minutes, or until chicken is cooked through and easily shreds with a fork.

Meanwhile, make the dumpling dough. Mix flour, baking powder, and salt in a mixing bowl. Cut in the cold shortening using a pastry cutter or food processor. Gradually pour in the buttermilk, stirring until the dough comes together. Turn the dough out on a floured surface and work it just until everything is well combined. Roll the dough out about 1/4-inch thick. Cut into 1 inch strips. Cut each of those strips into pieces that are approximately 2 inches in length.

Shred chicken directly in soup pot, or remove to a cutting board, shred, and return to soup. In a small bowl, whisk together cornstarch and water. Pour into soup pot, stir in, and return to a simmer.

Drop strips into the soup and simmer 15-20 minutes. Serve hot.