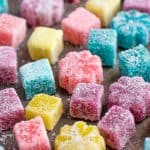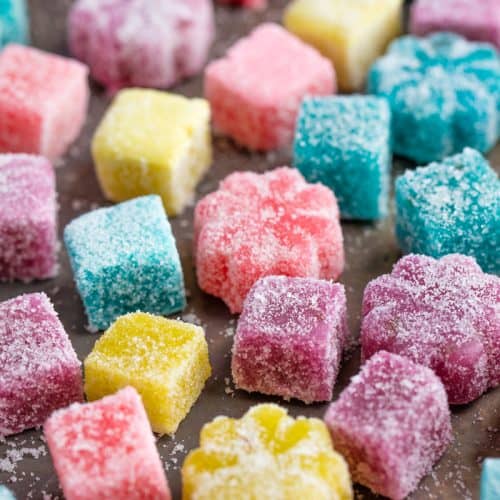 Print Recipe
Homemade Gumdrops
Homemade gum drops are a fun and tasty science experiment you can easily make at home. Give this colorful candy making a try!
6

envelopes

unflavored gelatin

4 tbsp + 1 1/2 tsp

1

cup

cold water

1 1/2

cups

boiling water

4

cups

sugar

2

tsp

flavored extract

lemon, orange, peppermint, etc

12

drops

liquid food coloring

1

cup

sugar

for coating
In a large pot (yes, a large stew pot, you'll need it!), stir together the gelatin and cold water. Let sit 5 minutes.

Meanwhile, let the additional water come to a boil in a small saucepan or in the microwave. Pour the boiling water over the gelatin mixture and stir until dissolved, about 1 minute. Stir in the sugar.

Place the pot over a burner at medium-high heat. Bring to a boil, then reduce heat to medium-low. Let simmer until the mixture reaches 240-255 degrees F, about 25 minutes, stirring constantly and scraping sides to avoid burning any sugar. The mixture will get quite thick.

Remove from heat and stir in the flavor extract of your choice. Next, add food coloring, or divide the mixture among bowls and add food coloring for multiple colors.

Pour gelatin into silicone molds. Let sit at room temperature, 12 hours.

Remove candy from molds. If you need to cut the candies, run your knife under hot water before each cut to avoid sticking. Roll in extra sugar to coat.

Place on a wax paper lined tray. Cover with a tea towel and let sit at room temperature for 48 hours to crystalize.
Want sour candies? Instead of rolling the candies in plain sugar, add a tablespoon or two of citric acid to the sugar mixture.
Stays good for up to 4 weeks. 
Calories:
2117
kcal
|
Carbohydrates:
399
g
|
Protein:
145
g
|
Sodium:
343
mg
|
Potassium:
27
mg
|
Sugar:
399
g
|
Calcium:
9.4
%
|
Iron:
11.6
%