Healthy and easy to make, this whole wheat greek yogurt banana bread comes together in one bowl and is filled with good-for-you ingredients.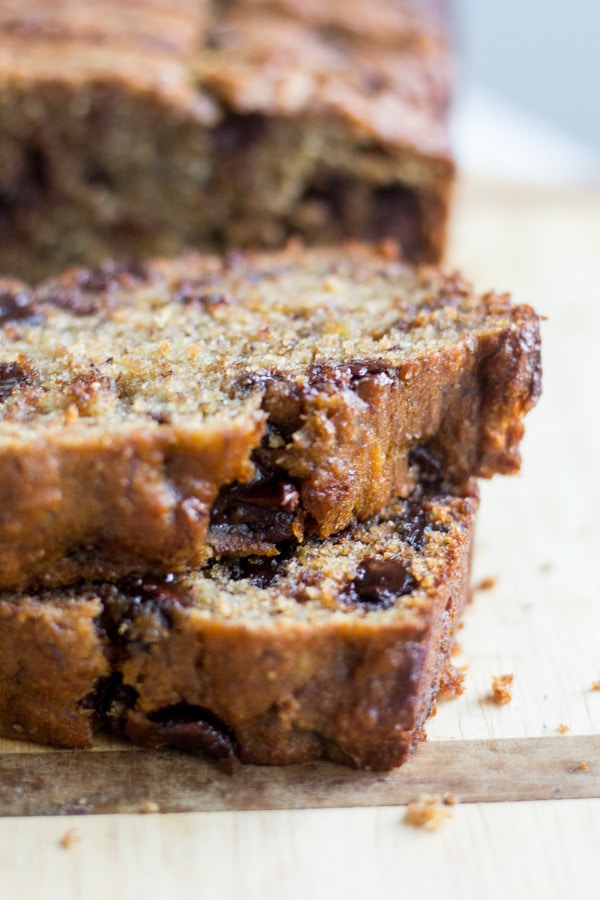 Hey there! My name is Molly Leonard and I'm the recipe developer, photographer and writer over on What Molly Made. I'm huge fan of The Stay at Home Chef and was thrilled to be able to contribute to the delicious library of recipes Rachel has created.
I love sharing baking recipes (both healthy and indulgent) so get excited to start baking with me each month! If you want to learn more about me and my story head on over to my About page:)

MY OTHER RECIPES
I am beyond excited to share this whole wheat greek yogurt banana bread recipe with you! I know what you're thinking, another banana bread recipe? Because the world needs another banana bread recipe. And in fact, you don't need just any old recipe, you need THIS banana bread recipe.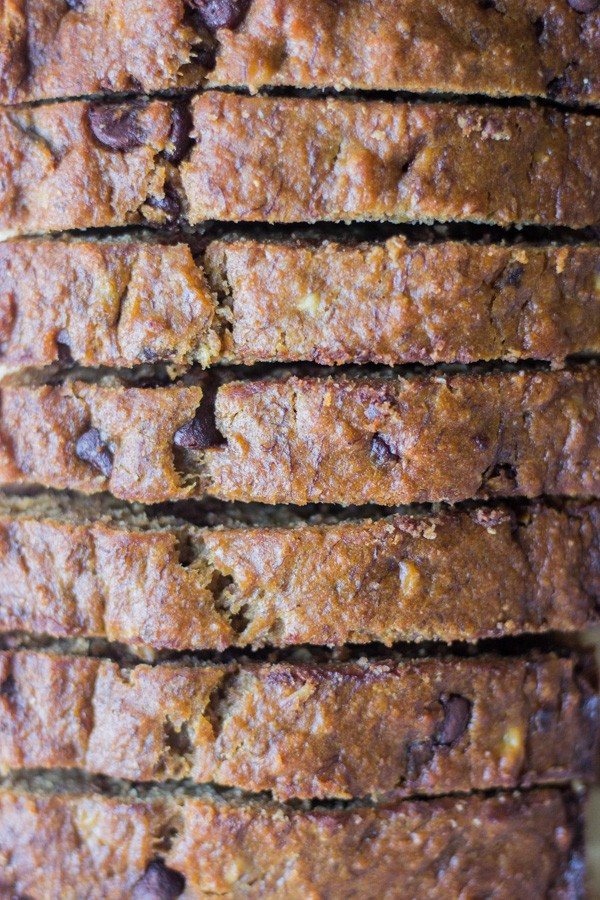 Because we're all on week 3 of our healthy new year's resolutions and you've considered cracking under pressure a few times because the chocolate chips sitting in your pantry are calling your name and the sweet treats offered to you at work are getting harder to avoid. I get it. I'm in the same boat. But this banana bread is going to keep that boat from sinking!
With only 1/4 cup of brown sugar in this entire loaf, the majority of it is sweetened up with ripe bananas and pure honey. And don't worry if you don't have perfectly ripe bananas waiting for you at this moment. Typically my banana bread cravings hit me at a moment's notice and I don't have days to wait for the brown specs to arrive.
No worries, because this simple trick is going to turn your not so ripe bananas into perfect ready-for-banana-bread texture in under 20 minutes.  Just preheat your oven to 350°F and place your bananas on a parchment paper lined baking sheet. Once it's preheated, throw them in the oven for 15-20 minutes.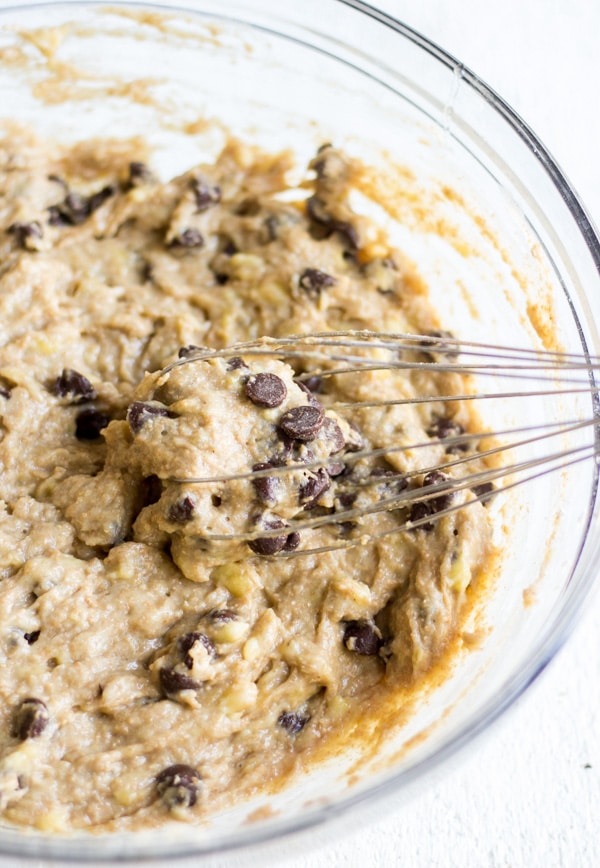 The outside of the bananas will begin to speckle brown, this is what you want. Remove the bananas from the oven and let them rest on the baking sheet for 5-10 minutes. Do not panic, your bananas are going to turn completely brown. This is also what you want! Once cool enough you'll peel the banana and you'll have a beautiful yellow and mushy banana that's ready to use.
One of the greatest features of this whole wheat greek yogurt banana bread is it's all mixed in one bowl. Meaning one less bowl to wash and dry and deal with. It's a deal breaker in my book.
It starts with the mashing of the bananas and then incorporating the eggs, coconut oil and greek yogurt. I used one whole egg and one egg yolk because the yolk creates such a dense and moist texture. The addition of the yogurt allows this recipe to be lower in oil and the tangy flavor from the yogurt provides a nice balance to the sweetness of the bananas and honey in this recipe. You can either use plain or vanilla greek yogurt, but note that the vanilla flavor will result in a little bit sweeter bread.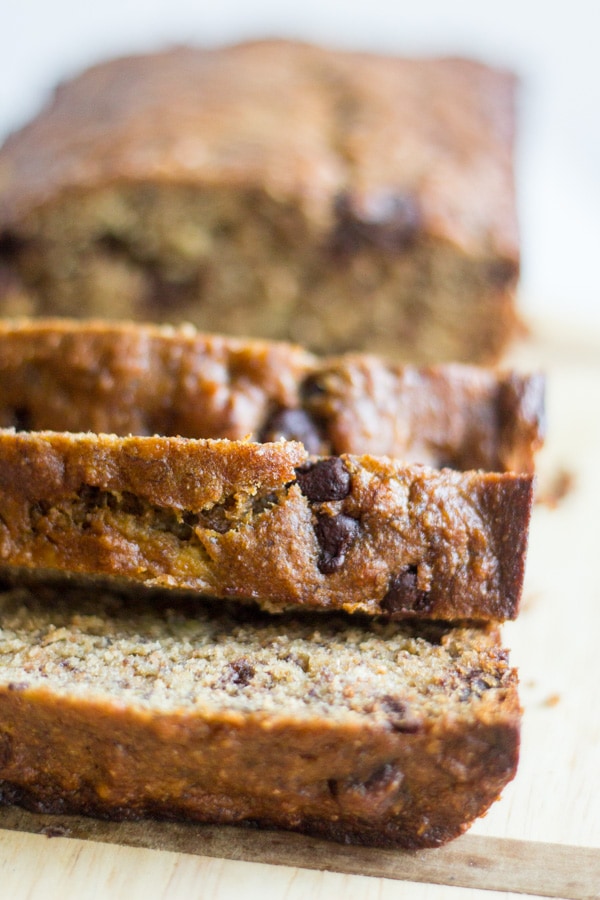 After you add all of the dry ingredients this banana bread is ready for the oven. At around he 40 minute mark your kitchen/house will be filled with the sweet aroma of delicious banana bread. This is about the time you should check for extra browning! To avoid the top getting to browned, you may need to cover the top of the bread with foil and allow it to cook the rest of the way.
I should also note the dark chocolate chips in this whole wheat greek yogurt banana bread are optional (sort of), so please feel free to omit!
Once it's done baking allow it to cool completely before cutting. I love to eat this in the morning warmed up with a big cup of coffee. It's the best excuse to eat dark chocolate for breakfast.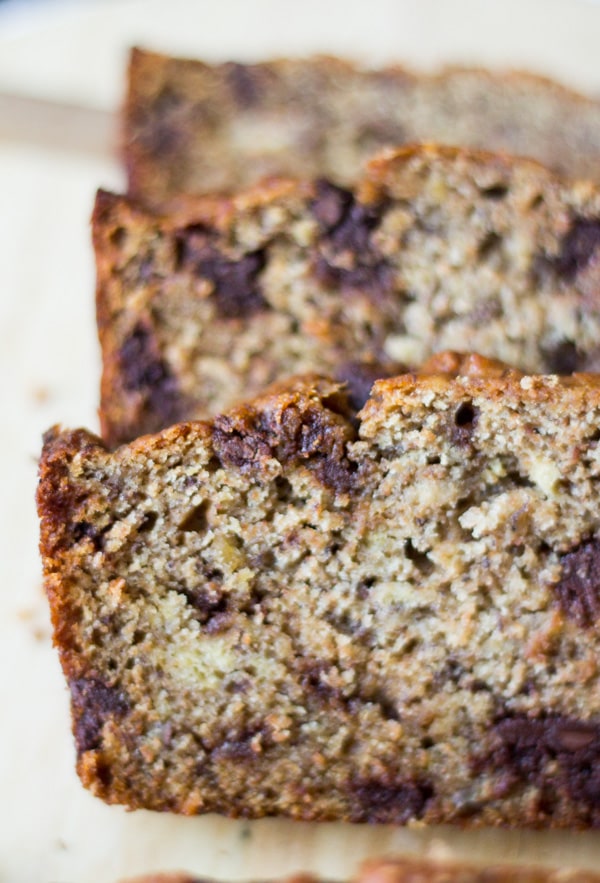 ALSO! You could totally turn this recipe in to muffins if you so choose. Fill a 12-count muffin pan almost full with batter and bake at 350°F for 18-20 minutes.
Happy baking! And know you have a virtual cheer squad (aka me) encouraging your healthy habits as you bake your way through healthy resolutions. Enjoy!
Whole Wheat Greek Yogurt Banana Bread
Healthy and easy to make, this whole wheat greek yogurt banana bread comes together in one bowl and is filled with good-for-you ingredients.
Ingredients
3 bananas, very ripe
1 large egg, room temperature
1 egg yolk, room temperature
3 tablespoons coconut oil, melted and cooled to room temperature
⅓ cup plain or vanilla greek yogurt
¼ cup dark brown sugar
¼ cup pure honey
1 teaspoon vanilla extract
¾ teaspoon baking soda
¼ teaspoon baking powder
¼ teaspoon salt
1½ cups white whole wheat flour (spooned and leveled)
1 cup dark chocolate chips (optional)
Instructions
Position the oven rack in the center and preheat the oven to 350°F. Lightly grease a standard 8x4 inch loaf pan with nonstick spray and set aside.
In a large bowl, mash the bananas with a fork until almost smooth, but a few lumps are okay. Add the egg and egg yolk and whisk until combined then whisk in the coconut oil and greek yogurt.
Once combined, whisk in the brown sugar, honey and vanilla. Add the baking soda, baking powder, and salt and using a wooden spoon or rubber spatula, stir until combined. Slowly stir in the flour, stirring gently between each addition, being careful not to over mix. Add the dark chocolate chips if using them and fold until just combined.
Pour the batter into the prepared bread pan and bake for 55-60 minutes until a toothpick inserted in the center comes out clean. Check the bread at around the 40 minute bark for browning. The the bread is browning too much around the edged cover with foil and place back in the oven to finish baking.
Remove from the oven and allow to cool on a wire rack for about 20 minutes then remove from pan and allow to cool completely before cutting.
Bread is stored well in an air tight container in the refrigerator for up to 5 days or in the freezer for up to 2 months.
Get New Recipes Sent To Your Inbox 😃
Join my newsletter and get new mouth watering recipes sent directly to you weekly!