If you're looking for an easy weeknight meal, you've found it! Easy Weeknight Chicken Tacos are simple to prepare – and simply delicious! Filled with fresh ingredients, you won't be able to eat just one.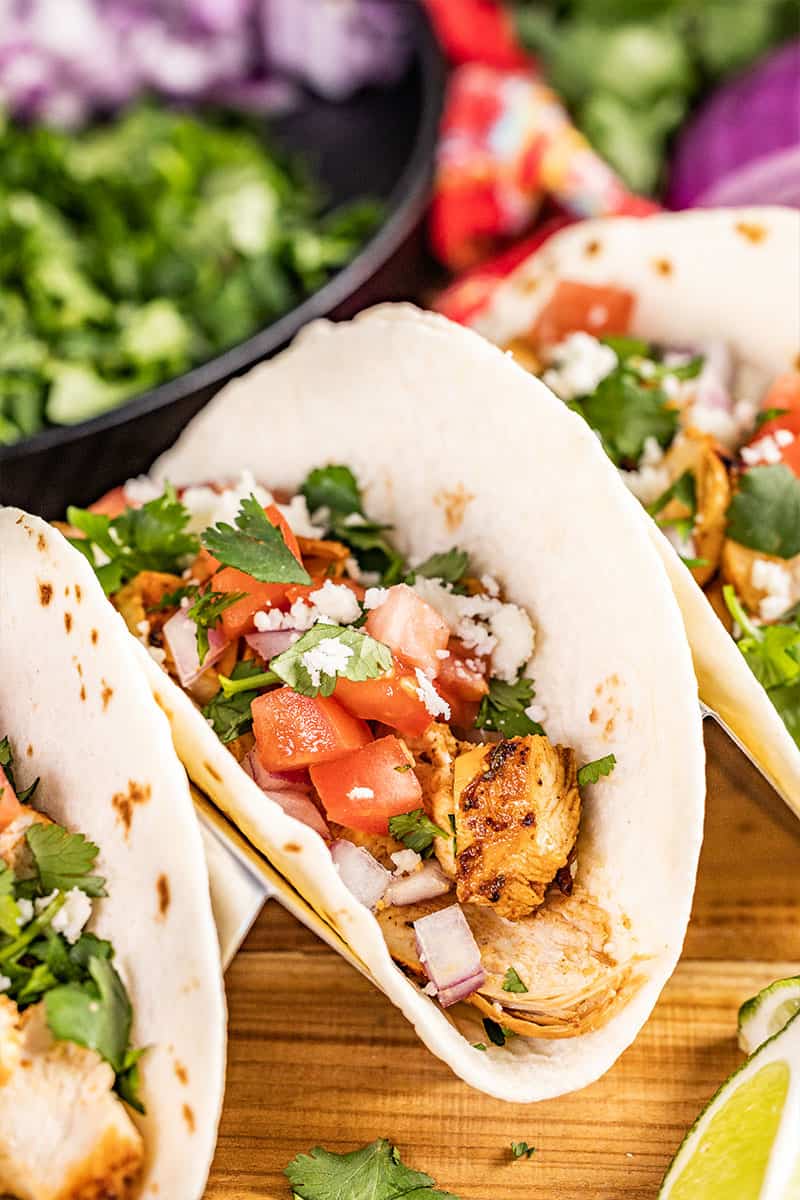 Weekdays are hectic, and we know that sometimes you want to whip up a meal that's easy – but doesn't come up short on taste. That's why we wanted to share this easy chicken tacos recipe! The flavor in this dish comes from a quick marinade that's loaded with spices to really make the poultry shine. After you've let the meat marinate, the tacos come together in under 20 minutes. Pair your dish with whatever toppings and fillings you'd like – here's where you can feel free to get creative. Tacos are a traditional Mexican dish that we love recreating at home. If that's not an easy weeknight dinner plan, we don't know what is!
Chicken Options:
We recommend using boneless, skinless breasts for this easy chicken tacos recipe. You can also substitute boneless and skinless chicken thighs. Just be aware that you'll have to cook the meat slightly longer. Try to always opt for boneless and skinless options as they are the easiest to prepare with a marinade on your stovetop.
Can I Use Precooked Chicken?
If you're in a real time crunch, you can also pick up a pre-cooked rotisserie chicken from your local supermarket. Shred it with a fork, then place it in the marinade so that it soaks up the flavor. Heat it up in a skillet on the stovetop over medium heat. Stir and keep an eye on the temperature. Taste to determine whether it's hot enough, and when it is, remove from heat.
Can I Prepare the Meat in Advance?
Another time-saving option is to cook up the meat for your chicken breast tacos in advance. This recipe is perfect for meal prepping. Simply follow the cooking instructions and wait for the meat to cool completely. Place in an airtight container and put it in the fridge, where it will keep for 3 to 4 days. When you're ready to eat, heat up the chicken in a skillet over medium heat. You can prevent dryness by adding a little water or chicken stock!
What Is Traditionally in a Taco?
Tacos are a Mexican dish that has been around since the early 20th century. If you want to prepare them as traditionally as possible, use these toppings:
Stewed, sautéed, or fried meat that's been marinated in herbs and spices
Corn tortillas
Cilantro and finely chopped onions
It's worth mentioning that authentic Mexican tacos are not topped with cheese, but our chicken breast tacos are. We've adapted the recipe to suit our tastes – feel free to skip the cheese (and tomatoes) if you want to keep things more traditional.
Spice Level:
Not everyone loves spicy foods – and we totally get that! This chicken breast tacos recipe includes a dash of cayenne pepper to bring up the heat. You can tone down the spice level by including less of it, or by omitting the cayenne altogether. Your choice!
The Best Easy Chicken Tacos Marinade:
The marinade is the key to the delicious, juicy, and tender chicken breast tacos filling! Here are the spices and ingredients you'll need:
Garlic powder
Paprika
Parsley
Salt
Pepper
Cayenne Pepper
Lime juice
Olive oil
Be sure to allow your chicken to marinate for at least 1 hour, but if you can let it sit for longer, you should! The more time the meat has to soak up the herbs and spices, the better.
Serving Suggestions:
You can easily eat your easy chicken tacos on their own! If you want a more filling dinner option, here are our favorite serving suggestions: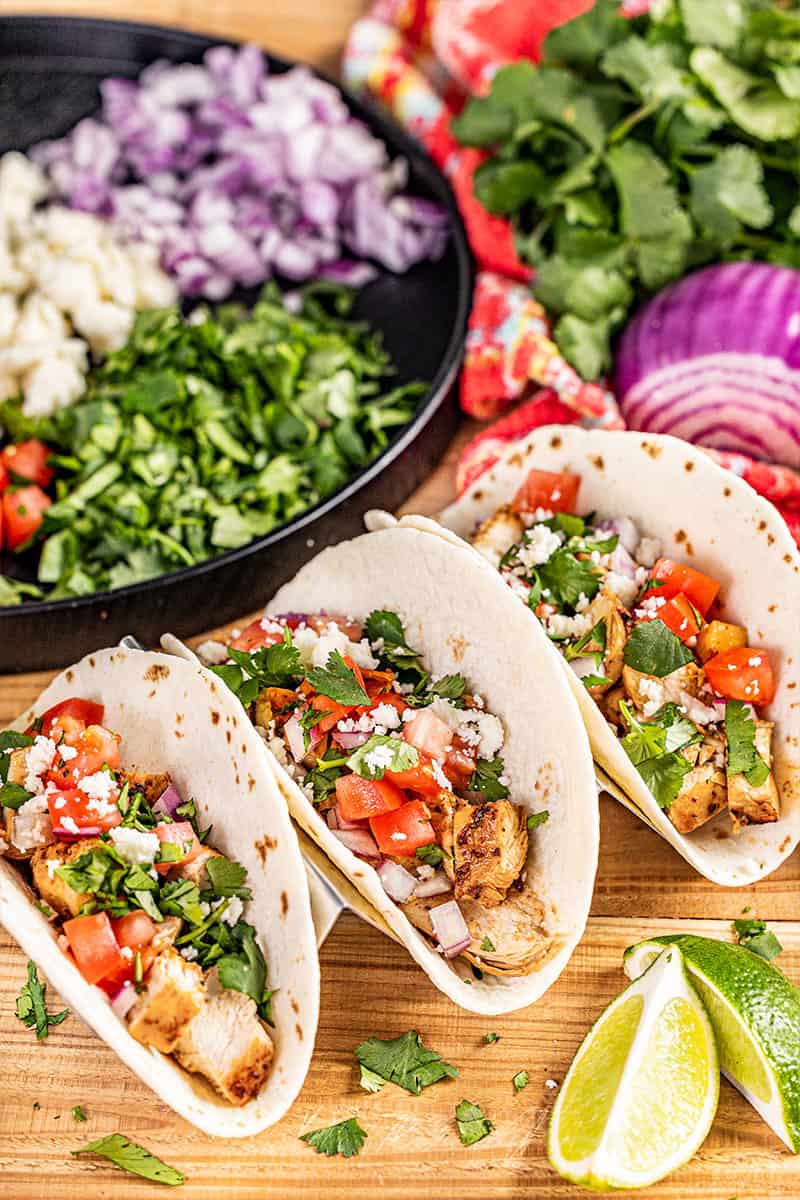 Storage and Reheating Instructions
If you have any leftovers, you can store them in a few airtight containers in the fridge. It's important to store the taco fillings separately to keep things fresh and to prevent sogginess. Cooked chicken will keep for 3 to 4 days. Diced tomatoes tend to lose their flavor fairly quickly, so opt to store them unchopped.
You can reheat the chicken in a skillet over medium-high heat until the chicken is warmed through. Simply taste it to check! You can also reheat it in the microwave. Reheat in 30-second increments until the meat is warmed through completely.
If you like this recipe, you may be interested in these other delicious Mexican-inspired taco recipes: