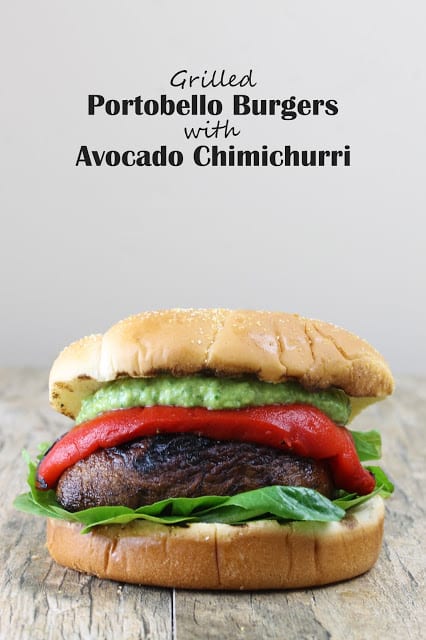 It's that time of year where I spend a good portion of my evenings on the back porch cooking dinner on my grill. The grill is great for healthy, fast, and flavorful meals. I love a good burger, but I also like to keep it light sometimes. I'm a huge fan of mushrooms so portobello burgers are right up my alley. These are ultra simple burgers, but boy do they pack a punch. The creamy, avocado-based sauce with all the flavorings of chimichurri are what makes this burger shine. Chimichurri is one of my favorite things to make in the summer. I slap it on everything. It is addicting I tell you. This chimichurri uses cilantro instead of parsley for a fun little twist. Feel free to add toppings as desired. Whether you deck it out or keep it simple, this burger is tasty, healthy, and totally easy to make.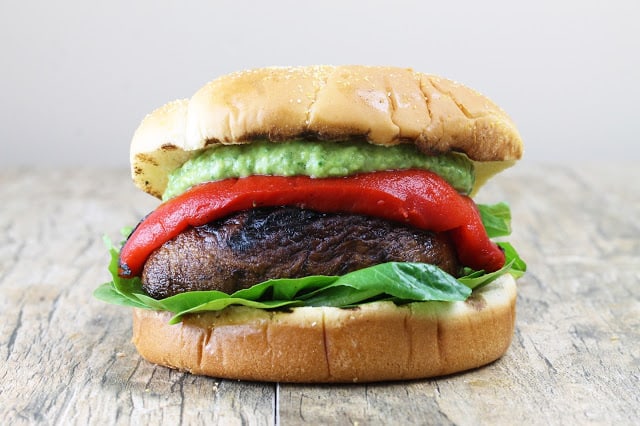 Time to Make It: 15 to 20 minutes
Yield: 4 burgers


Ingredients
4 portobello mushrooms
salt and pepper
2 tablespoons olive oil
2 roasted red bell peppers*
spinach or arugula leaves
4 hamburger buns
2 cups loose cilantro leaves
2 cloves garlic
1/2 teaspoon salt
1/4 teaspoon red pepper flakes
1/4 teaspoon oregano
1 tablespoon olive oil
1 tablespoon red wine vinegar
1/2 lemon, juiced
2 avocados, pitted

MY OTHER RECIPES


Instructions
1. Brush mushrooms with olive oil and season generously on both sides with salt and pepper.
2. Heat an outdoor grill to medium-high heat, or for indoors, heat a grill pan or heavy skillet to medium-high heat. Grill portobellos for 5 to 8 minutes per side with the lid closed, or a cover on the pan.
3. Meanwhile, prepare chimichurri guacamole. Place cilantro leaves, garlic, salt, red pepper, oregano, olive oil, red wine vinegar, and lemon juice in a food processor. Process for 10 to 15 seconds. Add in avocado and process until smooth.
4. Grill buns until lightly toasted on the grill or skillet, 15 to 30 seconds. Serve portobellos topped with arugula or spinach leaves, roasted red bell peppers, and a heaping spoonful of the avocado chimichurri.
Other topping suggestions: grilled or sauteed red onion, provolone cheese for non-vegan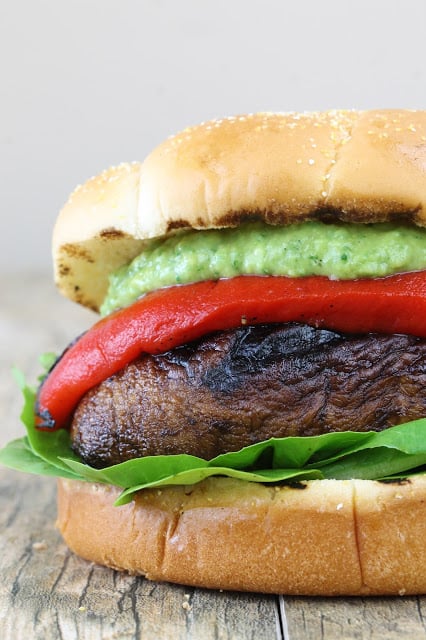 Recipe inspired by Foodie Crush