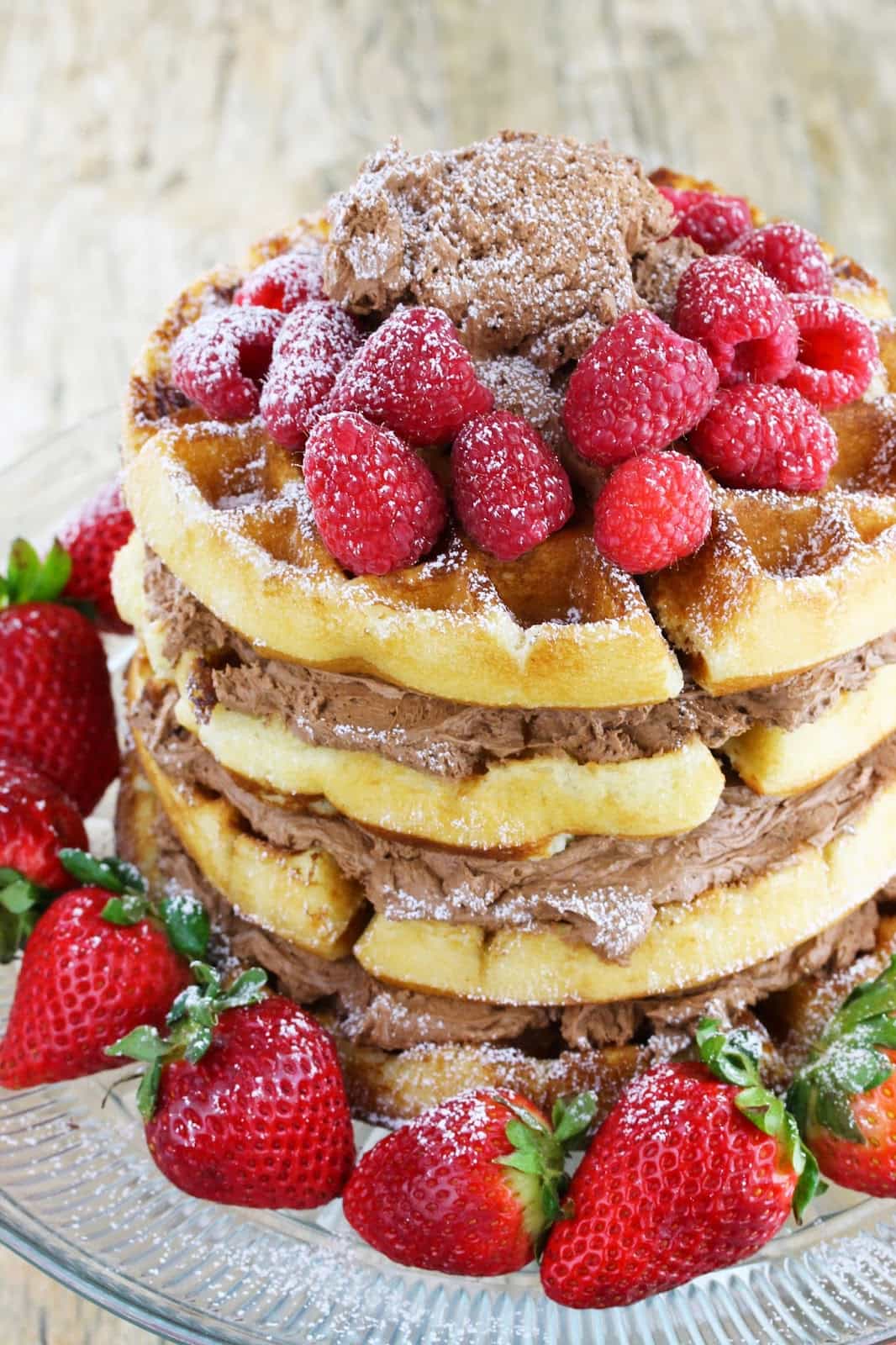 Yes, you are seeing it correctly. This recipe is all about a cake made in a waffle iron. A delicious vanilla cake batter is cooked in a belgian waffle maker and then layered with whipped chocolate ganache. It is a unique and fun cake the whole family can have a hand in making. It's as easy as making waffles!
I don't even know where I come up with this kind of craziness. My husband and I were sitting at the park on an unusually warm winter Saturday and it just popped into my head. It is such a fun way to enjoy a cake. And I have to say it is much easier than slaving over round cake pans trying to achieve the perfect layers. You could use a cake mix instead of making your cake batter from scratch. I just tend to prefer the from scratch method. We garnished ours with fresh strawberries and raspberries.
Embrace ridiculousness and make yourself a waffle cake!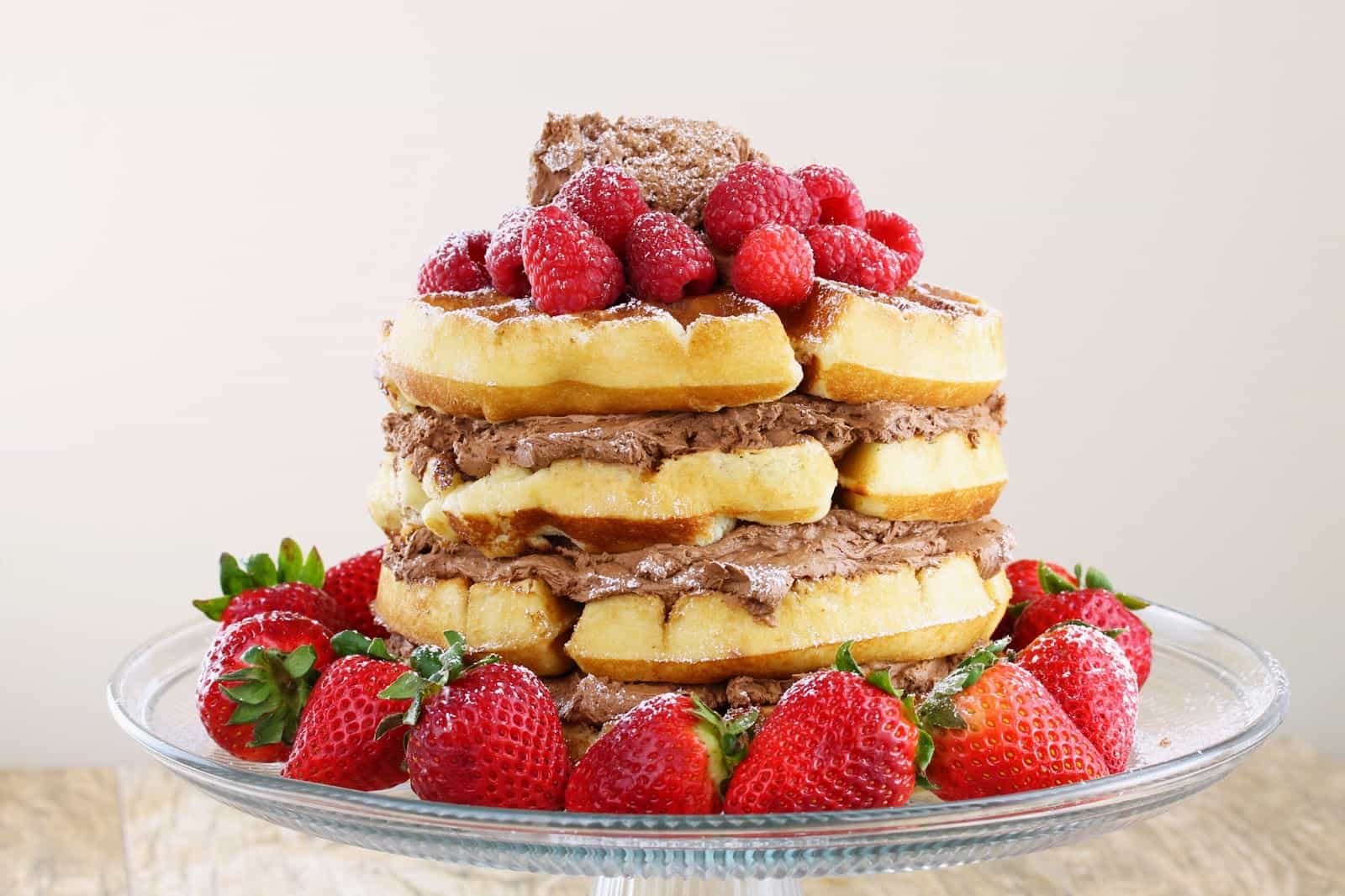 Hands on Time: 30 to 40 minutes
Ready In: 1 hour. 15 minutes
Yield: 1 Waffle Cake
Ingredients
1 cup heavy cream
2 cups chocolate chips (milk or semi-sweet)
1/2 cup butter, softened
1/4 cup vegetable shortening
1 1/2 cups sugar
2 eggs
1 1/2 cups all-purpose flour
1 teaspoon baking powder
1/8 teaspoon salt
1/4 cup milk
1/4 cup buttermilk
1 teaspoon vanilla
berries and/or powdered sugar for garnish
Instructions
1. Make the ganache: bring 1 cup heavy cream to a simmer in a small saucepan over medium heat. Once simmering, stir in chocolate chips until smooth. Transfer to refrigerator to cool until it reaches a spoon-able consistency, about 1 hour. Once cooled, use a hand mixer to beat the mixture until it reaches soft peaks. Ganache will stiffen when returned to the refrigerator.
2. Make the waffle batter: beat butter and vegetable shortening in the bowl of a stand mixer until light and fluffy. Beat in sugar until creamy. Mix in eggs one at a time. In a separate bowl, combine flour, baking powder, and salt. In another separate bowl (or liquid measuring glass), stir together milk, buttermilk, and vanilla. Slowly add flour mixture and milk mixture to the stand mixer bowl, alternative between the two.
3. Heat a Belgian Waffle Maker

. Scoop a heaping 2/3 cup of batter onto the waffle iron. Cook waffles one at a time. Transfer to a wire rack to cool completely.
4. Assemble cake: layer the cake with at least 4 waffles, frosted with whipped ganache between each layer. Garnish with fresh berries and/or dust with powdered sugar. Store in the fridge.