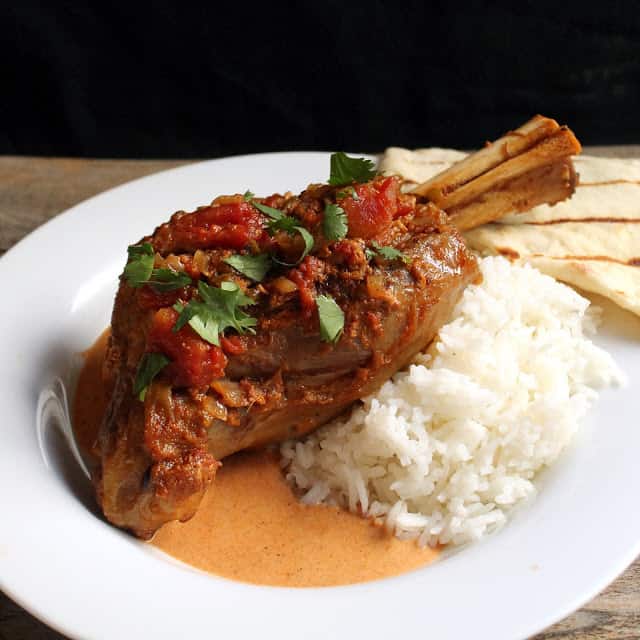 I feel like I'm on an Indian kick lately. My husband is loving it. I just can't get enough! I was watching a reality cooking show where they had to make something with lamb. I immediately thought of making a lamb shank tikka masala. Next thing I knew I was rushing off to the grocery store to buy the ingredients. I just couldn't get it out of my mind! And then we ate it….and I still couldn't get it out of my mind! Holy delicious batman! It takes some time to cook, but don't let that scare you because it is actually really simple for the actually hands on stuff. Can you sear meat? Can you stir stuff together? Then you can totally make this dish.
Ingredients
1 tablespoon olive oil
2 lamb shanks
Salt
1 15 oz can diced tomatoes
1 lemon, juiced
2 tsp cumin
1 tsp cayenne pepper
2 tsp paprika
1 tsp garam masala
1 tsp salt
1 tsp ground ginger
cilantro for garnish
1 tablespoon butter
2 cloves garlic, minced
1 tsp cumin
2 tsp paprika
1 tsp garam masala
1 8 oz can tomato sauce
1/2 tsp salt
1 cup heavy whipping cream
Instructions
1. For the lamb: Season the lamb shanks with a little salt. Heat a large skillet until it is sizzling hot. Put the olive oil in the pan, followed by the lamb shanks. Sear on all sides (about 1 minute each side). Remove from pan and transfer to a 9×13 baking dish. In the same skillet, combine the diced tomatoes, lemon juice, cumin, cayenne, paprika, garam masala, salt, and ginger. Bring to a simmer. Pour over the lamb shanks in the baking dish. Cover with foil and put them in a 400 degree oven for 2 1/2 – 3 hours. Turn the shanks over a few times during cooking. Uncover during the last 30 minutes of cooking to get a little browning.
2. For sauce: Melt the butter in a medium sauce pan. Add in the garlic, cumin, paprika, and garam masala and toast for 1-2 minutes Add in the tomato sauce, season with salt and bring to a simmer. Add in the whipping cream and stir until evenly combined.
3. Serve with rice and garnish with cilantro.