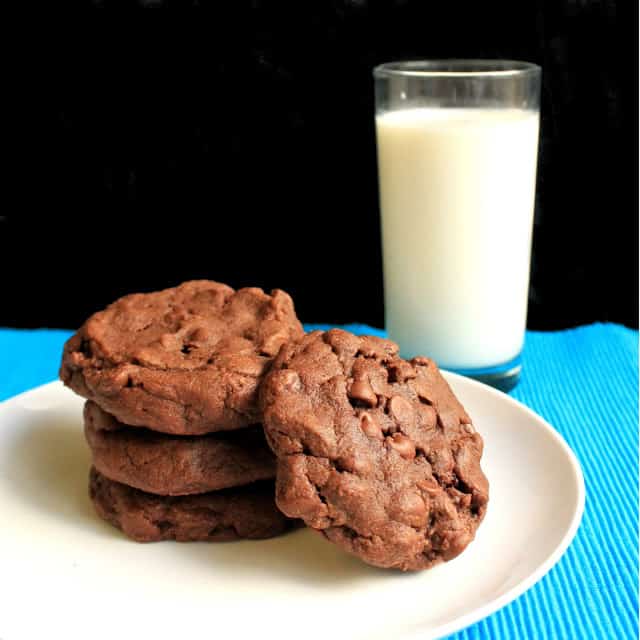 These are the best Chocolate Cookies ever. I mean it. The credit comes from one of my amazing sisters. You see, I have two amazing sisters. My younger sister, Cara, lives with me right now (and enjoyed quite a few of these cookies) while she works as a CNA this summer at an assisted living center before starting a rigorous nursing program in the fall. Her work is hard, gross, and desperately needed. How awesome is she to even be willing to do that kind of work? I've got serious respect for CNAs and nurses.
And then there is my older sister, Jennifer, who is thrifty beyond measure, full of crafty coolness, and musically gifted to boot. I swear if I give her a dime she can magically turn it into a dollar. If you haven't seen her blog yet, you should totally check it out. The Craft Patch is a great little blog for the frugally minded crafter. I take that back, you don't even have to be a crafter to enjoy her blog because she has got tons of other cool stuff as well. One of my favorites is that she does a series called Pinterest Tested where she tests out popular, and often unbelievable pins to see if they actually work. I'm so glad she started doing that so I don't have to waste my time figuring it out myself! My favorite is her tub cleaner. She tried to get me to try that cleaner for a long time before I gave in. I just couldn't believe that it would actually work. Now I'll never go back!
So what does this have to do with food, especially cookies? Well, Jennifer tested a bunch of different chocolate cookie recipes to find the perfect chocolate cookie. I've made a few adjustments to the method to simplify things a bit. Have you ever made a chocolate cookie recipe? A lot of them fail. Working with that much cocoa powder can result in dry clumps of chocolate mess. If you've tried and failed and subsequently sworn off chocolate cookie making, I urge you to think again! No, I plead with you! These chocolate cookies are perfect! They will not fail! I promise! Just follow these simple instructions (including the gallon of milk!)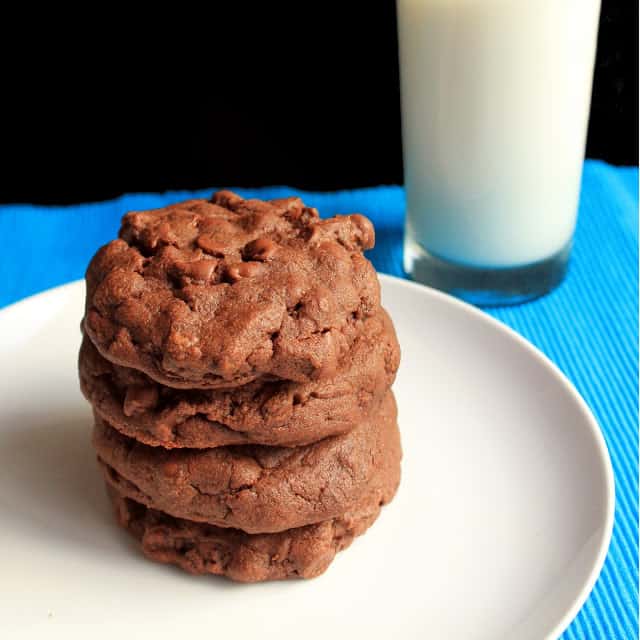 The Best Ever Chocolate Cookies
Ingredients
1

cup

cold butter

cut into tablespoon slices

1 1/4

cup

sugar

2

eggs

1/2

cup

cocoa powder

1/4

teaspoon

salt

1

teaspoon

baking powder

2 1/4

cups

flour

2

cups

milk chocolate chips

1

gallon

to wash them down!

to wash them down!
Instructions
Preheat your oven to 325 degrees. Spray a baking sheet with nonstick spray.

In the bowl of a stand mixer, cream the butter and sugar until fluffy. This will take at least 2-3 minutes.

Blend in the eggs for about 30 seconds and add in the cocoa powder, salt, and baking powder. Blend until smooth (1-2 minutes). Scrape the sides and bottom to ensure everything gets in.

Using the dough attachment mix in the flour until incorporated. Don't overwork the dough! Fold in the chocolate chips.

Form about 12-15 dough balls (yes, these cookies are best big!). Use your hands to flatten each ball into a cookie shaped disc. You can leave them round for a very tall rounded cookie, but I think I've decided I like the flattened version better. Bake for 12-13 minutes.

Move from the baking sheet to a wire rack to cool. I found that I could do this immediately upon removal from oven, but if you have problems then wait a few minutes before continuing.

Serve warm with plenty of milk 🙂 Microwave the leftovers, if any, for 10 seconds for that fresh-from-the-oven taste.